Eating Disorder Relapses: What to Do and How to Prevent Them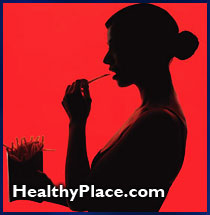 Relapses - they can and will happen during recovery from an eating disorder. I want to say right now that if you are suffering from an eating disorder and making a hard attempt at getting better, that sooner or later you will encounter a relapse (if you haven't already). The relapse could last a day, a week, a month, but a relapse is not an uncommon thing to have happen during recovery from an eating disorder. This does not mean that you shouldn't try at all to recover because you think, "Well, I'm just going to relapse anyway, so what's the point?"
Relapses are a common part of recovery from an eating disorder because during the time at which we are trying to break free from the chains of a anorexia or bulimia, we are learning to be ourselves again. Many times, someone doesn't even know who they actually are when in the world of an eating disorder, so recovery means breaking free from everything they have thought they were in life. This makes recovery from an eating disorder a big learning experience for not just finding out who we are in life, but also how to deal with the pain in our lives that we tried to starve into control or purge away. Relapses will happen, but that doesn't mean you should give up right away or not try. Relapses are here to teach us where the areas are that we still need to work on.
Just like with an eating disorder, recovery from an eating disorder is not about perfection. No one recovery is perfect and never will be. Don't beat yourself up for any relapses that you have. Instead, look at your progress and the good days, and congratulate yourself for those.=)
next: Eating Disorders Prevention: What You and Others Can Do
~ all peace, love and hope articles
~ eating disorders library
~ all articles on eating disorders
APA Reference
Staff, H. (2008, December 29). Eating Disorder Relapses: What to Do and How to Prevent Them, HealthyPlace. Retrieved on 2023, December 8 from https://www.healthyplace.com/eating-disorders/articles/eating-disorder-relapses-what-to-do-and-how-to-prevent-them
Last Updated: April 18, 2016