Eating Disorders: From Thinness to Godliness
Seeing ourselves in God's image
You are what you eat - or not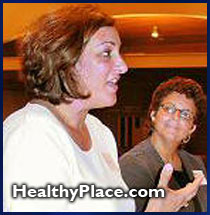 The old adage that connotes good eating as good health has been turned on its head by undue preoccupation with food and diet and an obsession with how we look.
Weight control has become a compulsion. Obesity has become a national scourge. And the late Dr. Robert Atkins, who formulated the now wildly popular diet of the same name, our hero.
Cantor Sharona Feller and therapist Cindy Weiser talk about community at the final session of this year's "Advanced Body and Soul" program at Temple Chai.
Photo by Vicki Cabot
"Being as thin as you can be is (often defined as) being the best you can be," notes local therapist Cindy Weiser. "(But) this whole thing about the perfect body, it's socially constructed," she says.
And insidious. Many of us don't realize how we conform to societal illusions of what is beautiful - or not.
Living in a culture where thinness is elevated to near-godliness, there is a movement to resist those glossy images. Delving into Jewish texts can help uncover the beauty within.
Weiser is one of four facilitators in the three-year-old Body and Soul program offered by the Deutsch Family Shalom Center at Temple Chai. The series of workshops for women and girls draws on Jewish values to promote self-esteem and positive identity.
"We are trying to put (body image) in proper perspective," says center director Sharona Silverman.
It was Silverman who first learned of the Atlanta-based Body and Soul National Institute a few years ago. She invited founder Donnie Winokur to Phoenix to help start a pilot program here. Winokur, in a telephone interview from her Georgia home, explained that Body and Soul grew from her own experience. A former actress and documentary filmmaker, she admits to being overly concerned with appearance. A conversation with a friend led to the resolve to do something about it.
"Here we were approaching middle age and still dealing with this stuff," says Winokur, now 48. "We were tired of it. We wanted to look inside ourselves spiritually and get rid of the baggage."
Winokur, whose husband Harvey is spiritual leader of Temple Kehillat Chaim in Roswell, Ga., began developing the program working with clergy, social workers and educational professionals. She drew on the Women of Valor Program from the Jewish Women's Archives in Boston and engaged a Union for Reform Judaism rabbinic intern from URJ's Department of Jewish Family Concerns to refine the Judaic content.
Winokur, who has a degree in psychology and produced documentaries on health and children's issues in Atlanta before marrying seven years ago, says she sought to help participants to look inside, beyond the mirror, drawing on intrinsic Jewish notions of specialness.
Every session includes Torah study to help guide the women to learn to value themselves as divine creations.
"We want to learn how to love ourselves in the image of God - not in the image of Madison Avenue," she says.
Playing on Winokur's model, Silverman developed three modules of body and soul, one for women and two others for girls of varying age groups. She, Weiser, professional counselor Sandy Lewis and Temple Chai Cantor Sharona Feller facilitate sessions.
The women's group just completed a third year of programming.
Judy Bernstein, a three-year participant, says she has battled weight issues since she was a teenager and her mother suggested joining Weight Watchers.
Now just turning 46, Bernstein says she has gained and lost the same 40 pounds for the past 30 years.
She credits the program with helping her maintain her weight by allowing her to become more accepting of herself.
She learned to appreciate her attributes and focus on her inner self. "I watch what I eat, I exercise, and I am comfortable with myself," she says.
High school junior Jackie Shapiro, who completed the teen course two years ago and then mentored younger girls in the program last year, says it helped her "get to know myself ... and make the right choices."
Shapiro notes that her girlfriends talk about weight incessantly. At least half are dieting - and most are in the normal weight range, she says.
The goal, says Winokur, is to "feel comfortable in your own skin."
A positive self-image is critical to developing healthy attitudes and behaviors toward eating, say therapists. In some cases, a poor self-image can lead to what Winokur terms "disordered eating," an over-preoccupation with food. In others, it can lead to more worrisome psychological and emotional problems and health-threatening behaviors.
---
Eleanor Gross, a certified eating-disorder specialist in private practice here, differentiates between what she terms "the garden-variety obsessed" and those who engage in destructive behaviors that interfere with daily functioning.
Many women are preoccupied with appearance and acceptance, says Gross, who elected to specialize in eating disorders after recovering herself more than 30 years ago. But those who engage in excessive behaviors, whether bingeing or starving, are often dealing with issues of control and false images of perfection.
Eating what you want - or not eating what you want - is a fundamental means of exercising control. It feeds, too, into the perfectionist mentality that plagues many women.
"Especially in the Jewish community, "notes Winokur, "there is a propensity for perfection and achievement."
She notes that statistics show that 70 percent of normal weight women want to be thinner.
"It is the never-enough mentality," she says. "Not good enough, not smart enough, not pretty enough." Not thin enough.
Gross, who has facilitated support groups at the Valley of the Sun Jewish Community Center and Franciscan Renewal Center and currently is starting one at The New Shul, says that increased opportunities for women professionally have only added to the pressures.
"They must be successful in the workplace but still be women," she says. And being a woman is code for being attractive - and thin.
Support groups like the one at Temple Chai help women develop inner strength by reaffirming the positive aspects of their lives.
"We focus on who we are - what personal challenges we face and how Judaism addresses them," says Lewis.
Deep-seated problems may reflect unresolved family issues that need to be addressed in intensive therapy or underlying conditions such as depression, anxiety or obsessive/compulsive disorder that may respond to pharmacological intervention, say the mental health professionals.
"Bulimia, anorexia, those are tough ones," says Weiser, emphasizing that the conditions cut across all ages and walks of life. "It is an addiction, a hard road."
Caroline, a long time patient of Gross who asked that her last name not be used, has been battling an eating disorder for most of her life.
"The issues change as you get older," she says. "There are new things to work through so you are probably never finished."
Especially critical, say those in the field, is assuring that more young girls and women never start.
More, and better, health education is essential. Watching what our children eat and how, and increased awareness of danger signals, is crucial. Communicating healthy messages - and self-censoring those that overemphasize weight and appearance - is necessary. Acting as positive role models, moderating our own response to the societal pressures to be thin, young and attractive is also critical. Developing more programs in our schools and congregations to confront a growing problem is needed.
Seven million girls suffer from eating disorders in America (and more than one million men and boys), reports Winokur. Eight-year-old girls are denying themselves birthday cake for fear that they will get fat. And mothers are asking if they can put babies on the Atkins diet.
"We need to focus more on the essence of the person," says Gross. "A beautiful person is a beautiful human being. The beauty is from within."
next: Eating Disorders: How Bulimia Affects Fertility
~ eating disorders library
~ all articles on eating disorders
APA Reference
Staff, H. (2009, January 2). Eating Disorders: From Thinness to Godliness, HealthyPlace. Retrieved on 2023, December 3 from https://www.healthyplace.com/eating-disorders/articles/eating-disorders-from-thinness-to-godliness
Last Updated: January 14, 2014