Difficulty Concentrating? Three Tips to Help You Focus
Here's what's happening on the HealthyPlace site this week: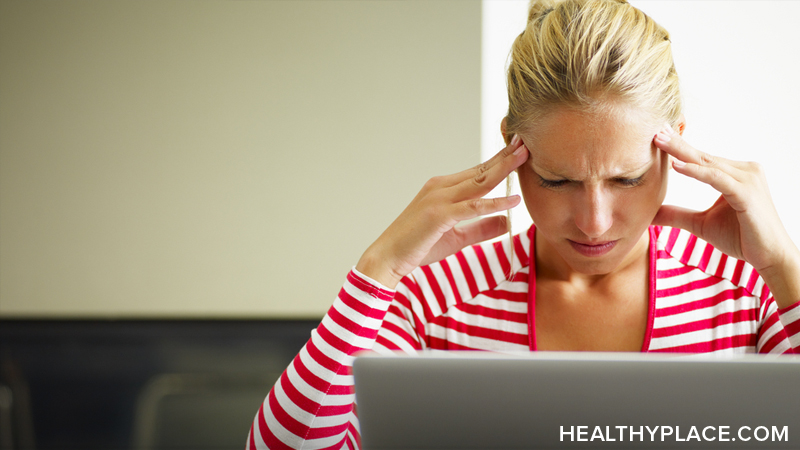 Difficulty Concentrating? Three Tips to Help You Focus
Difficulty concentrating is a common frustration. We live in a busy, bustling world. Additionally, many mental illnesses are associated with difficulty concentrating. For example, depression can affect a person's ability to concentrate. Concentration problems are also associated with attention-deficit hyperactivity disorder (ADHD, bipolar disorder, anxiety disorders, and psychotic disorders like schizophrenia.
Regardless of what is causing concentration difficulties, there are ways you can help your brain focus. Here are three tips:
Practice chunking. Chunking is a technique used by the human brain to facilitate retention. It's why phone numbers are separated into sets of three's and four's. Use the principle to increase concentration. Create to-do lists and then separate your duties into chunks. Tackle one at a time. Then, take a short break to reset your brain.
Know yourself. Do you concentrate best with music or in silence? Are you more able to concentrate with our without caffeine? Knowing yourself helps you set yourself up for concentration success.
Objectify. Having something physical to touch, like a small rock or other trinket, increases our ability to concentrate. Being able to rhythmically manipulate an object creates positive changes in the brain that actually improve concentration.
No matter what your brain is experiencing, you can use tools to increase your ability to concentrate.
Related Articles Dealing with Difficulty Concentrating
Your Thoughts
Today's Question: How do you deal with those times when you experience difficulties with concentration? We invite you to participate by commenting and sharing your feelings, experiences and knowledge on the HealthyPlace Facebook page and on the HealthyPlace Google+ page.
---
---
Share our Stories
At the top and bottom of all our stories, you'll find social share buttons for Facebook, Google+, Twitter, Pinterest and other social sites. If you find a particular story, video, psychological test or other HealthyPlace feature helpful, there's a good chance others in need will too. Please share.
We also get many inquiries about our linking policy. If you have a website or blog, you can link to any page on the HealthyPlace website without asking us beforehand.
Most Popular HealthyPlace Articles Shared by Facebook Fans
Here are the top 3 mental health articles HealthyPlace Facebook fans are recommending you read:
If you're not already, I hope you'll join us/like us on Facebook too. There are a lot of wonderful, supportive people there.
------------------------------------------------------------------
From the HealthyPlace Mental Health Blogs
On all our blogs, your comments and observations are welcomed.
Feel free to share your thoughts and comments at the bottom of any blog post. And visit the mental health blogs homepage for the latest posts.
------------------------------------------------------------------
That's it for now. If you know of anyone who can benefit from this newsletter or the HealthyPlace.com site, I hope you'll pass this onto them. You can also share the newsletter on any social network (like facebook, stumbleupon, or digg) you belong to by clicking the links below. For updates throughout the week:
APA Reference
Peterson, T. (2016, June 3). Difficulty Concentrating? Three Tips to Help You Focus, HealthyPlace. Retrieved on 2023, December 6 from https://www.healthyplace.com/other-info/mental-health-newsletter/difficulty-concentrating-three-tips-to-help-you-focus
Last Updated: September 13, 2023