Does the Stigma of Therapy Keep You From Getting Help?
HealthyPlace Mental Health Newsletter
Here's what's happening on the HealthyPlace site this week:
Does the Stigma of Therapy Keep You From Getting Help?
"I've realized therapy is incredibly therapeutic." ~ Lisa Schroeder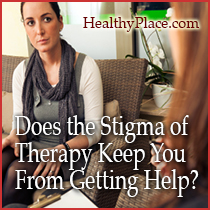 The stigma of therapy keeps a lot of people from getting the help they want and need (The Stigma of Seeking Help). Are you among them? Are you worried that you'll be viewed as crazy or weak or a failure because you saw a therapist?
Initially, therapist, Amy Chang, LMFT felt that way. "I have to sheepishly admit that I succumbed to the societal pressure and shared the same beliefs that there must be something really wrong with me for wanting to see a therapist."
Chang overcame the stigma of therapy and reports finding great value in seeing a therapist.
Value of Therapy vs. Therapy Stigma
It takes courage to see a therapist because, for some, accepting help can be scary and difficult. In medicine, doctors often use this simple equation in determining whether to administer medication or do a procedure on a patient: Will the benefits outweigh the risks? If you are dealing with emotional or mental distress that is affecting your personal or professional life maybe answering that question will lead you in the right direction.
"Entering therapy was like entering a world of love and compassion. It felt comforting to finally interact with someone who would be with me in my darkness, listen to me and reach out to the part of me who wanted to live." ~ Hedda Riktor
Related Information on Mental Health Therapy
Your Thoughts
Today's Question: Does the stigma of therapy keep you from seeing a therapist? We invite you to participate by commenting and sharing your feelings, experiences and knowledge on the HealthyPlace Facebook page.
Help Spread Awareness of Mental Illness
Get Our Mental Health Blog Widget
Over 340 sites and blogs are helping spread awareness of mental illness. How about putting our mental health blogs widget on your website, blog or social page? The latest HealthyPlace blog headlines appear as soon as the articles are posted on our site. Just click "Get Widget" at the bottom of the widget, grab the embed code and paste it into your page. You'll also see embed links for Wordpress, Blogger, Linkedin and other social sites there.
As a bonus, put the blogs widget on your site or blog, email us (info AT healthyplace.com) with a page link where it appears, and we'll give a shoutout to your site, blog, or social site on our Facebook and Twitter pages.
------------------------------------------------------------------
Share our Stories
At the top and bottom of all our stories, you'll find social share buttons for Facebook, Google+, Twitter, Pinterest and other social sites. If you find a particular story, video, psychological test or other HealthyPlace feature helpful, there's a good chance others in need will too. Please share.
We also get many inquiries about our linking policy. If you have a website or blog, you can link to any page on the HealthyPlace website without asking us beforehand.
---
continue story below
---
Most Popular HealthyPlace Articles Shared by Facebook Fans
Here are the top 3 mental health articles HealthyPlace Facebook fans are recommending you read:
If you're not already, I hope you'll join us/like us on Facebook too. There are a lot of wonderful, supportive people there.
------------------------------------------------------------------
Mental Health Experiences
Share your thoughts/experiences with any mental health subject, or respond to other people's audio posts, by calling our toll-free number (1-888-883-8045).
You can listen to what other people are saying by clicking on the gray title bars inside the widgets located on the "Sharing Your Mental Health Experiences" homepage, the HealthyPlace homepage, and the HealthyPlace Support Network homepage.
If you have any questions, write us at: info AT healthyplace.com
------------------------------------------------------------------
From the HealthyPlace Mental Health Blogs
On all our blogs, your comments and observations are welcomed.
Feel free to share your thoughts and comments at the bottom of any blog post. And visit the mental health blogs homepage for the latest posts.
------------------------------------------------------------------
Stand Up for Mental Health
Thousands Have Joined the Stand Up for Mental Health Campaign
But we still need you. Let others know there's no shame in having depression, anxiety, bipolar disorder, trichotillomania, OCD, ADHD, schizophrenia or any other mental illness.
Join the Stand Up for Mental Health campaign. Put a button on your website or blog (buttons for family members, parents, mental health professionals and organizations too). We also have covers for Facebook, Twitter and Google+.
------------------------------------------------------------------
When Frightening News Leads To Young Children's Sleepless Nights
Terrorist attacks, thunder and lightning or events around the house - these are just some of the things that can lead to your child having trouble falling asleep. So what can parents do to help their child overcome sleep problems? The Parent Coach, Dr. Steven Richfield, has some helpful ideas..
Latest Mental Health News
These stories and more are featured on our mental health news page:
Behavior Therapy Aids Obsessive-Compulsive Disorder
When Teams Lose, Fans Tackle Fatty Foods
Are Depression's Causes Biological?
Can Emotional Intelligence Be Taught?
Get It Done. Handy Tools For The Working Brain
Anxiety Is a Greater Risk Factor For Suicide Than Depression, Studies Report
Exposure/Ritual Prevention Therapy Boosts Antidepressant Treatment of OCD
Brain Atrophy Linked With Cognitive Decline in Diabetes
Neuropsychologic Decline Precedes Schizophrenia Onset
Prospective Memory Fails Bipolar Patients
Cardiovascular Mortality in Schizophrenia May Be Underestimated
That's it for now. If you know of anyone who can benefit from this newsletter or the HealthyPlace.com site, I hope you'll pass this onto them. You can also share the newsletter on any social network (like facebook, stumbleupon, or digg) you belong to by clicking the links below. For updates throughout the week:
APA Reference
Staff, H. (2013, September 18). Does the Stigma of Therapy Keep You From Getting Help?, HealthyPlace. Retrieved on 2023, June 5 from https://www.healthyplace.com/other-info/mental-health-newsletter/does-the-stigma-of-therapy-keep-you-from-getting-help
Last Updated: September 4, 2014