For Your Positive Mental Health, Do This Now
Here's what's happening on the HealthyPlace site this week:
---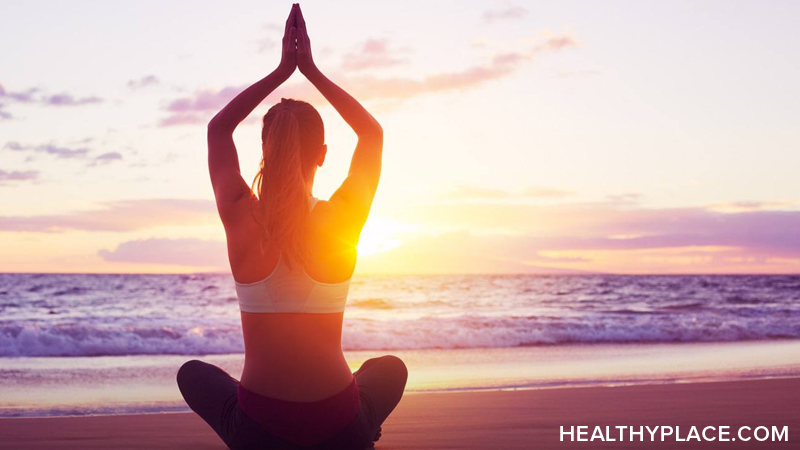 For Your Positive Mental Health, Do This Now
On our journey to build and maintain positive mental health, "giving yourself a break" is one of the most important things we can do. It's also one of the hardest for anyone living with mental illness or other mental health challenges.
Mental illness is a bully. It wants to control you and take away your power by chipping away insidiously at your sense of self-worth. How many times have you talked to yourself like this?
I'm not good enough for_____.
I'm a terrible parent-friend-employee-pet owner-person.
I don't deserve to do_____ or have_____.
People would be better off without me. *
It's far too easy for mental illness to stop people from believing in themselves; which keeps them from achieving positive mental health.
The journey takes time and effort, but you can believe in yourself once again.  
Take a mindful approach by frequently reminding yourself, "I am the best me I can be in this moment."
Use other positive affirmations to teach your brain to love you.
Notice when you're too hard on yourself and beating yourself up and promptly replace those harsh thoughts with thoughts about your strengths.
Do things that make you feel successful.
Think of it this way: for your positive mental health and wellbeing, stop being your illness's ally and start being your own. You deserve self-worth.
* If you experience suicidal ideation or have thoughts of otherwise harming yourself, please contact The National Suicide Prevention Lifeline (1-800-273-8255) for help. That's what they're there for.
Related Articles Dealing with Self-Concept
Your Thoughts
Today's Question: When you notice that your sense of self-worth has taken a dive, how do you cope with it? We invite you to participate by sharing your thoughts, experiences, and knowledge on the HealthyPlace Facebook page.
From the HealthyPlace Mental Health Blogs
On all our blogs, your comments and observations are welcomed.
Feel free to share your thoughts and comments at the bottom of any blog post. And visit the mental health blogs homepage for the latest posts.
------------------------------------------------------------------
Most Popular HealthyPlace Articles Shared by Facebook Fans
Here are the top 3 mental health articles HealthyPlace Facebook fans are recommending you read:
If you're not already, I hope you'll join us/like us on Facebook too. There are a lot of wonderful, supportive people there.
------------------------------------------------------------------
Mental Health Quote
"The only person you are destined to be become is the person you decide to be."
Read more mental health quotes.
------------------------------------------------------------------
That's it for now. If you know of anyone who can benefit from this newsletter or the HealthyPlace.com site, I hope you'll pass this onto them. You can also share the newsletter on any social network (like facebook or stumbleupon) you belong to by clicking the links below. For updates throughout the week, follow HealthyPlace on Twitter or become a fan of HealthyPlace on Facebook. Also, check out HealthyPlace on Instagram, YouTube and Pinterest, where you can share your mental health pins on our Share Your Mental Health Experiences board.
APA Reference
Peterson, T. (2019, August 6). For Your Positive Mental Health, Do This Now, HealthyPlace. Retrieved on 2023, December 11 from https://www.healthyplace.com/other-info/mental-health-newsletter/for-your-positive-mental-health-do-this-now
Last Updated: August 7, 2019