Mental Health Challenges Make Thanksgiving Hard to Like
Here's what's happening on the HealthyPlace site this week: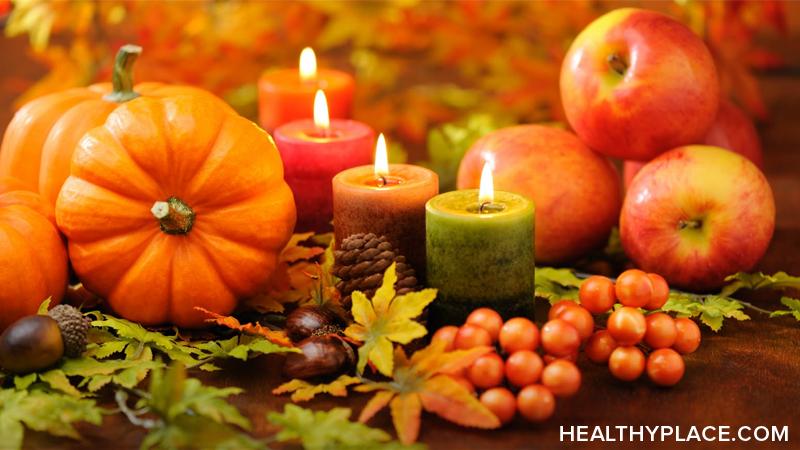 Mental Health Challenges Make Thanksgiving Hard to Like
Thanksgiving often worsens mental health struggles. The gatherings aren't always the warm, cozy get-togethers portrayed in greeting card commercials. Instead, the holiday can contribute to increased depression and anxiety. It can create distress for people struggling with eating disorders (Surviving and Thriving During the Holidays with an Eating Disorder) or substance use. The holiday stress can exacerbate symptoms of almost every mental illness or personality disorder. When living with mental health challenges, Thanksgiving can be a reason to hide rather than a reason to gather.
Although tempting, hiding isn't always the best way to care for yourself and enhance mental health. As you prepare for Thanksgiving, consider ways to care for your mental health:
Thanksgiving might be stressful, but you don't have to let it aggravate your mental health symptoms.
Related Articles Dealing with Mental Health and Thanksgiving
Your Thoughts
Today's Question: How do you make sure the Thanksgiving holiday doesn't harm your mental health? We invite you to participate by commenting and sharing your feelings, experiences and knowledge on the HealthyPlace Facebook page.
------------------------------------------------------------------
Most Popular HealthyPlace Articles Shared by Facebook Fans
Here are the top 3 mental health articles HealthyPlace Facebook fans are recommending you read:
If you're not already, I hope you'll join us/like us on Facebook too. There are a lot of wonderful, supportive people there.
------------------------------------------------------------------
From the HealthyPlace Mental Health Blogs
On all our blogs, your comments and observations are welcomed.
Feel free to share your thoughts and comments at the bottom of any blog post. And visit the mental health blogs homepage for the latest posts.
------------------------------------------------------------------
That's it for now. If you know of anyone who can benefit from this newsletter or the HealthyPlace.com site, I hope you'll pass this onto them. You can also share the newsletter on any social network. For updates throughout the week:
APA Reference
(2015, November 23). Mental Health Challenges Make Thanksgiving Hard to Like, HealthyPlace. Retrieved on 2023, November 28 from https://www.healthyplace.com/other-info/mental-health-newsletter/mental-health-challenges-make-thanksgiving-hard-to-like
Last Updated: November 22, 2023