Handling Tragedies When You Have Mental Illness
HealthyPlace Mental Health Newsletter
Here's what's happening on the HealthyPlace site this week:
Handling Tragedies When You Have Mental Illness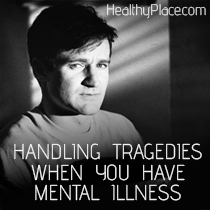 No matter the situation, death is not an easy issue to handle. The loss of a friend or loved one may not only lead to depression, but can bring on unexpected negative emotions. It doesn't always take the death of someone close to you to release such aching emotions – the death of an admired celebrity can also bring forward these feelings.
The suicide of Robin Williams has saddened the hearts of millions and for those dealing with mental illness, his death could have sparked some unsafe thoughts. When people are struggling with mental illness, anything can bring forward severe depressive feelings – including details regarding the suicide of a loved one or even Robin Williams.
It is important to recognize the positive details in someone's life and not the "hows" and "whys" of the death. Instead of focusing on the suicide, you could create a list of entertaining and pleasant memories you have of/with this person. In the case of Robin Williams, watch some of his comedies to release some stress. By allowing yourself to push aside negative details connected to the death, you are opening yourself up to the positives attached with the person's life.
Related Articles Dealing with Robin Williams and Handling Tragedy
Your Thoughts
Today's Question: What helps you cope with the depression and other mental health symptoms and negative emotions associated with a tragedy? We invite you to participate by commenting and sharing your feelings, experiences and knowledge on the HealthyPlace Facebook page and on the HealthyPlace Google+ page.
------------------------------------------------------------------
Share our Stories
At the top and bottom of all our stories, you'll find social share buttons for Facebook, Google+, Twitter, Pinterest and other social sites. If you find a particular story, video, psychological test or other HealthyPlace feature helpful, there's a good chance others in need will too. Please share.
We also get many inquiries about our linking policy. If you have a website or blog, you can link to any page on the HealthyPlace website without asking us beforehand.
---
---
Most Popular HealthyPlace Articles Shared by Facebook Fans
Here are the top 3 mental health articles HealthyPlace Facebook fans are recommending you read:
If you're not already, I hope you'll join us/like us on Facebook too. There are a lot of wonderful, supportive people there.
------------------------------------------------------------------
Mental Health Experiences
Share your thoughts/experiences with any mental health subject, or respond to other people's audio posts, by calling our toll-free number (1-888-883-8045).
You can listen to what other people are saying by clicking on the gray title bars inside the widgets located on the "Sharing Your Mental Health Experiences" homepage, the HealthyPlace homepage, and the HealthyPlace Support Network homepage.
If you have any questions, write us at: info AT healthyplace.com
------------------------------------------------------------------
From the HealthyPlace Mental Health Blogs
On all our blogs, your comments and observations are welcomed.
Feel free to share your thoughts and comments at the bottom of any blog post. And visit the mental health blogs homepage for the latest posts.
------------------------------------------------------------------
Stand Up for Mental Health
Thousands Have Joined the Stand Up for Mental Health Campaign
But we still need you. Let others know there's no shame in having depression, anxiety, bipolar disorder, trichotillomania, OCD, ADHD, schizophrenia or any other mental illness.
Join the Stand Up for Mental Health campaign. Put a button on your website or blog (buttons for family members, parents, mental health professionals and organizations too). We also have covers for Facebook, Twitter and Google+.
------------------------------------------------------------------
Latest Mental Health News
These stories and more are featured on our mental health news page:
Do You Lie To Yourself? The Science Of Self-Deception
Walking In Another's Shoes? The Science Of Empathy
Genetic Computer Network Inference Model Could Lead To Earlier Diagnosis, Treatment Of Mental Diseases
PTSD Can Develop Even Without Memory Of The Trauma
Prayer Doesn't Ease Symptoms Of Anxiety-Related Disorders For Everyone
Poor Sleep Quality Associated With Increased Suicide Risk In Older Adults
How Memory Is Processed 'May Influence Risk Of PTSD'
Our Desire For Payback Exemplifies Our Capacity For Abstract Thought
A Computer Is Much Better Than People Are At Telling The Difference Between Real And Faked Pain
That's it for now. If you know of anyone who can benefit from this newsletter or the HealthyPlace.com site, I hope you'll pass this onto them. You can also share the newsletter on any social network (like facebook, stumbleupon, or digg) you belong to by clicking the links below. For updates throughout the week:
APA Reference
Staff, H. (2014, September 9). Handling Tragedies When You Have Mental Illness, HealthyPlace. Retrieved on 2023, December 8 from https://www.healthyplace.com/other-info/mental-health-newsletter/handling-tragedies-when-you-have-mental-illness
Last Updated: September 9, 2014