Having a Mental Illness is Scary
HealthyPlace Mental Health Newsletter
Here's what's happening on the HealthyPlace site this week:
Having a Mental Illness is Scary
It is scary having a mental illness. And I'm not just referring to dealing with mental health symptoms on a day-to-day basis. I was thinking of the social aspects of living with a mental illness and what it may mean in your life.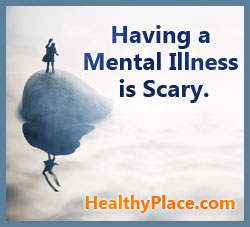 Many worry that potential or current relationship partners will end up rejecting them and they'll be lonely. Others are concerned parents or partners will die before they do and how will they cope with their mental illness without a caring person beside them.
These are all legitimate concerns that may exist or come true and then again, they may not. You may meet a kind, caring person who is just right for you and accepts you the way you are. As you get older, better treatments may come along or you may discover that you're better able to care for yourself. What I'm getting at is that it's essential not to let your fears run away with you. It's important to look at them realistically and "in the moment" (therapists call this mindfulness). Another helpful way of dealing with worry and fear is to be able to talk them out. Keeping them inside, can give them undue power. Of course, you can discuss them with your therapist or a close friend. Another place, where you'll find people "just like you" is in a support group. You'll not only find people who are willing to listen, but these are people who have been or are in the same place as you. It's helpful and a relief to know that you're not truly alone. You just have to reach out and take the first step sometimes. Finally, check out this article on 10 Ways to Live Free From Fear. Some of the ideas may prove helpful to you.
Related Articles
Your Thoughts
Today's Question: What is your biggest fear about living with a mental illness? We invite you to participate by commenting and sharing your feelings, experiences and knowledge on the HealthyPlace Facebook page.
Help Spread Awareness of Mental Illness
Get Our Mental Health Blog Widget
Over 225 sites and blogs are helping spread awareness of mental illness. How about putting our mental health blogs widget on your website, blog or social page? The latest HealthyPlace blog headlines appear as soon as the articles are posted on our site. Just click "Get Widget" at the bottom of the widget, grab the embed code and paste it into your page. You'll also see embed links for Wordpress, Blogger, Linkedin and other social sites there.
As a bonus, put the blogs widget on your site or blog, email us (info AT healthyplace.com) with a page link where it appears, and we'll give a shoutout to your site, blog, or social site on our Facebook and Twitter pages.
------------------------------------------------------------------
Share our Stories
At the top and bottom of all our stories, you'll find social share buttons for Facebook, Google+, Twitter, Pinterest and other social sites. If you find a particular story, video, psychological test or other HealthyPlace feature helpful, there's a good chance others in need will too. Please share.
We also get many inquiries about our linking policy. If you have a website or blog, you can link to any page on the HealthyPlace website without asking us beforehand.
---
continue story below
---
Most Popular HealthyPlace Articles Shared by Facebook Fans
Here are the top 3 mental health articles HealthyPlace Facebook fans are recommending you read:
If you're not already, I hope you'll join us/like us on Facebook too. There are a lot of wonderful, supportive people there.
------------------------------------------------------------------
Mental Health Experiences
Share your thoughts/experiences with any mental health subject, or respond to other people's audio posts, by calling our toll-free number (1-888-883-8045).
You can listen to what other people are saying by clicking on the gray title bars inside the widgets located on the "Sharing Your Mental Health Experiences" homepage, the HealthyPlace homepage, and the HealthyPlace Support Network homepage.
If you have any questions, write us at: info AT healthyplace.com
------------------------------------------------------------------
From the HealthyPlace Mental Health Blogs
On all our blogs, your comments and observations are welcomed.
Feel free to share your thoughts and comments at the bottom of any blog post. And visit the mental health blogs homepage for the latest posts.
------------------------------------------------------------------
Stand Up for Mental Health
Don't Buy Into Mental Health Stigma
You don't have to tolerate mental health stigma in your life. Stand Up for Yourself. Stand Up for Mental Health.
Join the Stand Up for Mental Health campaign. Put a button on your website or blog (buttons for family members, parents, mental health professionals and organizations too). We also have covers for Facebook, Twitter and Google+.
Let others know there's no shame in having depression, anxiety, bipolar disorder, ADHD, schizophrenia or any other mental illness.
------------------------------------------------------------------
Latest Mental Health News
These stories and more are featured on our mental health news page:
What the Brain Can Tell Us About Art
The Light at the End of Suffering
Appily Ever After: A Smartphone Shrink
You've Been Doing a Fantastic Job. Just One Thing ...
I'll Have What She's Having: How Others Affect What We Do
You Complete Me: When Parents Live Out Their Dreams Through Their Children, Kids Suffer.
But It's All Natural! Do We Have an Instinctive Preference for Herbal Remedies?
International Study Reveals 'Backbone' Of Mental Illness Stigma
Seasonal Patterns Evident In Google Searches About Mental Illness
Suicide Risk, Gun Ownership, Political Conservatism And Church Membership
Bipolar Recovery Questionnaire is Valid Measure
High Rates of Cannabis Use in People with Mental Illnesses
Exposure to Parental Substance Abuse Poses Risk for Adolescents
That's it for now. If you know of anyone who can benefit from this newsletter or the HealthyPlace.com site, I hope you'll pass this onto them. You can also share the newsletter on any social network (like facebook, stumbleupon, or digg) you belong to by clicking the links below. For updates throughout the week:
APA Reference
Staff, H. (2013, April 15). Having a Mental Illness is Scary, HealthyPlace. Retrieved on 2023, December 9 from https://www.healthyplace.com/other-info/mental-health-newsletter/having-a-mental-illness-is-scary
Last Updated: September 4, 2014