How to Raise Your Self-Esteem
HealthyPlace Mental Health Newsletter
Here's what's happening on the HealthyPlace site this week:
Raising Your Self-Esteem
The Building Self-Esteem blog is very popular on the HealthyPlace.com website. It's not really surprising considering there's a strong inter-relationship between low self-esteem and mental illness and people want to know, "How do I raise my self-esteem?" The answer is really important because having good self-esteem is key to improving your mental health and having resilience.
Challenges to Raising Self-Esteem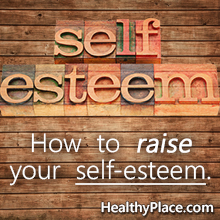 The first challenge, says therapist and self-esteem blogger, Emily Roberts, MA, is to deal with negative thinking. Negative thoughts sound like this: "I can't do anything right." "Nobody likes me."
What can you do about negative thinking? Here are 5 articles that address that.
Writing in a journal is beneficial for your mental health as well as keeping track of negative thoughts. And don't forget to put positive things about yourself in that journal.
You want to increase happiness and boost your self-esteem? Find (and hang out with) people with positive self-esteem who will support and celebrate your strengths and achievements. This will reenforce the positive thoughts and feelings you have about yourself.
We'll continue with more ways to raise your self-esteem in next week's newsletter.
Your Thoughts
Today's Question: If you have low self-esteem, what do you attribute it to? We invite you to participate by commenting and sharing your feelings, experiences and knowledge on the HealthyPlace Facebook page.
Help Spread Awareness of Mental Illness
Get Our Mental Health Blog Widget
Over 370 sites and blogs are helping spread awareness of mental illness. How about putting our mental health blogs widget on your website, blog or social page? The latest HealthyPlace blog headlines appear as soon as the articles are posted on our site. Just click "Get Widget" at the bottom of the widget, grab the embed code and paste it into your page. You'll also see embed links for Wordpress, Blogger, Linkedin and other social sites there.
As a bonus, put the blogs widget on your site or blog, email us (info AT healthyplace.com) with a page link where it appears, and we'll give a shoutout to your site, blog, or social site on our Facebook and Twitter pages.
------------------------------------------------------------------
Share our Stories
At the top and bottom of all our stories, you'll find social share buttons for Facebook, Google+, Twitter, Pinterest and other social sites. If you find a particular story, video, psychological test or other HealthyPlace feature helpful, there's a good chance others in need will too. Please share.
We also get many inquiries about our linking policy. If you have a website or blog, you can link to any page on the HealthyPlace website without asking us beforehand.
---
continue story below
---
Most Popular HealthyPlace Articles Shared by Facebook Fans
Here are the top 3 mental health articles HealthyPlace Facebook fans are recommending you read:
If you're not already, I hope you'll join us/like us on Facebook too. There are a lot of wonderful, supportive people there.
------------------------------------------------------------------
Mental Health Experiences
Share your thoughts/experiences with any mental health subject, or respond to other people's audio posts, by calling our toll-free number (1-888-883-8045).
You can listen to what other people are saying by clicking on the gray title bars inside the widgets located on the "Sharing Your Mental Health Experiences" homepage, the HealthyPlace homepage, and the HealthyPlace Support Network homepage.
If you have any questions, write us at: info AT healthyplace.com
------------------------------------------------------------------
From the HealthyPlace Mental Health Blogs
On all our blogs, your comments and observations are welcomed.
Feel free to share your thoughts and comments at the bottom of any blog post. And visit the mental health blogs homepage for the latest posts.
------------------------------------------------------------------
Stand Up for Mental Health
Thousands Have Joined the Stand Up for Mental Health Campaign
But we still need you. Let others know there's no shame in having depression, anxiety, bipolar disorder, trichotillomania, OCD, ADHD, schizophrenia or any other mental illness.
Join the Stand Up for Mental Health campaign. Put a button on your website or blog (buttons for family members, parents, mental health professionals and organizations too). We also have covers for Facebook, Twitter and Google+.
------------------------------------------------------------------
Teens With Social Anxiety Need Communication Skills
Teens with social anxiety have difficulty communicating. The Parent Coach, Dr. Steven Richfield, shares some tools to help your teenager with social anxiety learn how to have conversations with his peers.
Latest Mental Health News
These stories and more are featured on our mental health news page:
Dealing With Burnout, Which Doesn't Always Stem From Overwork
Youth Suicide Attempts Associated With Mental Health Problems Later in Life
Brain Changes Seen In Children Whose Bond With Their Mother Was Disrupted Early In Life
Study Links Mental Disorders To Increased Heart Disease Risk
Inflexible Thinking In ADHD Blamed On Bipolar Disorder
Brain Network Disruption Crosses Psychosis Diagnostic Boundaries
Teenage Bereavement Linked to Asthma Hospitalization Risk
Cognitive Performance In Psychosis Has Roots In Childhood
Childhood Asthma, Eczema Linked To Adolescent Psychotic Experiences
Why Being Bad Feels So Good
Social Services Must Overcome Multiple Challenges To Reach 'Invisible' Homeless Women
Insomnia Hurts Job Performance of Depressed Patients
DSM-5 Mania Duration Criterion Questioned
That's it for now. If you know of anyone who can benefit from this newsletter or the HealthyPlace.com site, I hope you'll pass this onto them. You can also share the newsletter on any social network (like facebook, stumbleupon, or digg) you belong to by clicking the links below. For updates throughout the week:
APA Reference
Staff, H. (2013, December 9). How to Raise Your Self-Esteem, HealthyPlace. Retrieved on 2023, December 5 from https://www.healthyplace.com/other-info/mental-health-newsletter/how-to-raise-your-self-esteem
Last Updated: September 3, 2014