How To Support Someone with Mental Illness
Here's what's happening on the HealthyPlace site this week: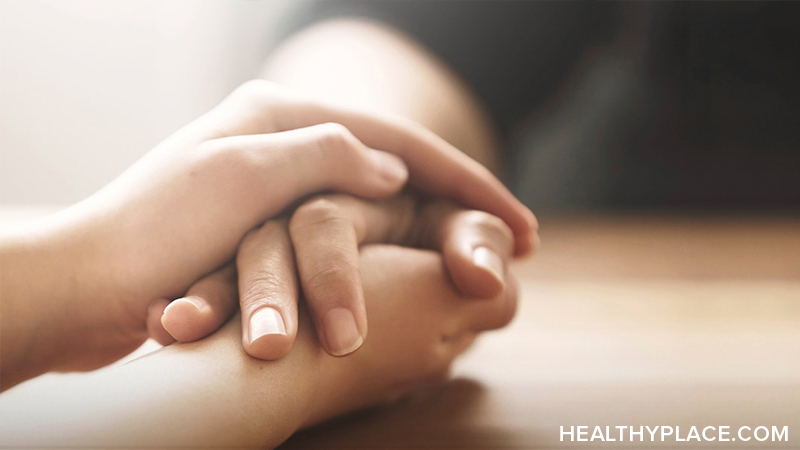 How To Support Someone with Mental Illness
Supporting someone with mental illness takes an understanding of what that person may be experiencing. Generally speaking, living with mental illness presents a host of challenges, not the least of which is a sense of isolation and separateness from the rest of the world. It's not uncommon for people who've been diagnosed with a mental illness to lose jobs, friendships, or marriages. Having a mental illness can mean extended loneliness.
However, this isn't always due to intentional abandonment. Sometimes, friends and partners want to remain connected and supportive. Knowing what do say and do, though, can be difficult for even the most well-meaning of people (Supporting the Mentally Ill: Best Things to Say).
5 Principles in Supporting Someone with a Mental Illness
These five principles can form the foundation of your plan to support someone with mental illness.
Reassure: "I'm here for you. I won't stop liking/loving you because you're struggling."
Ask: "What would be helpful to you right now?"
Offer: "Cleaning helps me deal with stress, and I'd like to come over there and clean."
Check in: "I'm going to touch base with you tomorrow."
Encourage: "This isn't who you are. You are your strengths and character."

When it comes to being supportive, simple is best. Often, the very best way to support someone with mental illness is to just be present. The goal isn't to solve someone's problems but rather to stand beside him while he works through them.
Related Articles Dealing with Supporting Someone with Mental Illness
Your Thoughts
Today's Question: What things have been helpful for you in giving—or receiving—support? We invite you to participate by commenting and sharing your feelings, experiences and knowledge on the HealthyPlace Facebook page.
------------------------------------------------------------------ 
From the HealthyPlace Mental Health Blogs
On all our blogs, your comments and observations are welcomed.
Feel free to share your thoughts and comments at the bottom of any blog post. And visit the mental health blogs homepage for the latest posts.
------------------------------------------------------------------
From HealthyPlace YouTube Channel
What is it like being in a mental hospital? First, let me tell you how I got there. As I was nearing 20 years old, the extreme highs and lows of bipolar disorder began to surface again, in the second semester of my sophomore year in college.
------------------------------------------------------------------
Most Popular HealthyPlace Articles Shared by Facebook Fans
Here are the top 3 mental health articles HealthyPlace Facebook fans are recommending you read:
If you're not already, I hope you'll join us/like us on Facebook too. There are a lot of wonderful, supportive people there.
------------------------------------------------------------------ 
Mental Health Quote
"I'm exhausted from trying to be stronger than I feel"
Read more depression quotes.
------------------------------------------------------------------
That's it for now. If you know of anyone who can benefit from this newsletter or the HealthyPlace.com site, I hope you'll pass this onto them. You can also share the newsletter on any social network (like facebook, stumbleupon, or google+) you belong to by clicking the links below. For updates throughout the week, follow HealthyPlace on Twitter or become a like HealthyPlace on Facebook.
APA Reference
Peterson, T. (2016, November 21). How To Support Someone with Mental Illness, HealthyPlace. Retrieved on 2023, December 11 from https://www.healthyplace.com/other-info/mental-health-newsletter/how-to-support-someone-with-mental-illness
Last Updated: October 25, 2022