What We Can Learn from Disaster Mental Health
Here's what's happening on the HealthyPlace site this week:
---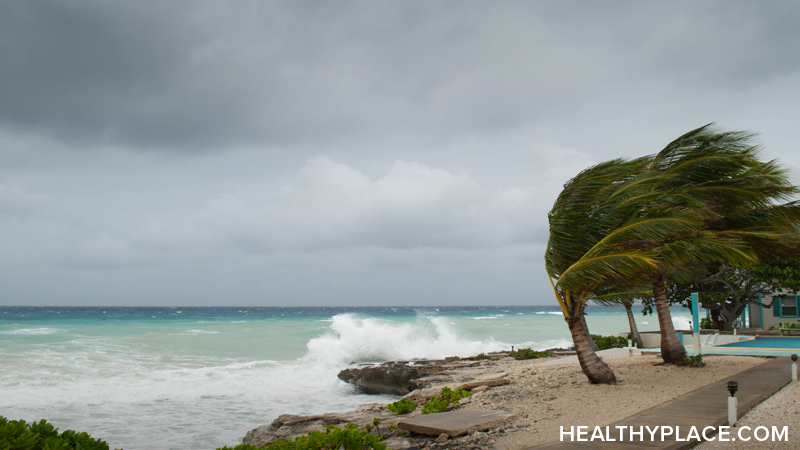 What We Can Learn from Disaster Mental Health
Disaster mental health services are a component of organizations, such as the American Red Cross, that respond to catastrophes. As hurricane Florence devastated the Carolinas and surrounding areas recently, trained response teams arrived to help with immediate mental health needs in the face of a calamity. Some components of their programs can also be applied to ordinary life.
Principles of disaster mental health services are similar to what we need in everyday life to nurture our emotional health. Try this disaster menta health approach for your mental health:
Whether you're in a disaster zone or just living your life, following these steps can enhance emotional health.
Related Articles Dealing with Disaster Mental Health and Emotional Health
Your Thoughts
Today's Question: When you are struggling with your mental health, what is your top priority? We invite you to participate by sharing your thoughts, knowledge, and experiences on the HealthyPlace Facebook page and on the HealthyPlace Google+ page.
From the HealthyPlace Mental Health Blogs
On all our blogs, your comments and observations are welcomed.
Feel free to share your thoughts and comments at the bottom of any blog post. And visit the mental health blogs homepage for the latest posts.
------------------------------------------------------------------
From HealthyPlace YouTube Channel
I'm Hannah. I Have Bipolar 2
Hurtful Misconceptions about Bipolar Disorder
In truth, those hurtful misconceptions about bipolar disorder are just another form of bipolar stigma. And the media has a lot to do with it. This includes movies, television shows and news outlets that give a negative portrayal of people with bipolar disorder. (Watch Hannah and subscribe to the HealthyPlace YouTube channel for more great mental health videos.)
------------------------------------------------------------------
Most Popular HealthyPlace Articles Shared by Facebook Fans
Here are the top 3 mental health articles HealthyPlace Facebook fans are recommending you read:
If you're not already, I hope you'll join us/like us on Facebook too. There are a lot of wonderful, supportive people there.
------------------------------------------------------------------
Mental Health Quote
"What's broken can be mended what hurts can be healed and no matter how dark it gets, the sun is going to rise again."
Read more mental health quotes.
------------------------------------------------------------------
That's it for now. If you know of anyone who can benefit from this newsletter or the HealthyPlace.com site, I hope you'll pass this onto them. You can also share the newsletter on any social network (like facebook, stumbleupon, or google+) you belong to by clicking the links below. For updates throughout the week, circle HealthyPlace on Google+, follow HealthyPlace on Twitter or become a fan of HealthyPlace on Facebook. Also, check out HealthyPlace on Pinterest and share your mental health pins on our Share Your Mental Health Experiences board.
APA Reference
Peterson, T. (2018, September 24). What We Can Learn from Disaster Mental Health, HealthyPlace. Retrieved on 2023, October 1 from https://www.healthyplace.com/other-info/mental-health-newsletter/what-we-can-learn-from-disaster-mental-health
Last Updated: September 25, 2018