Positive Thinking: Focusing on the Positive
HealthyPlace Mental Health Newsletter
Here's what's happening on the HealthyPlace site this week:
Your Mental Health: Focusing on the Positive
"People deal too much with the negative, with what is wrong. Why not try and see positive things, to just touch those things and make them bloom?" ~ Thich Nhat Hanh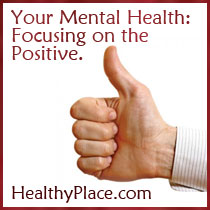 How much time each day do you spend focusing on the positive things in your life? Research shows positive thinking can make a huge difference in your mental health, your attitude, your self-esteem and self-confidence. A famous book by Dr. Norman Vincent Peale titled, "The Power of Positive Thinking," discusses how positive thoughts can create lasting change in your life. A landmark study by Dr. Barbara Fredrickson, a positive psychology researcher at the University of North Carolina, backs up this concept.
So you know, positive thinking is not about just putting on a happy face or carrying a happy-go-lucky attitude. Rather when you see things with a positive attitude, you see more possibilities in your life. This allows you to build new skills and resources that can provide value in different parts of your life.
Conversely, negative thoughts can lead to bouts of depression and negative thinking can kill your self-esteem.
How to Change Negative Depressing Thoughts and Think Positive
If you are a long time negative thinker, the ability to think positively will take practice and time. Here are two posts from our depression and self-esteem bloggers to get you started.
Also, take a look at our video interview with Julie Fast, who has written several best-selling books on living with bipolar disorder and depression. Julie has bipolar disorder and shares her ideas on how to change depressing thoughts.
If you're just starting out, a positive thought can be as simple as this one from HealthyPlace Facebook community member, Cynthia Lai: "I am still alive right now!!"
Related Information on Mental Health Recovery
Your Thoughts
Today's Question: When it comes to your mental health, what would you consider your biggest success. We invite you to participate by commenting and sharing your feelings, experiences and knowledge on the HealthyPlace Facebook page.
Help Spread Awareness of Mental Illness
Get Our Mental Health Blog Widget
Over 340 sites and blogs are helping spread awareness of mental illness. How about putting our mental health blogs widget on your website, blog or social page? The latest HealthyPlace blog headlines appear as soon as the articles are posted on our site. Just click "Get Widget" at the bottom of the widget, grab the embed code and paste it into your page. You'll also see embed links for Wordpress, Blogger, Linkedin and other social sites there.
As a bonus, put the blogs widget on your site or blog, email us (info AT healthyplace.com) with a page link where it appears, and we'll give a shoutout to your site, blog, or social site on our Facebook and Twitter pages.
------------------------------------------------------------------
Share our Stories
At the top and bottom of all our stories, you'll find social share buttons for Facebook, Google+, Twitter, Pinterest and other social sites. If you find a particular story, video, psychological test or other HealthyPlace feature helpful, there's a good chance others in need will too. Please share.
We also get many inquiries about our linking policy. If you have a website or blog, you can link to any page on the HealthyPlace website without asking us beforehand.
---
continue story below
---
Most Popular HealthyPlace Articles Shared by Facebook Fans
Here are the top 3 mental health articles HealthyPlace Facebook fans are recommending you read:
If you're not already, I hope you'll join us/like us on Facebook too. There are a lot of wonderful, supportive people there.
------------------------------------------------------------------
Mental Health Experiences
Share your thoughts/experiences with any mental health subject, or respond to other people's audio posts, by calling our toll-free number (1-888-883-8045).
You can listen to what other people are saying by clicking on the gray title bars inside the widgets located on the "Sharing Your Mental Health Experiences" homepage, the HealthyPlace homepage, and the HealthyPlace Support Network homepage.
If you have any questions, write us at: info AT healthyplace.com
------------------------------------------------------------------
From the HealthyPlace Mental Health Blogs
On all our blogs, your comments and observations are welcomed.
Feel free to share your thoughts and comments at the bottom of any blog post. And visit the mental health blogs homepage for the latest posts.
------------------------------------------------------------------
Stand Up for Mental Health
Thousands Have Joined the Stand Up for Mental Health Campaign
But we still need you. Let others know there's no shame in having depression, anxiety, bipolar disorder, trichotillomania, OCD, ADHD, schizophrenia or any other mental illness.
Join the Stand Up for Mental Health campaign. Put a button on your website or blog (buttons for family members, parents, mental health professionals and organizations too). We also have covers for Facebook, Twitter and Google+.
------------------------------------------------------------------
Children with Asperger's Syndrome Hurt by Asperger's Stigma
Children with Asperger's Syndrome need to be diagnosed early, despite any parental concerns about the stigma attached to Asperger's Syndrome. The Parent Coach, Dr. Steven Richfield, shares some observations on seeking a diagnostic evaluation for young children displaying signs of Asperger's Syndrome .
Latest Mental Health News
These stories and more are featured on our mental health news page:
Can Emotional Intelligence Be Taught?
Cognitive Science Meets Pre-Algebra
Weather and Violence
Shorter Workweek May Not Increase Well-Being
Couples With Autistic Children
Adding Cognitive-Behavioral Therapy to SRIs May Be Beneficial for Patients with OCD
Study Finds Men Are More Likely to Develop Physical Illness Than Women
Brain Clues Reveal Risk of Psychotic Illness
Depression Highlighted as Nonadherence Risk in Bipolar Patients
Gender Warns of Bipolar I Disorder Risks
Mental Health–Asthma Link Heightened by Obesity
That's it for now. If you know of anyone who can benefit from this newsletter or the HealthyPlace.com site, I hope you'll pass this onto them. You can also share the newsletter on any social network (like facebook, stumbleupon, or digg) you belong to by clicking the links below. For updates throughout the week:
APA Reference
Staff, H. (2013, September 12). Positive Thinking: Focusing on the Positive, HealthyPlace. Retrieved on 2023, November 28 from https://www.healthyplace.com/other-info/mental-health-newsletter/positive-thinking-focusing-on-the-positive
Last Updated: September 4, 2014