Sleeping Away Troubles Does Not Get Rid of Your Depression
HealthyPlace Mental Health Newsletter
Here's what's happening on the HealthyPlace site this week:
Sleeping Away Troubles Does Not Get Rid of Your Depression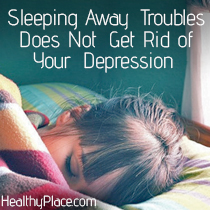 Those struggling with mental illness, especially severe depression, may feel drowsy and overtired on a regular basis. Your body becomes overwhelmed with emotions and those intense feelings tend to wear the body out. This could lead to constant napping or laying around during the day and the more your body behaves like this, the more used to it your body becomes. (Depression and Sleep Problems) In addition, you may have pushed your struggles or problems aside by sleeping, but once you wake up, your problems are still there.
By finding a healthy replacement for continuous sleep, you can stay awake long enough to think through the struggles you are going through. Positive self-talk can help overcome the demons running through your mind. You can also discover new coping skills to keep your energy up. In addition, check with your doctor for treatment of sleep problems and depression.
When you sleep less during the day, you will be able to sleep more at night and get your body on a better routine. When you are on a schedule and you take the time to understand what your body and mind are trying to tell you, you will have a better chance at figuring out healthy ways to deal with the issues you are struggling with.
Related Articles Dealing With Sleep and Depression:
Your Thoughts
Today's Question: Have you slept continuously for a long period of time due to feeling sluggish and unmotivated? What are some ways to help re-energize your body and avoid constant napping? We invite you to participate by commenting and sharing your feelings, experiences and knowledge on the HealthyPlace Facebook page and on the HealthyPlace Google+ page.
------------------------------------------------------------------
Share our Stories
At the top and bottom of all our stories, you'll find social share buttons for Facebook, Google+, Twitter, Pinterest and other social sites. If you find a particular story, video, psychological test or other HealthyPlace feature helpful, there's a good chance others in need will too. Please share.
We also get many inquiries about our linking policy. If you have a website or blog, you can link to any page on the HealthyPlace website without asking us beforehand.
---
---
Most Popular HealthyPlace Articles Shared by Facebook Fans
Here are the top 3 mental health articles HealthyPlace Facebook fans are recommending you read:
If you're not already, I hope you'll join us/like us on Facebook too. There are a lot of wonderful, supportive people there.
------------------------------------------------------------------
Mental Health Experiences
Share your thoughts/experiences with any mental health subject, or respond to other people's audio posts, by calling our toll-free number (1-888-883-8045).
You can listen to what other people are saying by clicking on the gray title bars inside the widgets located on the "Sharing Your Mental Health Experiences" homepage, the HealthyPlace homepage, and the HealthyPlace Support Network homepage.
If you have any questions, write us at: info AT healthyplace.com
------------------------------------------------------------------
From the HealthyPlace Mental Health Blogs
We are welcoming our new "Treating Anxiety" blogger, Greg Weber and Christina Halli, author of "Life with Bob: Parenting A Child with Mental Illness." On all our blogs, your comments and observations are welcomed.
Feel free to share your thoughts and comments at the bottom of any blog post. And visit the mental health blogs homepage for the latest posts.
------------------------------------------------------------------
Stand Up for Mental Health
Thousands Have Joined the Stand Up for Mental Health Campaign
But we still need you. Let others know there's no shame in having depression, anxiety, bipolar disorder, trichotillomania, OCD, ADHD, schizophrenia or any other mental illness.
Join the Stand Up for Mental Health campaign. Put a button on your website or blog (buttons for family members, parents, mental health professionals and organizations too). We also have covers for Facebook, Twitter and Google+.
------------------------------------------------------------------
Latest Mental Health News
These stories and more are featured on our mental health news page:
One In Three People Struggle To Cope At Work Due To Depression Or Stress According To New Survey
New Mothers' Mental Health Jeopardized By Abuse
Want to Be More Creative? Take a Walk
600,000 Americans May Have 'Commonly Misdiagnosed' Alzheimer's Subtype
High Doses Of Antidepressants Appear To Increase Risk Of Self-Harm In Children And Young Adults
Youth Who Work With Horses Experience A Substantial Reduction In Stress
Beyond The Damaged Brain. Neuroscientists Can Learn From The Humanities
Our Desire For Payback Exemplifies Our Capacity For Abstract Thought
A Computer Is Much Better Than People Are At Telling The Difference Between Real And Faked Pain
Friends Can Be Dangerous. Even Teenage Mice Binge-Drink With Peers
That's it for now. If you know of anyone who can benefit from this newsletter or the HealthyPlace.com site, I hope you'll pass this onto them. You can also share the newsletter on any social network (like facebook, stumbleupon, or digg) you belong to by clicking the links below. For updates throughout the week:
APA Reference
Staff, H. (2014, September 9). Sleeping Away Troubles Does Not Get Rid of Your Depression, HealthyPlace. Retrieved on 2022, July 2 from https://www.healthyplace.com/other-info/mental-health-newsletter/sleeping-away-troubles-does-not-get-rid-of-your-depression
Last Updated: January 7, 2015