Talking About Your Family History of Mental Illness
HealthyPlace Mental Health Newsletter
Here's what's happening on the HealthyPlace site this week:
Talking About Your Family History of Mental Illness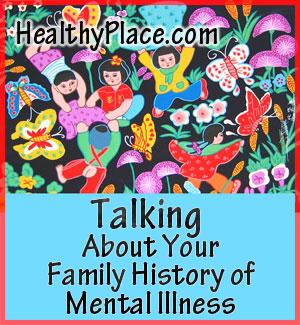 Did your parents ever have "the talk" with you? Have you had "the big talk" with your children? No, I don't mean the "sex talk." I'm talking about discussing your family's history of mental illness.
Shawn Maxam, author of "The Bipolar Griot" blog on HealthyPlace, shares his recent conversation with relatives about mental illness in his family. He says it left him feeling empowered knowing he wasn't the only family member with a mental illness.
I want to take it one step further. It's important to share your and your family's history of mental illness with your children for these two reasons:
To help them understand why mommy, daddy, grandpa, or aunt Betty behave the way they do.
And even more important than that, they are prepared for the possibility that they may have a mental illness too or their children may develop a mental illness.
Research has shown there is genetic component to bipolar disorder, depression, ADHD, schizophrenia, eating disorders, and some anxiety disorders. You may be thinking, "well, my child doesn't have any signs of a mental illness right now." That may be true. However, signs of mental illness may not appear until late teen years or later in adulthood. Don't leave your child clueless and having to suffer, not knowing what is going on. Arm your child with the knowledge he or she needs to manage any future mental health problems. If you have a mental illness, you know how important that conversation can be. Have it with your child today and keep filling in the details in followup conversations.
On the HealthyPlace Facebook page, our "Question of the Day" is: Has your family openly discussed your family's history of mental illness? or is that a taboo subject in your house? We invite you to participate by commenting and sharing your feelings, experiences and knowledge.
Related Mental Illness Information
Help Spread Awareness of Mental Illness
Get Our Mental Health Blog Widget
Over 50 sites and blogs are helping spread awareness of mental illness. How about putting our mental health blogs widget on your website, blog or social page? The latest HealthyPlace blog headlines appear as soon as the articles are posted on our site. Just click "Get Widget" at the bottom of the widget, grab the embed code and paste it into your page. You'll also see embed links for Wordpress, Blogger, Linkedin and other social sites there.
As a bonus, put the blogs widget on your site or blog, email us (info AT healthyplace.com) with a page link where it appears, and we'll give a shoutout to your site, blog, or social site on our Facebook and Twitter pages.
---
continue story below
---
Share our Stories
At the top and bottom of all our stories, you'll find social share buttons for Facebook, Google+, Twitter, Pinterest and other social sites. If you find a particular story, video, psychological test or other HealthyPlace feature helpful, there's a good chance others in need will too. Please share.
We also get many inquiries about our linking policy. If you have a website or blog, you can link to any page on the HealthyPlace website without asking us beforehand.
------------------------------------------------------------------
Most Popular HealthyPlace Articles Shared by Facebook Fans
Here are the top 3 mental health articles HealthyPlace Facebook fans are recommending you read:
If you're not already, I hope you'll join us/like us on Facebook too. There are a lot of wonderful, supportive people there.
------------------------------------------------------------------
Mental Health Experiences
Share your thoughts/experiences with any mental health subject, or respond to other people's audio posts, by calling our toll-free number (1-888-883-8045).
You can listen to what other people are saying by clicking on the gray title bars inside the widgets located on the "Sharing Your Mental Health Experiences" homepage, the HealthyPlace homepage, and the HealthyPlace Support Network homepage.
If you have any questions, write us at: info AT healthyplace.com
------------------------------------------------------------------
From the HealthyPlace Mental Health Blogs
Your comments and observations are welcomed.
Feel free to share your thoughts and comments at the bottom of any blog post. And visit the mental health blogs homepage for the latest posts.
Depersonalization Disorder: Living in a Dream World on HealthyPlace Radio
Most of us never have the experience of feeling as if we are disconnected from our own body and mind, but if you are suffering from depersonalization disorder, that's exactly how you feel. Listen our interview with Jeffrey Abugel, as he describes what living with depersonalization disorder is like."
Coaching The Preschooler With ADHD
Having a very young child with ADHD and no prior experience parenting one, leaves many parents searching for answers on what to do. Not to worry. Our Parenting Coach, Dr. Steven Richfield, offers parents some guidance on how to manage behaviors of ADHD kids.
That's it for now. If you know of anyone who can benefit from this newsletter or the HealthyPlace.com site, I hope you'll pass this onto them. You can also share the newsletter on any social network (like facebook, stumbleupon, or digg) you belong to by clicking the links below. For updates throughout the week:
APA Reference
Staff, H. (2012, October 23). Talking About Your Family History of Mental Illness, HealthyPlace. Retrieved on 2023, December 8 from https://www.healthyplace.com/other-info/mental-health-newsletter/talking-about-your-family-history-of-mental-illness
Last Updated: September 4, 2014