The Relationship Between Pain and Mental Health
HealthyPlace Mental Health Newsletter
Here's what's happening on the HealthyPlace site this week: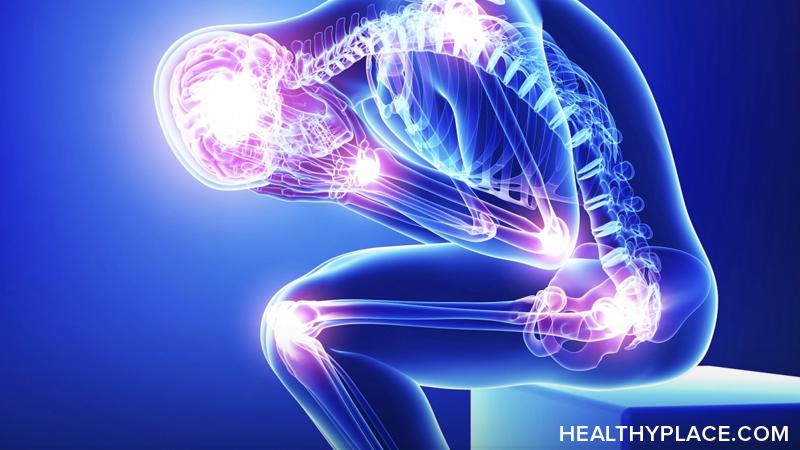 The Relationship Between Pain and Mental Health
Physical pain and mental health have a rather intimate relationship. (Mental Illness Means Physical Pain, Too) There's a complex dance between pain and mental health that can trip us up and leave us lying, seemingly helpless, on the dance floor. Mental health disorders frequently have not just emotional and behavioral symptoms but physical ones, too. Depression symptoms include physical pain. Anxiety, bipolar disorder, and post-traumatic stress disorder are also among the many mental illnesses that include physical symptoms. Mental illness can cause physical pain.
Pain Can Cause Mental Health Problems
Further, it's not uncommon for physical illnesses, especially chronic ones, to lead to mental health disorders. Conditions such as fibromyalgia, lupus, chronic fatigue syndrome, heart disease, rheumatoid- or osteoarthritis, cancer, and more cause ongoing pain in one or more areas of the body. This type of unrelenting pain can wear on us both physically and emotionally. Physical pain can be so all-encompassing that it contributes to mental health conditions like depression and anxiety. (Chronic Pain and Illness: Breeding Grounds for Depression)
We humans can experience pain in many ways, and it can be discouraging when mental pain and physical pain contribute to each other. Once we're aware of this relationship, we can attend to all of our symptoms, our whole being. Because of the relationship between pain and mental health, attending to the whole self can help heal the whole self.
Articles Related to the Relationship Between Pain and Mental Health
Your Thoughts
Today's Question: What do you do to ease the mix of physical pain and mental health difficulties? We invite you to participate by commenting and sharing your feelings, experiences and knowledge on the HealthyPlace Facebook page and on the HealthyPlace Google+ page.
---
---
Share our Stories
At the top and bottom of all our stories, you'll find social share buttons for Facebook, Google+, Twitter, Pinterest and other social sites. If you find a particular story, video, psychological test or other HealthyPlace feature helpful, there's a good chance others in need will too. Please share.
We also get many inquiries about our linking policy. If you have a website or blog, you can link to any page on the HealthyPlace website without asking us beforehand.
Most Popular HealthyPlace Articles Shared by Facebook Fans
Here are the top 3 mental health articles HealthyPlace Facebook fans are recommending you read:
If you're not already, I hope you'll join us/like us on Facebook too. There are a lot of wonderful, supportive people there.
------------------------------------------------------------------
From the HealthyPlace Mental Health Blogs
On all our blogs, your comments and observations are welcomed.
Feel free to share your thoughts and comments at the bottom of any blog post. And visit the mental health blogs homepage for the latest posts.
------------------------------------------------------------------
Stand Up for Mental Health
Thousands Have Joined the Stand Up for Mental Health Campaign
But we still need you. Let others know there's no shame in having depression, anxiety, bipolar disorder, trichotillomania, OCD, ADHD, schizophrenia or any other mental illness.
Join the Stand Up for Mental Health campaign. Put a button on your website or blog (buttons for family members, parents, mental health professionals and organizations too). We also have covers for Facebook, Twitter and Google+.
------------------------------------------------------------------
Latest Mental Health News
These stories and more are featured on our mental health news page:
Graphic Warnings On Cigarette Packets 'Help Smokers Consider Health Risks'
Psychotherapies Have Long-Term Benefit For Those Suffering From Irritable Bowel Syndrome
Fish Oil Helps Transform Fat Cells From Storage To Burning
Early Childhood Depression Alters Brain Development
Chewing Slowly Helps Prevent Excessive Weight Gain In Children
Coffee Might Improve Your Endurance During Exercise
Long-Term Use Of Antidepressants Increases An Individual's Risk Of A Future Bipolar Or Manic Phase
That's it for now. If you know of anyone who can benefit from this newsletter or the HealthyPlace.com site, I hope you'll pass this onto them. You can also share the newsletter on any social network (like facebook, stumbleupon, or digg) you belong to by clicking the links below. For updates throughout the week:
APA Reference
Peterson, T. (2016, January 20). The Relationship Between Pain and Mental Health, HealthyPlace. Retrieved on 2023, December 3 from https://www.healthyplace.com/other-info/mental-health-newsletter/the-relationship-between-pain-and-mental-health
Last Updated: January 20, 2016