Transitioning Back to School with ADHD
Here's what's happening on the HealthyPlace site this week:
---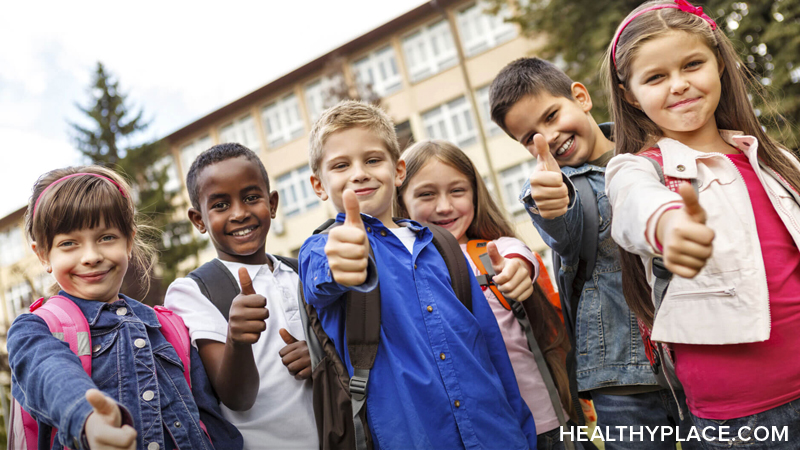 Transitioning Back to School with ADHD
School is back in session. While it can be difficult for anyone to end summer routines and transition into school-year mode, this change can be especially hard for children and teens with attention-deficit hyperactivity disorder (ADHD).
In ADHD, the brain processes things differently. As a result, someone with ADHD might find it difficult to change from one thing to the next. The transition from summer break to a new school year is one that can be especially difficult. Schedules and routines change abruptly, which can throw off kids with ADHD. Further, activities are different, kids around them are different, the classroom is different from last year. This, coupled with new transitions within each day, can make kids and teens become overwhelmed.
ADHD doesn't mean that people can't adjust. It just means that doing so is more challenging. Help kids with ADHD channel their attention and thrive with these tips:
Establish a routine that they can rely on
Provide structure, consistent schedules, and predictability
Work with them to create a special space to do homework, keep important school papers, and even relax while waiting to leave for school and returning home
Working with your child or teen to create a new routine and environment they can rely on will help them transition well even with ADHD.
Related Articles Dealing with ADHD and Transitions
Your Thoughts
Today's Question: If you have a child with ADHD, what has helped with the back-to-school transition? We invite you to participate by sharing your thoughts, experiences, and knowledge on the HealthyPlace Facebook page and on the HealthyPlace Google+ page.
From the HealthyPlace Mental Health Blogs
On all our blogs, your comments and observations are welcomed.
Feel free to share your thoughts and comments at the bottom of any blog post. And visit the mental health blogs homepage for the latest posts.
------------------------------------------------------------------
From HealthyPlace YouTube Channel
I'm Hannah. I Have Bipolar 2
Bipolar Disorder and Suicide Prevention
September is National Suicide Prevention Month which makes it the perfect time to talk about how those of us living with bipolar disorder can prevent suicide both in our lives and in our community. In this video, I share ways to get involved with National Suicide Prevention Month and why it's essential we make an effort to prevent it in our own lives. (Watch Hannah and subscribe to the HealthyPlace YouTube channel for more great mental health videos.)
------------------------------------------------------------------
Most Popular HealthyPlace Articles Shared by Facebook Fans
Here are the top 3 mental health articles HealthyPlace Facebook fans are recommending you read:
If you're not already, I hope you'll join us/like us on Facebook too. There are a lot of wonderful, supportive people there.
------------------------------------------------------------------
Mental Health Quote
"Don't believe everything you think."
Read more mental health quotes.
------------------------------------------------------------------
That's it for now. If you know of anyone who can benefit from this newsletter or the HealthyPlace.com site, I hope you'll pass this onto them. You can also share the newsletter on any social network (like facebook, stumbleupon, or google+) you belong to by clicking the links below. For updates throughout the week, circle HealthyPlace on Google+, follow HealthyPlace on Twitter or become a fan of HealthyPlace on Facebook. Also, check out HealthyPlace on Pinterest and share your mental health pins on our Share Your Mental Health Experiences board.
APA Reference
Peterson, T. (2018, September 10). Transitioning Back to School with ADHD, HealthyPlace. Retrieved on 2023, December 3 from https://www.healthyplace.com/other-info/mental-health-newsletter/transitioning-back-to-school-with-adhd
Last Updated: September 11, 2018