Want to Improve Your Mental Health? Try This
HealthyPlace Mental Health Newsletter
Here's what's happening on the HealthyPlace site this week:
Want to Improve Your Mental Health? Try This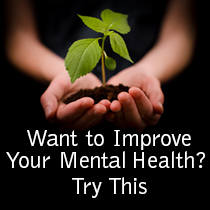 How can caring for something else improve your mental health, well-being and level of happiness? (How To Be Happier?) After all, when you are struggling with a mental illness, finding a joyful mindset is stressful, even painful at times. Who needs more work? Consider this, however, when you take responsibility for something or someone, you could gain some happiness without realizing it.
Even though you should always put your personal happiness first, there are ways to improve your mental health, happiness and well-being without it being work. When you focus on caring for something or someone else, you feel a sense of compassion and contentment. Alongside that contentment often comes a feeling of happiness because you are proud of the responsibility you have taken on. When you are proud of yourself, you are able to wash away some of the insecurities that have been clinging to you and replace them with feelings of confidence and positivity.
3 Ways To Improve Mental Health, Well-being and Get Results
Taking Care of a Plant. When you have a plant to take care of, you not only must water it and continue to check the health, you get to watch it grow and blossom. Just buy purchasing a small bamboo tree, cactus or even picking flowers, you can support the life of a plant while supporting your life as well.
Taking Care of a Pet. Whether you are taking a care of a goldfish or a dog, you are providing happiness for a living, breathing life and just by having that responsibility, you will be able to improve your focus. Fostering an animal or dog/cat-sitting can be a heart-warming way to show you care. (Animal Therapy: Easing Anxiety With An Animal)
Volunteering. When you are doing something without payment, you are doing those activities out of the goodness of your heart. Volunteering is a great way to give back and, in turn, fill yourself with the compassion you shared with others.
Articles Related to Self-Care and Caring for Others
Your Thoughts
Today's Question: In what ways has caring for something (garden, pet) or someone helped improve your mental health, emotional well-being and confidence? We invite you to participate by commenting and sharing your feelings, experiences and knowledge on the HealthyPlace Facebook page and on the HealthyPlace Google+ page.
---
advertisement
New Mental Health Apps. We Need Your Input
"GME is a mental health company that's developing specialized patient apps. We need your feedback. Please take our 2-minute survey to help guide us with our work. Each person will be entered to win a $20 Starbucks gift card. We appreciate your help. https://www.surveymonkey.com/r/FMZKTCH
---
---
---
Share our Stories
At the top and bottom of all our stories, you'll find social share buttons for Facebook, Google+, Twitter, Pinterest and other social sites. If you find a particular story, video, psychological test or other HealthyPlace feature helpful, there's a good chance others in need will too. Please share.
We also get many inquiries about our linking policy. If you have a website or blog, you can link to any page on the HealthyPlace website without asking us beforehand.
Most Popular HealthyPlace Articles Shared by Facebook Fans
Here are the top 3 mental health articles HealthyPlace Facebook fans are recommending you read:
If you're not already, I hope you'll join us/like us on Facebook too. There are a lot of wonderful, supportive people there.
------------------------------------------------------------------
From the HealthyPlace Mental Health Blogs
On all our blogs, your comments and observations are welcomed.
Feel free to share your thoughts and comments at the bottom of any blog post. And visit the mental health blogs homepage for the latest posts.
------------------------------------------------------------------
Stand Up for Mental Health
Thousands Have Joined the Stand Up for Mental Health Campaign
But we still need you. Let others know there's no shame in having depression, anxiety, bipolar disorder, trichotillomania, OCD, ADHD, schizophrenia or any other mental illness.
Join the Stand Up for Mental Health campaign. Put a button on your website or blog (buttons for family members, parents, mental health professionals and organizations too). We also have covers for Facebook, Twitter and Google+.
------------------------------------------------------------------
Latest Mental Health News
These stories and more are featured on our mental health news page:
Research Flags Potentially High Rate Of Medication Nonadherence Among Those With Serious Mental Illness
Mindfulness And Antidepressants Offer 'Similar Level Of Protection' Against Depression
Children Taught About Sexual Abuse More Likely To Report It
Laughter Is An Effective Catalyst For New Relationships
It's Not Always Depression. Sometimes, It's Shame
Heart Valve Repair Improves Emotional Wellbeing In Patients With Mitral Regurgitation
Study Of Veterans Finds Family Support During Deployment Reduces Suicidal Thoughts
That's it for now. If you know of anyone who can benefit from this newsletter or the HealthyPlace.com site, I hope you'll pass this onto them. You can also share the newsletter on any social network (like facebook, stumbleupon, or digg) you belong to by clicking the links below. For updates throughout the week:
APA Reference
Aline, J. (2015, April 22). Want to Improve Your Mental Health? Try This, HealthyPlace. Retrieved on 2023, October 1 from https://www.healthyplace.com/other-info/mental-health-newsletter/want-to-improve-your-mental-health-try-this
Last Updated: April 23, 2015