De-stress in an Instant: Any Time, Any Place
HealthyPlace Mental Health Newsletter
Here's what's happening on the HealthyPlace site this week: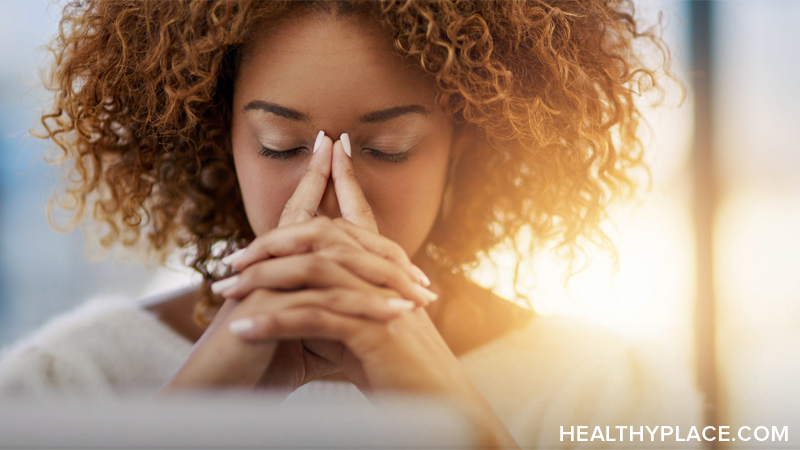 De-stress in an Instant: Any Time, Any Place
De-stressing is tough because stress is brutal. Stress takes a toll on mental and physical health. We can make lifestyle changes to reduce the effects of stress over time, but what about those times when we feel highly stressed (stressed out) in the moment, something immediate that we must face?
It is possible to de-stress in an instant, no matter where you are or what you're doing. It takes just one powerful trick. To de-stress in an instant, close your eyes, take a slow, deep breath, and visualize your greater purpose.
Visualizing Your Greater Purpose to De-Stress
Psychologist Viktor Frankl studied the importance of meaning and purpose while imprisoned in concentration camps during WWII. Today, research continues to show that a sense of purpose is powerful and has a positive impact on physical and mental health, including stress reduction. You can use it to de-stress in an instant, whenever you need it.
Take time to reflect on your sense of purpose. Why do you do what you do despite stress? Create a visual image to represent your purpose.
Draw on your image to de-stress in an instant. Close your eyes, take a deep breath, recall your image, and remember that you have a greater purpose. Knowing this will reduce your stress instantly any time, any place.
Articles Dealing with Purpose, Meaning, Stress, and Mental Illness
Your Thoughts
Today's Question: What do you do to de-stress? We invite you to participate by commenting and sharing your feelings, experiences and knowledge on the HealthyPlace Facebook page and on the HealthyPlace Google+ page.
---
---
From the HealthyPlace Mental Health Blogs
On all our blogs, your comments and observations are welcomed.
Feel free to share your thoughts and comments at the bottom of any blog post. And visit the mental health blogs homepage for the latest posts.
------------------------------------------------------------------
From HealthyPlace YouTube Channel
My bipolar depression story really begins in high school. In my late teens, I began to notice my emotional extremes and intense mood swings. My high school experience was great, but certain things happened that prompted my uneasy feelings about my mental health. You can learn more about that in the video.
------------------------------------------------------------------
Most Popular HealthyPlace Articles Shared by Facebook Fans
Here are the top 3 mental health articles HealthyPlace Facebook fans are recommending you read:
If you're not already, I hope you'll join us/like us on Facebook too. There are a lot of wonderful, supportive people there.
------------------------------------------------------------------
Mental Health Quote
"The only thing more exhausting than being depressed is pretending that you're not".
Read more depression quotes.
------------------------------------------------------------------
That's it for now. If you know of anyone who can benefit from this newsletter or the HealthyPlace.com site, I hope you'll pass this onto them. You can also share the newsletter on any social network (like facebook, stumbleupon, or google+) you belong to by clicking the links below. For updates throughout the week, circle HealthyPlace on Google+, follow HealthyPlace on Twitter or become a fan of HealthyPlace on Facebook. Also, check out HealthyPlace on Pinterest and share your mental health pins on our Share Your Mental Health Experiences board.
APA Reference
Peterson, T. (2016, December 6). De-stress in an Instant: Any Time, Any Place, HealthyPlace. Retrieved on 2023, December 11 from https://www.healthyplace.com/other-info/mental-health-newsletter/what-to-do-when-your-mental-illness-seems-worse
Last Updated: December 9, 2016