Could Depression Be Caused by Inflammation in the Body?
Here's what's happening on the HealthyPlace site this week:
------------------------------------------------------------------
Facebook Live This Wednesday
People love our Facebook Live events with therapist, Emily Roberts. Emily will be taking your personal mental health questions this Wednesday evening. We start at 7p CT / 8 ET. I hope you'll join us and feel free to invite others. Our page is here: https://www.facebook.com/HealthyPlace/. You can check out our previous mental health Facebook Live here.
------------------------------------------------------------------
---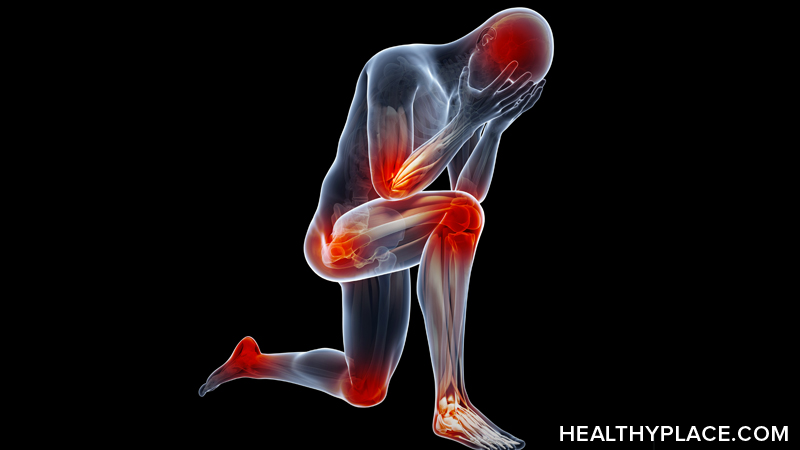 Could Depression Be Caused by Inflammation in the Body?
The phrase "mind-body connection" isn't a new one, but lately it has taken on new meaning, meaning that holds promise for depression treatment. Recent headlines highlighting new scientific studies show a connection between inflammation and depression; when inflammation is present, depression symptoms increase, but when inflammation decreases, so does depression.
These early findings are tentative, but there is enough evidence now to say that there is indeed a cause-effect relationship between the two. Therefore, studies will continue regarding how to approach and treat depression.
So what does inflammation have to do with depression? Inflammation is caused by an overactive immune system that thinks there's a threat, so it triggers an inflammatory response throughout the body. The brain is part of the body, and neurologists have learned that nerve cells in the brain are directly linked to immune function. It's been found that when there's inflammation present, people experience low mood, hopelessness, and fatigue—hallmark symptoms of depression.
Interestingly, studies that began a decade ago are showing that there is also a link between inflammation and schizophrenia. These studies are gaining ground and impacting how psychiatrists think about schizophrenia treatment.
This new discovery of the link between inflammation and mental illness can lead to increased understanding and new, safer and more effective treatments.
Related Articles Dealing with Depression and Schizophrenia Treatment
Your Thoughts
Today's Question:Popular reactions to the news of the link between depression and inflammation are mixed. What are your own thoughts? We invite you to participate by sharing your thoughts, knowledge, and experiences on the HealthyPlace Facebook page and on the HealthyPlace Google+ page.
---
---
From the HealthyPlace Mental Health Blogs
On all our blogs, your comments and observations are welcomed.
Feel free to share your thoughts and comments at the bottom of any blog post. And visit the mental health blogs homepage for the latest posts.
------------------------------------------------------------------
From HealthyPlace YouTube Channel
I'm Hannah. I Have Bipolar 2
Bipolar disorder and denial are linked; which is one of the reasons it takes so long for people with bipolar to see a doctor. They deny they even have something wrong. In fact, I have yet to meet another person with bipolar 1 or 2 disorder that ultimately accepted their diagnosis immediately after receiving it. (Watch Hannah)
-----
I'm Veronica. This is My Life with Depression
What is the Best Depression Treatment?
What is the best depression treatment? Since I've been battling major depression for over 15 years, people ask me that question all the time.
------------------------------------------------------------------
Most Popular HealthyPlace Articles Shared by Facebook Fans
Here are the top 3 mental health articles HealthyPlace Facebook fans are recommending you read:
If you're not already, I hope you'll join us/like us on Facebook too. There are a lot of wonderful, supportive people there.
------------------------------------------------------------------
Mental Health Quote
"Felling like you´re about to cry when someone points out you´re doing something wrong."
Read more anxiety quotes.
------------------------------------------------------------------
That's it for now. If you know of anyone who can benefit from this newsletter or the HealthyPlace.com site, I hope you'll pass this onto them. You can also share the newsletter on any social network (like facebook, stumbleupon, or google+) you belong to by clicking the links below. For updates throughout the week, circle HealthyPlace on Google+, follow HealthyPlace on Twitter or become a fan of HealthyPlace on Facebook. Also, check out HealthyPlace on Pinterest and share your mental health pins on our Share Your Mental Health Experiences board.
APA Reference
Peterson, T. (2017, September 25). Could Depression Be Caused by Inflammation in the Body?, HealthyPlace. Retrieved on 2023, October 1 from https://www.healthyplace.com/other-info/mental-health-newsletter/could-depression-be-caused-by-inflammation-in-the-body
Last Updated: September 27, 2017