When Mental Illness Is Harsh Turn to Lovingkindness
Here's what's happening on the HealthyPlace site this week:
---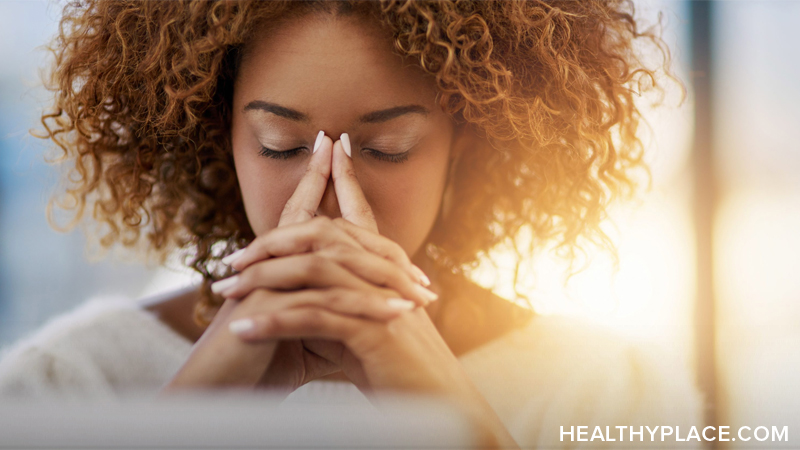 When Mental Illness Is Harsh Turn to Lovingkindness
Do you practice lovingkindness? Mental illnesses and personality disorders can be emotionally grueling. Maybe you've experienced their harsh effects in one or more ways:
Seeing your limitations but not your strengths
Comparing yourself to others and coming up short
Believing that your mental illness is who you are
Feeling guilty because you think you are a terrible mother/father/friend/spouse/etc.
Living with a sense of shame fueled by stigma and self-stigma
When you become gentle with yourself (a practice that takes patience and time), there isn't a single mental illness or personality disorder that can permanently destroy your confidence and healthy, accurate sense of self. One approach to self-compassion is the practice of lovingkindness.
What is Lovingkindness?
Lovingkindness is the act of cultivating benevolence and goodwill toward yourself (and others, too). It is a powerful counter to self-criticism and negative beliefs. Honing lovingkindness helps you accept yourself wholly.
Here's a way to practice lovingkindness every day:
Craft a statement that begins with "May I…"
Add what you need most that day ("May I think about myself positively.")
Repeat your statement throughout the day.
Create a collection of many lovingkindness statements (also called affirmations). Change your statements daily, weekly, or whenever feels right to you. Practice lovingkindness consistently to counter the harshness of mental illness with gentle self-compassion.
Related Articles Dealing with Self-Compassion
Your Thoughts
Today's Question: How do you practice self-compassion and boost self-esteem? We invite you to participate by sharing your thoughts, experiences, and knowledge on the HealthyPlace Facebook page.
From the HealthyPlace Mental Health Blogs
On all our blogs, your comments and observations are welcomed.
Feel free to share your thoughts and comments at the bottom of any blog post. And visit the mental health blogs homepage for the latest posts.
------------------------------------------------------------------
Most Popular HealthyPlace Articles Shared by Facebook Fans
Here are the top 3 mental health articles HealthyPlace Facebook fans are recommending you read:
If you're not already, I hope you'll join us/like us on Facebook too. There are a lot of wonderful, supportive people there.
------------------------------------------------------------------
Mental Health Quote
"What is depression like? It's like drowning, except everyone around you is breathing."
Read more depression quotes.
------------------------------------------------------------------
That's it for now. If you know of anyone who can benefit from this newsletter or the HealthyPlace.com site, I hope you'll pass this onto them. You can also share the newsletter on any social network (like facebook or stumbleupon) you belong to by clicking the links below. For updates throughout the week, follow HealthyPlace on Twitter or become a fan of HealthyPlace on Facebook. Also, check out HealthyPlace on Instagram, YouTube and Pinterest, where you can share your mental health pins on our Share Your Mental Health Experiences board.
APA Reference
Peterson, T. (2019, December 3). When Mental Illness Is Harsh Turn to Lovingkindness, HealthyPlace. Retrieved on 2023, December 6 from https://www.healthyplace.com/other-info/mental-health-newsletter/when-mental-illness-is-harsh-turn-to-lovingkindness
Last Updated: December 3, 2019