Why Are Police Officers Dying by Suicide?
Here's what's happening on the HealthyPlace site this week:
---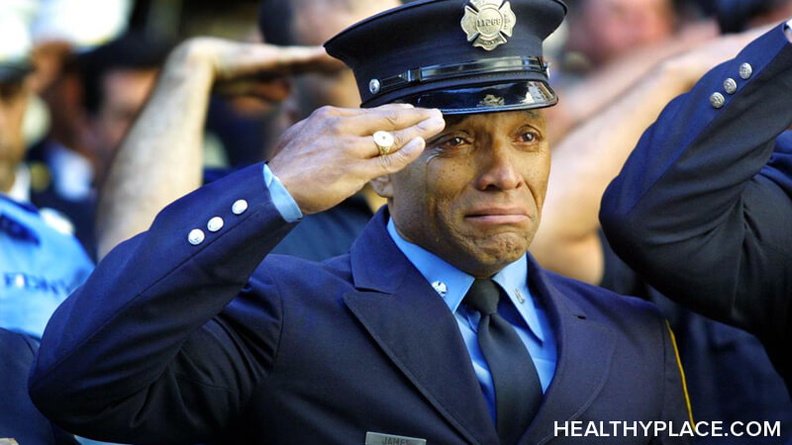 Why Are Police Officers Dying by Suicide?
Why four New York police officers died by suicide in just one month this year (June 2019)1 is a bit of a mystery. So is the fact that the city of Chicago has seen seven of its police officers die by suicide between 2018 and 20191. Nationwide, 167 officers and 169 officers died by suicide in 2018 and 2017, respectively2.
While suicide lacks definitive answers, some clues provide insight into police officer suicides.
Stigma—negative, judgmental attitudes and behaviors—can cause shame, humiliation and anxiety over the loss of active duty status. Accordingly, many police officers suffer in silence.
What Can Be Done?
NYPD commissioner James O'Neill1 considers these suicides a mental health crisis. To that end, he, along with the Police Organization Providing Peer Assistance (POPPA), is seeking to
That more police officers die by suicide each year than are killed in the line of duty2 is tragic. That the NYPD and departments across the country are working toward a solution is an important step in reducing suicide rates among police officers.
Note: Safe, stigma-free access to help is important for everyone. If you feel hopeless and are considering harming yourself, contact the Suicide Prevention Lifeline at 1-800-273-8255 or suicidepreventionlifeline. org.
Sources
Ortiz, E. (2019). Fourth NYPD Officer Suicide in 3 Weeks a Reminder of 'Combustible' Situation. NBC News. Retrieved July 2019 from https://www.nbcnews.com/news/us-news/fourth-nypd-officer-suicide-3-weeks-reminder-combustible-situation-n1024686
167 American Police Officers Died by Suicide in 2018. (2018). Blue H.E.L.P. Retrieved July7 2019 from https://bluehelp.org/158-american-police-officers-died-by-suicide-in-2018/
What is posttraumatic stress disorder? (2008). officer.com. Retrieved July 2019 from https://www.officer.com/tactical/article/10248615/what-is-posttraumatic-stress-disorder
Related Articles Dealing with Stigma, Suicide
Your Thoughts
Today's Question: What role has stigma played in your ability to seek mental health help? We invite you to participate by sharing your thoughts, experiences, and knowledge on the HealthyPlace Facebook page.
From the HealthyPlace Mental Health Blogs
On all our blogs, your comments and observations are welcomed.
Feel free to share your thoughts and comments at the bottom of any blog post. And visit the mental health blogs homepage for the latest posts.
------------------------------------------------------------------
Most Popular HealthyPlace Articles Shared by Facebook Fans
Here are the top 3 mental health articles HealthyPlace Facebook fans are recommending you read:
If you're not already, I hope you'll join us/like us on Facebook too. There are a lot of wonderful, supportive people there.
------------------------------------------------------------------
Mental Health Quote
"Anxiety happens when you think you have to figure out everything all at once. Breathe. You're strong. You got this. Take it day by day."
Read more anxiety quotes.
------------------------------------------------------------------
That's it for now. If you know of anyone who can benefit from this newsletter or the HealthyPlace.com site, I hope you'll pass this onto them. You can also share the newsletter on any social network (like facebook or stumbleupon) you belong to by clicking the links below. For updates throughout the week, follow HealthyPlace on Twitter or become a fan of HealthyPlace on Facebook. Also, check out HealthyPlace on Instagram, YouTube and Pinterest, where you can share your mental health pins on our Share Your Mental Health Experiences board.
APA Reference
Peterson, T. (2019, July 23). Why Are Police Officers Dying by Suicide?, HealthyPlace. Retrieved on 2023, December 8 from https://www.healthyplace.com/other-info/mental-health-newsletter/why-are-police-officers-dying-by-suicide
Last Updated: July 25, 2019