Why Eating Disorders Awareness Week Is Important
HealthyPlace Mental Health Newsletter
Here's what's happening on the HealthyPlace site this week:
Importance of Eating Disorders Awareness Week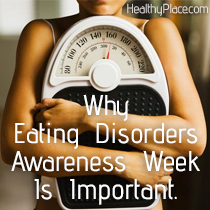 It's Eating Disorders Awareness Week and boy, do we need it. There are still so many myths and misconceptions about eating disorders. For instance, how about the myth that only young girls get eating disorders or eating disorders are the direct result of an abusive or highly dysfunctional home life. Eating disorder statistics and research into the causes of eating disorders paint a completely different picture. The fact is that while young women are the primary group to develop anorexia, bulimia and binge eating disorder, eating disorders don't discriminate and boys, along with adult men and women, are targets too.
There's another misconception out there that I think is important to address. You may have heard that once you develop an eating disorder, you never really recover; that having an eating disorder is a lifelong illness. The truth is many people with anorexia and bulimia do recover. Watch this video interview we did: Fully Recovered From Anorexia and Bulimia. Of course, there are different degrees of eating disorder recovery, but the point is after eating disorder treatment, there are many who are living a better quality of life. Our eating disorder blogger, Patricia Lemoine, is a prime example of that. (Recovering From Bulimia vs Recovered From Bulimia)
The great thing about Eating Disorders Awareness Week is we, as a community, have an opportunity to enlighten others as well as ourselves about the ins-and-outs of eating disorders. At HealthyPlace, we hope you'll take advantage of that.
Related Eating Disorder Articles
Your Thoughts
Today's Question: Do you have an eating disorder plus another mental health condition, like depression, anxiety, an addiction? If so, how does one affect the other? We invite you to participate by commenting and sharing your feelings, experiences and knowledge on the HealthyPlace Facebook page.
Help Spread Awareness of Mental Illness
Get Our Mental Health Blog Widget
Over 440 sites and blogs are helping spread awareness of mental illness. How about putting our mental health blogs widget on your website, blog or social page? The latest HealthyPlace blog headlines appear as soon as the articles are posted on our site. Just click "Get Widget" at the bottom of the widget, grab the embed code and paste it into your page. You'll also see embed links for Wordpress, Blogger, Linkedin and other social sites there.
As a bonus, put the blogs widget on your site or blog, email us (info AT healthyplace.com) with a page link where it appears, and we'll give a shoutout to your site, blog, or social site on our Facebook and Twitter pages.
------------------------------------------------------------------
Share our Stories
At the top and bottom of all our stories, you'll find social share buttons for Facebook, Google+, Twitter, Pinterest and other social sites. If you find a particular story, video, psychological test or other HealthyPlace feature helpful, there's a good chance others in need will too. Please share.
We also get many inquiries about our linking policy. If you have a website or blog, you can link to any page on the HealthyPlace website without asking us beforehand.
---
continue story below
---
Most Popular HealthyPlace Articles Shared by Facebook Fans
Here are the top 3 mental health articles HealthyPlace Facebook fans are recommending you read:
If you're not already, I hope you'll join us/like us on Facebook too. There are a lot of wonderful, supportive people there.
------------------------------------------------------------------
Mental Health Experiences
Share your thoughts/experiences with any mental health subject, or respond to other people's audio posts, by calling our toll-free number (1-888-883-8045).
You can listen to what other people are saying by clicking on the gray title bars inside the widgets located on the "Sharing Your Mental Health Experiences" homepage, the HealthyPlace homepage, and the HealthyPlace Support Network homepage.
If you have any questions, write us at: info AT healthyplace.com
------------------------------------------------------------------
From the HealthyPlace Mental Health Blogs
On all our blogs, your comments and observations are welcomed.
Feel free to share your thoughts and comments at the bottom of any blog post. And visit the mental health blogs homepage for the latest posts.
------------------------------------------------------------------
Stand Up for Mental Health
Thousands Have Joined the Stand Up for Mental Health Campaign
But we still need you. Let others know there's no shame in having depression, anxiety, bipolar disorder, trichotillomania, OCD, ADHD, schizophrenia or any other mental illness.
Join the Stand Up for Mental Health campaign. Put a button on your website or blog (buttons for family members, parents, mental health professionals and organizations too). We also have covers for Facebook, Twitter and Google+.
------------------------------------------------------------------
Are You Putting Too Much Stress on Your Kids?
Some parents put a lot of stress on their kids to perform. The Parent Coach, Dr. Steven Richfield, has some ideas on how to handle this pressure to help kids that are anxious and stressed out.
Latest Mental Health News
These stories and more are featured on our mental health news page:
Movie Date Night Can Double as Therapy
In Texting Era, Crisis Hotlines Put Help at Youths' Fingertips
Significant Increase Reported In Overdoses Involving Heroin In Kentucky
Workplace Is Key To Suicide Prevention, Says SANE Australia
Psychoeducation Reduces Internalised Stigmatisation In Bipolar Patients
Substance Abuse Worsens Course Of First-Episode Psychosis
Factors Predicting Disengagement From Psychosis Early Intervention Identified
Comorbid OCD And Bipolar Disorder Should Be Treated As Mood Disorder
Psychotherapies Have Specific Effects On Psychosis Symptoms
Delusions: Faulty 'Reality Testing' To Blame, Study Suggests
Cortical Thickness Changes May Contribute To Early Schizophrenia
That's it for now. If you know of anyone who can benefit from this newsletter or the HealthyPlace.com site, I hope you'll pass this onto them. You can also share the newsletter on any social network (like facebook, stumbleupon, or digg) you belong to by clicking the links below. For updates throughout the week:
APA Reference
Staff, H. (2014, February 26). Why Eating Disorders Awareness Week Is Important, HealthyPlace. Retrieved on 2023, September 24 from https://www.healthyplace.com/other-info/mental-health-newsletter/why-eating-disorders-awareness-week-is-important
Last Updated: September 3, 2014