Video on Social Anxiety Disorder
In this social anxiety disorder video, guest shares how eating anxiety led to developing social anxiety disorder. Plus anxiety self-help tips.
Social Anxiety Disorder (SAD) is much more than just shyness. It involves intense fear of certain situations, usually social or performance situations, where embarrassment may occur.
For Aimee White, her social anxiety symptoms revolve around eating anxiety; being anxious and afraid of eating in public. Aimee White's video interview is no longer available. However, Aimee is the author of the anxiety blog, The Nitty Gritty of Anxiety, where she discusses her experience living with social anxiety disorder, having eating anxiety and provides anxiety self-help tips too.
Social Anxiety Disorder is a Serious Condition Video
Dr. Harry Croft, HealthyPlace's Medical Director, describes social anxiety disorder.
About Aimee White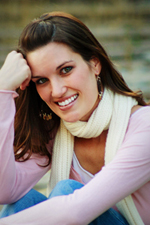 Aimee's anxiety symptoms begin when she has to eat in public. Being chided for being a skinny girl and eating small portions of food resulted in Aimee developing eating anxiety, which makes her want to avoid eating in front of others.
Visit Aimee's anxiety blog here at Healthyplace, where she regularly writes about her anxiety disorder and ways to control and manage anxiety symptoms.
---
---
next: Video on How to Deal with Trauma in Your Life
~ all HealthyPlace mental health tv show videos
~ HealthyPlace Mental Health TV Show Homepage
~ all articles on anxiety-panic disorders
APA Reference
Gluck, S. (2010, April 23). Video on Social Anxiety Disorder, HealthyPlace. Retrieved on 2023, December 4 from https://www.healthyplace.com/anxiety-panic/anxiety-videos/social-anxiety-disorder
Last Updated: May 20, 2017