Video on How to Deal with Trauma in Your Life
What is trauma? The word "trauma" is used to describe experiences or situations that are emotionally painful and distressing, and that overwhelm a person's ability to cope, leaving them powerless. Post-traumatic Stress Disorder (PTSD) is a severe reaction to an extremely traumatic event such as war, rape, assault, childhood sexual or physical abuse, and more.
Drs. Rosemary Lichtman and Phyllis Goldberg were guests on our show. Unfortunatelywe no longer have the video interview. However, you can learn more about these doctors at PTSD and Trauma in Your Life. Here is a video playlist concerning trauma and ptsd and how they might affect your life.
PTSD Video: How to Deal with Trauma and PTSD in Your Life
About Drs. Rosemary Lichtman and Phyllis Goldberg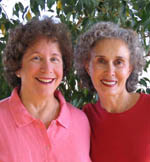 Phyllis Goldberg, Ph.D. Psychotherapist for life-cycle relationship transitions - partner, adult children and aging parents, family resource consultant for intergenerational daycare
Rosemary Lichtman, Ph.D. Life Coach with emphases on stress reduction, aging well and healthy lifestyles, wellness specialist in improving adjustment to menopause, breast & ovarian cancers, heart disease and other serious illness.
For more information, visit their website Her Mentor Center.
---
---
next: Scrupulosity Video: Understanding Religioius Obsessions
~ all HealthyPlace mental health tv show videos
~ HealthyPlace Mental Health TV Show Homepage
~ all articles on anxiety-panic disorders
APA Reference
Gluck, S. (2010, June 21). Video on How to Deal with Trauma in Your Life, HealthyPlace. Retrieved on 2023, December 1 from https://www.healthyplace.com/anxiety-panic/anxiety-videos/how-to-deal-with-trauma-in-your-life-video
Last Updated: May 19, 2017