Lithium and Depakote in Bipolar Disorder Patients of Childbearing Age
Article on managing bipolar disorder in women who want to become pregnant or have an unplanned pregnancy.
Because bipolar disorder (manic-depressive illness) is a common and highly recurrent disorder requiring lifelong treatment, many women of childbearing age are maintained on mood stabilizers, usually lithium and the anticonvulsant Depakote (valproic acid).
Both drugs are teratogenic, so women with bipolar disease have typically been counseled to defer childbearing or abruptly stop their medications when they get pregnant. However, the discontinuation of lithium is associated with a high risk of relapse, and pregnancy does not protect women from relapsing. In a recent study, 52% of pregnant women and 58% of non-pregnant women had recurrences during the 40 weeks after stopping lithium (Am. J. Psychiatry, 157[2]:179-84, 2000).
There are no contraindications to lithium or Depakote use during the second and third trimesters. First-trimester exposure to Depakote is associated with a 5% risk of neural tube defects. Prenatal exposure to lithium in the first trimester is associated with an increased risk for cardiovascular malformations.
Although lithium is clearly teratogenic, the degree of risk has been previously overestimated. The report from the International Registry of Lithium- Exposed Babies almost 35 years ago estimated that the risk of cardiovascular malformations, most notably Ebstein's anomaly, associated with first-trimester exposure was increased by about 20-fold. But six later studies show that the risk is increased no more than 10-fold (JAMA 271[2]:146-50, 1994).
Because Ebstein's anomaly is so rare in the general population (about 1 in 20,000 births), the absolute risk of having a child with this malformation after first-trimester exposure to lithium is only about 1 in 1,000 to 1 in 2,000.
Managing Bipolar Disorder During Pregnancy
So how do you manage bipolar disease in women who want to become pregnant or have an unplanned pregnancy? Clinicians should not arbitrarily stop or continue mood stabilizers in these patients. The decision should be driven by both the severity of the illness and the patient's wishes; this requires a careful discussion with the patient about the relative risks of relapse and fetal exposure.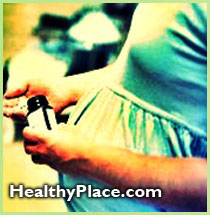 A reasonable approach in patients with a milder form of the illness, who may have had one episode in the distant past, is to discontinue the mood stabilizer while they are trying to get pregnant or when they become pregnant. They can resume the medication if they begin to show signs of clinical deterioration during pregnancy. This approach can pose a problem in women who take more than a few months to conceive, since the risk of relapse increases the longer a patient is off medication.
The best-case scenario in women with milder illness is to stay on the mood stabilizer while trying to get pregnant and to stop treatment as soon as they know they are pregnant. Women must be aware of their cycle pattern so they can stop the drug soon enough to avoid exposure during a critical time of organ development.
Going off medication maybe harder for those with a history of multiple episodes of cycling. We explain to such patients that it may be reasonable to stay on the mood stabilizer and assume a small risk to the fetus. If a woman on lithium decides to continue treatment, she should have a level II ultrasound at about 17 or 18 weeks' gestation to evaluate the fetal cardiac anatomy.
It's a more delicate situation when such a patient is stabilized on Depakote. Lithium is less teratogenic, so we often switch a woman on Depakote to lithium before she gets pregnant. That doesn't mean we never use Depakote during pregnancy. But when we do, we prescribe 4 mg of folate per day for about 3 months before they try to conceive and then throughout the first trimester because of data suggesting that this may minimize the risk of neural tube defects.
We don't discontinue or lower the dose of lithium or Depakote near the end of pregnancy or during labor and delivery because the incidence of any type of neonatal toxicity associated with peripartum exposure to these drugs is low--and bipolar women are at a five-fold increased risk of relapse in the postpartum period. This is why we also resume medication in women who have been off medication at about 36 weeks' gestation or 24-72 hours post partum.
Typically, bipolar women on lithium are counseled to defer breast-feeding because this drug is secreted into breast milk and there are a few anecdotal reports of neonatal toxicity associated with exposure to lithium in breast milk. Anticonvulsants are not contraindicated during lactation. Since sleep deprivation is one of the strongest precipitants of clinical deterioration in bipolar patients, we suggest that bipolar women defer breast-feeding, unless there is a clearly established plan to ensure she gets enough sleep.
About the author: Dr. Lee Cohen is a psychiatrist and director of the perinatal psychiatry program at Massachusetts General Hospital, Boston.
Source: Family Pratice News, Oct. 2000
next: Breastfeeding and Psychiatric Medications
~ bipolar disorder library
~ all bipolar disorder articles
APA Reference
Staff, H. (2000, January 1). Lithium and Depakote in Bipolar Disorder Patients of Childbearing Age, HealthyPlace. Retrieved on 2023, December 2 from https://www.healthyplace.com/bipolar-disorder/articles/bipolar-medication-management-during-pregnancy
Last Updated: March 31, 2017