Man Leads Crusade to Reduce Impaired Driving
Rainy River Record
March 21, 2000

By Ken Johnston
Editor
Could you imagine drinking all night and then getting in your car and driving somewhere impaired?
While it does happen, most people are sensible and use a designated driver or get a ride some other way. However, for Kenora's Wayne Lax, driving impaired was something he said he did for 25 years.
Lax who suffered from deep depression and extreme alcoholism after the death of his brother was treated by doctors with two types of medical practises. One involved pharmaceuticals arid the other was electro-shock therapy. At one point he was on 17 different drugs per day and all the while was shock treated 80 times in that period of time. With that in mind one would think that he was incapable of driving and that medical professionals would have notified the Ministry of Transportation of his constant impairment.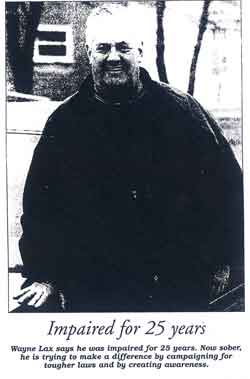 Well until 1992, when Lax had a severe motor accident and he was charged with impaired driving he was never told he could not drive, at least as not as far as he can remember and the MTO was not notified of his condition.
Lax says that he knows now that he should never have been operating a motor vehicle, much less have been a taxi driver, while on all those medications, but he swears that he can not recollect much of those years due to the electro-shock treatments: treatments he calls barbaric.
He is now actively leading a two-pronged crusade to have electro-shock treatments banned and to raise awareness about medicated impaired driving. Lax has joined a MoT group called the CAR Committee that has members from Mothers Against Drunk Driving, police, pharmacists and the MoT on it. Through their and his efforts Lax has received the attention of former Minister of Transportation Tony Clement and current MoT David Turnball. They have taken his material into consideration and Lax says they plan to use it when they review MoT policies and laws. According to Lax that takes place every two years and he is optimistic that they will be reviewed this year.
Lax is pushing for the government to take a tougher stance on the mandatory reporting by doctors patients who should not be driving while on medication. While it is the law, he said be was never once reported to MoT.
He plans to continue his efforts to raise awareness about these two important issues by working with self-help groups, visiting schools to talk to students and continue writing letters to officials until things change in a way that lives are saved.
next: Minnesota Forced Shock
~ all Shocked! ECT articles
~ depression library articles
~ all articles on depression
APA Reference
Staff, H. (2000, March 21). Man Leads Crusade to Reduce Impaired Driving, HealthyPlace. Retrieved on 2023, December 5 from https://www.healthyplace.com/depression/articles/man-leads-crusade-to-reduce-impaired-driving
Last Updated: June 20, 2016