Pregnancy And Antidepressants
October 5, 1999 -- A group of U.S. researchers, led by University Hospitals of Cleveland and Case Western Reserve University psychiatrist Katherine L. Wisner, M.D., has compiled a review of new studies on antidepressant use among pregnant women. The review is designed to guide general physicians and obstetricians who treat pregnant women with depression.
The article appears in the October 6, 1999 issue of the Journal of the American Medical Association.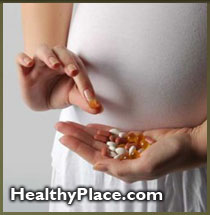 The risk for depression among all women of childbearing age is as high as 25 percent for women 25- through 44-years-old. Physicians traditionally have been reluctant to treat major depression with drug therapy in pregnant women because of safety concerns. Therefore, many pregnant women have been forced to choose between the debilitating effects of untreated depression and the unknown effects of antidepressant drug therapy on their pregnancy.
Dr. Wisner and her group (from the American Psychiatric Association's Committee on Research on Psychiatric Treatments) compiled and evaluated data from four drug-specific studies that were published since 1993. They organized data into five categories of reproductive toxicity: intrauterine fetal death, physical malformations, growth impairment, behavioral abnormalities and neonatal toxicity.
They found that tricyclic antidepressants, fluoxetine (Prozac), and newer selective serotonin reuptake inhibitors (SSRI) did not increase the risk for intrauterine fetal death or major birth defects.
They also found that exposure to tricyclic antidepressants and newer SSRI's did not increase the risk for growth impairment. However, there were no solid conclusions on the risk that fluoxetine posed on prenatal growth and birth weights of infants.
Dr. Wisner explains, "We know that major depression commonly causes women to lose weight anyway. So it is possible that an undertreated mood disorder, and not the drug itself, could affect the weight of both mom and baby. We recommend that doctors monitor the weight gain carefully in pregnant women being treated with antidepressants."
Dr. Wisner and her group found reassuring news in that children who were prenatally exposed to tricyclic antidepressants and fluoxetine showed no differences in cognitive function, temperament and general behavior compared with children who were not exposed. No information about newer SSRI's and behavior was available.
With this knowledge, Dr. Wisner says physicians should become more comfortable prescribing antidepressants during pregnancy. And that will help women like Rose Kreidler.
Two weeks after conceiving her first child, Mrs. Kreidler, of Brook Park, began undergoing a drastic personality change; anxiety attacks, uncontrolled fits of crying and depression, and the inability to sleep and eat to the point of losing weight. After several doctors recommended therapies which didn't work, and refusing to prescribe antidepressants without a signed waiver, Mrs. Kreidler turned to Dr. Wisner, who prescribed Nortriptyline.
"I was concerned about any kind of effect on the fetus and whether it would prohibit breastfeeding, but I was in a terrible emotional state," says Mrs. Kreidler. "I was concerned that the extreme stress I was under would be more harmful than a drug. If I couldn't eat, I couldn't nurture my child. I wanted to carry my child safely, but I couldn't do anything for her if I couldn't care for myself."
Mrs. Kreidler's daughter, Shannon Gabrielle, was born March 26, 1997, perfectly healthy.
The one area of concern, cited by Wisner in her JAMA review, involves withdrawal symptoms in some newborns whose mothers were treated with antidepressants near the end of the pregnancy. The symptoms included transient jerky movements and seizures, rapid heartbeat, irritability, feeding difficulties, and profuse sweating. The Wisner group recommends that physicians consider tapering to a lower dosage or discontinuing the antidepressants 10 to 14 days before the due date.
"When women and their physicians are weighing the benefits versus the risks of drug therapy, they need to look at just how severe the depressive symptoms are," says Dr. Wisner. "Being suicidal, not eating properly or enough can do more harm to a pregnancy or fetus than an antidepressant. We share the hope that our paper will be a catalyst for improvements in the care of pregnant women with depression."
Note: There's another class of antidepressants, these are called MAOIs. MAOInhibitors are effective antidepressants but are not safe to use during pregnancy. They may cause birth defects.
APA Reference
Tracy, N. (2008, November 27). Pregnancy And Antidepressants, HealthyPlace. Retrieved on 2023, December 4 from https://www.healthyplace.com/depression/articles/pregnancy-and-antidepressants
Last Updated: May 13, 2020