What is a Diabetes Support Group? Where Can I Find One?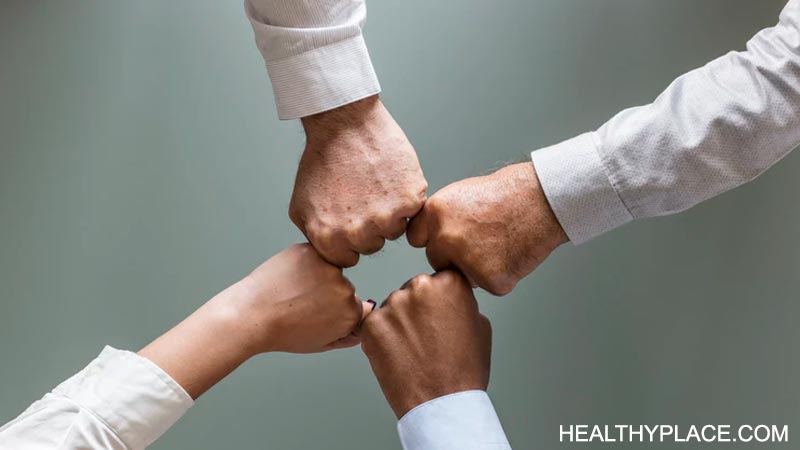 A diabetes support group is, for many people, a vital part of their diabetes management. These groups are communities of people who are living with diabetes, and they can make a significant, positive difference in the lives of the members. In a diabetes support group, people come together to share their stories and experiences and to learn how to cope with this difficult illness.
Diabetes can be an exhausting illness. The demands of keeping your blood sugar under control can be overwhelming, and it's disheartening when, despite your best efforts, your blood sugar still soars and plummets. It's tempting for many people to throw their hands up in frustration and give up. Managing physical health is difficult, and so is maintaining mental health in the face of everything happening with the illness ("Diabetes and Mental Health: How One Affects the Other").
It can be hard to communicate the depth of emotions and thoughts to someone who doesn't live with diabetes. Even when you do have someone in your life who is a great listener, they might not be able to give you the practical input you need or tips you can use to make management easier. For these reasons and more, diabetes support groups can be extremely beneficial.
Benefits of Joining a Diabetes Support Group
Participating in a support group just for people with diabetes can bring multiple benefits. Among them:
Making connections with people
Feeling less isolated and alone
Gaining strength from other members (and you help others be strong, too)
Sharing coping strategies
Exchanging practical tips related to diabetes treatment
Gaining new ideas for meals and how to eat healthily
Inspiring each other to exercise, perhaps through friendly challenges
Providing encouragement and motivation to stick with your management plan
Keeping everyone accountable for doing what they say they will do
Boosting mental health, taming strong emotions
Experiencing trust through shared knowledge and experiences
More than one type of support group for diabetes exists. While different, they all offer the same general benefits.
Types of Diabetes Support Groups
There are support groups specifically for type 1 diabetes (you might see these called juvenile diabetes support groups, as this disease typically begins in childhood or adolescence). Type 2 diabetes support groups exist as well. Further, there are general support groups for people with any type of diabetes.
Diabetes caregivers can even find support groups dedicated to their needs.
Also, there are different forms of support groups. Support communities can gather in person or they can meet in cyberspace—online or via an app. If you're looking for a diabetes support group near you, use the following information to help you discover the right one for you.
In-Person Support Groups for Diabetes
Diabetes support groups can be found in communities across the United States and in other countries, too. The nature of the groups varies depending on the organization, the group leader, and what the members have decided what the group's focus will be. You can talk to the leader and even attend a meeting or two to see if it's what you are looking for.
Support groups that meet in a physical location allow members to connect in ways beyond what they can online. Also, many groups have speakers, help members find local resources and have fun events together.
How to find in-person diabetes support groups:
Visit the American Diabetes Association and use their support group finder
The Defeat Diabetes organization also has a support groups finder
Find events in or near your community. Attending educational presentations, organized walks or runs, and more will help you meet people and learn of existing support groups
Check with your doctor, therapist, and others on your diabetes care team, community center, and library for information about support groups.
Online Support Groups and Apps for Diabetes Communities
These are often very large communities of people from all walks of life, all of whom are looking for ways to deal with their illness and help others deal with theirs. These are convenient because you can access them whenever it works for you, and you can often pick and choose topics you need.
The safest groups that provide the most reliable information are those that are associated with a professional organization. Ideally, they'll be a moderator who removes or clarifies inaccurate information.
There are information groups on social media, such as Facebook and Twitter, and while sometimes these are positive, supportive, and useful, they can be inaccurate and thus dangerous to your physical and mental health.
A few online support groups that are reputable include:
Apps that stand out as excellent and safe include:
No matter how you prefer to connect, joining a diabetes support group can be a helpful boost for your quality life with diabetes.
APA Reference
Peterson, T. (2022, January 4). What is a Diabetes Support Group? Where Can I Find One?, HealthyPlace. Retrieved on 2023, December 9 from https://www.healthyplace.com/diabetes/main/what-is-a-diabetes-support-group-where-can-i-find-one
Last Updated: January 12, 2022