Diana Effect is Credited with Decline in Bulimia

The decision by Diana, Princess of Wales, to publicise her harrowing battle with the eating disorder bulimia resulted in double the number of sufferers coming forward for treatment. A study by the Institute of Psychiatry in London shows that reported cases of the illness rose to 60,000 during the 1990s after the Princess's revelation.
Since she first spoke of it in 1994, the number has almost halved — a trend attributed by researchers to the "Diana effect" that persuaded them to acknowledge and seek treatment for their eating disorder.
The number of cases of anorexia, where an individual often starves himself or herself for fear of fatness, remained steady at about 10,000 cases between 1988 and 2000, the study showed.
However, researchers found that cases of bulimia, when sufferers binge-eat and then force themselves to vomit or fast to avoid weight gain, rose dramatically in the early 1990s and then suddenly declined.
The Princess first revealed her own battle with bulimia in 1992, when it was described in Andrew Morton's controversial book Diana: Her True Story. In later interviews she spoke of the "secret disease" that had preyed on her for many years.
"You inflict it upon yourself because your self-esteem is at a low ebb, and you don't think you're worthy or valuable," the Princess told the BBC One programme Panorama.
"You fill your stomach up four or five times a day and it gives you a feeling of comfort. Then you're disgusted at the bloatedness of your stomach, and then you bring it all up again. It's a repetitive pattern which is very destructive to yourself."
The Princess revealed that she first began struggling with the condition shortly before her marriage in 1981 and she was still suffering from its effects in the late 1980s when she sought treatment.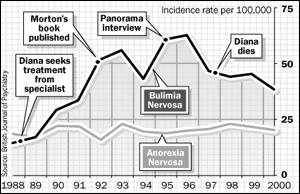 Figures in the study, published in the British Journal of Psychiatry, showed that in 1990 there were more than 25 cases of bulimia per 100,000 of the population among females aged 10 to 39. But that reached a peak of about 60 cases per 100,000 by 1996. Since then cases have been falling steadily, dropping by almost 40 per cent.
"Identification with a public figure's struggle with bulimia might have encouraged women to seek help for the first time," the researchers wrote.
"This would suggest that some of the 1990s peak might have been caused by the identification of long-standing cases rather than a true increase in community incidence."
The team added that it was notable that the Princess's death in 1997 coincided with the beginning of the decline in bulimia incidence.
They said that while her influence when alive may have encouraged some more vulnerable people to adopt a similar pattern of behaviour, the decline was more likely the result of the impact of successful treatment.
The researchers also suggested that rising rates of bulimia may have been due to increased recognition and detection efforts given to a new and fashionable diagnosis.
Steve Bloomfield, of the Eating Disorder Association, said that the organisation had a debt of gratitude to the Princess for her bravery in speaking publicly about her illness.
"Her willingness for people to know that she had a problem seems to have helped hundreds of others," he said.
"At the time (of her death) she seemed to have been cured of this terrible illness and her bulimia recovery acted as an example to the many women who had difficulty seeking help.
"Bulimia is often a very secretive disease and women don't come forward easily and Diana clearly had enormous influence on people."
Complaints of being cold even when room temperature is normal.
Don't refer to foods as either good or bad. That only reinforces the all-or-nothing thinking an anorexic.
next: Adult Women and the Development of Eating Disorders
~ eating disorders library
~ all articles on eating disorders
APA Reference
Staff, H. (2007, February 26). Diana Effect is Credited with Decline in Bulimia, HealthyPlace. Retrieved on 2023, December 2 from https://www.healthyplace.com/eating-disorders/articles/diana-effect-is-credited-with-decline-in-bulimia
Last Updated: January 14, 2014