Nutrition and Mental Health
HealthyPlace Mental Health Newsletter
Here's what's happening on the HealthyPlace site this week: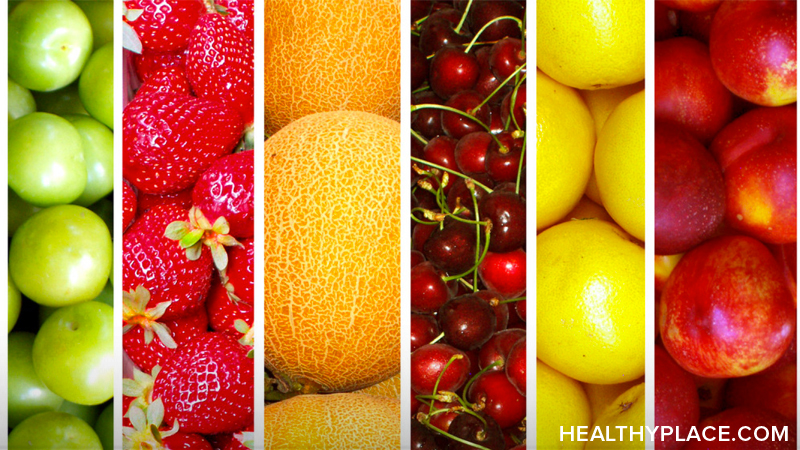 Food for Thought (and Feelings)
Does food affect our thoughts and feelings, our mental wellbeing? Researchers are currently studying this question. The general answer is yes, there is a connection between nutrition and mental health. (Food and Your Moods)
Many questions are still under investigation. Of course a healthy diet helps increase mental health and wellbeing, but what, specifically, is meant by a healthy diet? How do certain nutrients (and which ones?) affect the brain itself to improve our emotions and help the way we think about the world around us?
Improving Mental Health Through Nutrition
While universally agreed-upon answers to the questions about nutrition and mental health have yet to be locked in, we can still consider our nutrition to be food for thought and feelings. Our diet and nutrition do affect our mental health. (Is Your Food Making You Anxious?)
Tips for increasing mental health through nutrition include:
Replace sodas, sports drinks, and sugary juices with water. Add lemons, oranges, or frozen berries for flavor and vitamins.
Make healthy eating convenient and easy. Stock your cupboards with nuts, whole grain crackers, and dried fruits and your fridge with cut-up veggies and fruits.
Choose healthy foods that you actually like. Forcing down things you hate won't work.
Let yourself have occasional treats. Pleasure is important for mental health, too.
The brain needs proper nutrition to function well, so in being intentional about your diet, you're feeding you.
Related Articles Dealing with Nutrition and Mental Health
Your Thoughts
Today's Question: With all the temptation out there to eat poorly, what works for you in following a healthy diet for your mental health? We invite you to participate by commenting and sharing your feelings, experiences and knowledge on the HealthyPlace Facebook page and on the HealthyPlace Google+ page.
---
---
Share our Stories
At the top and bottom of all our stories, you'll find social share buttons for Facebook, Google+, Twitter, Pinterest and other social sites. If you find a particular story, video, psychological test or other HealthyPlace feature helpful, there's a good chance others in need will too. Please share.
We also get many inquiries about our linking policy. If you have a website or blog, you can link to any page on the HealthyPlace website without asking us beforehand.
Most Popular HealthyPlace Articles Shared by Facebook Fans
Here are the top 3 mental health articles HealthyPlace Facebook fans are recommending you read:
If you're not already, I hope you'll join us/like us on Facebook too. There are a lot of wonderful, supportive people there.
------------------------------------------------------------------
From the HealthyPlace Mental Health Blogs
On all our blogs, your comments and observations are welcomed.
Feel free to share your thoughts and comments at the bottom of any blog post. And visit the mental health blogs homepage for the latest posts.
------------------------------------------------------------------
Stand Up for Mental Health
Thousands Have Joined the Stand Up for Mental Health Campaign
But we still need you. Let others know there's no shame in having depression, anxiety, bipolar disorder, trichotillomania, OCD, ADHD, schizophrenia or any other mental illness.
Join the Stand Up for Mental Health campaign. Put a button on your website or blog (buttons for family members, parents, mental health professionals and organizations too). We also have covers for Facebook, Twitter and Google+.
------------------------------------------------------------------
Latest Mental Health News
These stories and more are featured on our mental health news page:
Nitrous Oxide Could Reduce Bad Memories Of A Traumatic Event
Moments Of Acute Stress Can Cause Molecular Alterations In Immune Response
Low Vitamin D During Pregnancy Could Raise The Risk Of MS In Later Life
People With Anxiety Show Fundamental Differences In Perception
Cannabis Use Linked To Worse Treatment Outcomes For Psychosis Patients
According To A Study A Majority Of Patients Diagnosed With Breast Cancer Go On To Develop Symptoms Of PTSD
Hostile Attitude When Young Linked To Memory Problems Later In Life
Chronic Stress Leads To Brain Inflammation And Memory Loss
That's it for now. If you know of anyone who can benefit from this newsletter or the HealthyPlace.com site, I hope you'll pass this onto them. You can also share the newsletter on any social network (like facebook, stumbleupon, or digg) you belong to by clicking the links below. For updates throughout the week:
APA Reference
Peterson, T. (2016, June 3). Nutrition and Mental Health, HealthyPlace. Retrieved on 2023, November 30 from https://www.healthyplace.com/other-info/mental-health-newsletter/nutrition-and-mental-health
Last Updated: June 3, 2016