Coronavirus Anxiety 101: Worry, Fear, and How Not to Panic
Here's what's happening on the HealthyPlace site this week:
---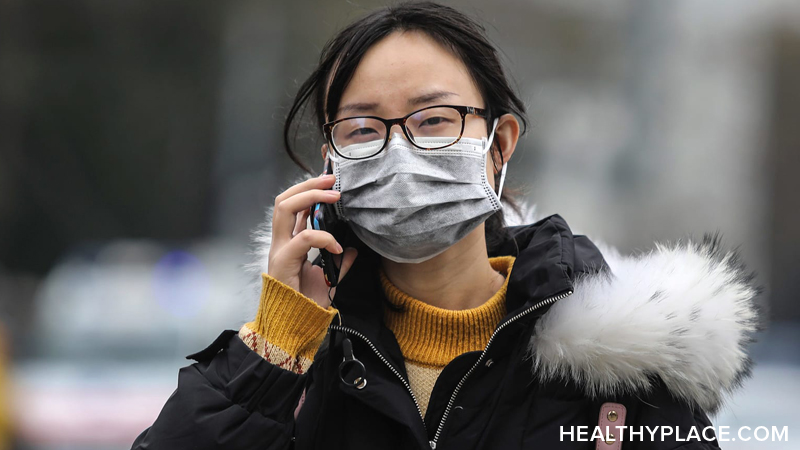 Coronavirus Anxiety 101: Worry, Fear, and How Not to Panic
The newest form of coronavirus, COVID-19, is causing a pandemic of fear to spread across the globe. There's even a name for the fear: coronavirus anxiety. Here's what you need to know to remain healthy, both mentally and physically.
Why Are People So Anxious about Coronavirus (COVID-19)?
Two types of anxiety are at work around COVID-19: health anxiety and fear of the unknown. These are common forms of anxiety that, when they occur together, can be debilitating and cause panic.
Health anxiety involves excessive fear, worries, and what-ifs about illness that consume time and attention. The more someone thinks about health-related anxieties, the more stuck in these fears they become. In the case of coronavirus, it has become hard to think of other things. Everywhere we turn, we hear reports (some factual and some fear-based rumor) that people are getting sick and dying.
These emotional reports are fueling fear of the unknown. This is a new strain of coronavirus (a coronavirus is simply a type of virus, responsible for strains of the common cold and more serious illnesses such as SARS). Because it's new, doctors and scientists don't know everything about it. Anxiety loves to step in with anything unknown and fill in the blanks with assumptions rather than fact. When left unchecked, they consume us.
How to Deal with Coronavirus Anxiety?
Reduce coronavirus anxiety and stay well with these tips:
The COVID-19 threat is something to be taken seriously, but when you remember that the panic is fueled by fear of the unknown and health anxiety, you can pause, regain your perspective, and do what is in your control to keep yourself and your loved ones healthy.
Related Articles Dealing with Coronavirus, Health Anxiety, and Fear of the Unknown
Your Thoughts
Today's Question: What are you doing to maintain your own mental- and physical health in the face of COVID-19? We invite you to participate by sharing your thoughts, experiences, and knowledge on the HealthyPlace Facebook page.
From the HealthyPlace Mental Health Blogs
On all our blogs, your comments and observations are welcomed.
Feel free to share your thoughts and comments at the bottom of any blog post. And visit the mental health blogs homepage for the latest posts.
------------------------------------------------------------------
Most Popular HealthyPlace Articles Shared by Facebook Fans
Here are the top 3 mental health articles HealthyPlace Facebook fans are recommending you read:
If you're not already, I hope you'll join us/like us on Facebook too. There are a lot of wonderful, supportive people there.
------------------------------------------------------------------
Mental Health Quote
"Scars tell where we have been. They do not dictate where we're going."
Read more abuse quotes.
------------------------------------------------------------------
That's it for now. If you know of anyone who can benefit from this newsletter or the HealthyPlace.com site, I hope you'll pass this onto them. You can also share the newsletter on any social network (like facebook or stumbleupon) you belong to by clicking the links below. For updates throughout the week, follow HealthyPlace on Twitter or become a fan of HealthyPlace on Facebook. Also, check out HealthyPlace on Instagram, YouTube and Pinterest, where you can share your mental health pins on our Share Your Mental Health Experiences board.
APA Reference
Peterson, T. (2020, March 10). Coronavirus Anxiety 101: Worry, Fear, and How Not to Panic , HealthyPlace. Retrieved on 2023, November 28 from https://www.healthyplace.com/other-info/mental-health-newsletter/coronavirus-anxiety-101-worry-fear-and-how-not-to-panic
Last Updated: March 10, 2020