Stop Comparing Yourself to Others
Here's what's happening on the HealthyPlace site this week:
---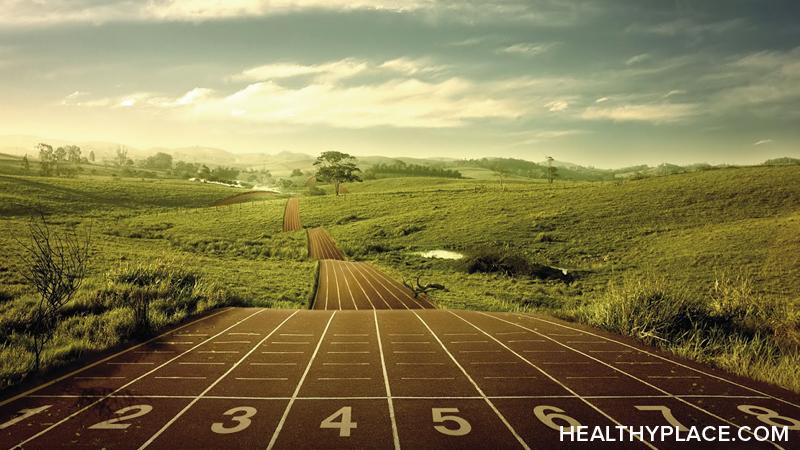 Stop Comparing Yourself to Others
Do you constantly compare yourself to others? How many times have you caught yourself working your way through social media and finding ways you just don't measure up to others? (The Comparison Game: You'll Never Win) Or have you stood in line at the store or been in some situation with other parents, for example, and found yourself analyzing them versus you? If so, you're not alone, for it's a human thing to do (most likely, while you're comparing yourself to them, they're comparing themselves to you).
Comparing yourself to others is dangerous. It trains you to find fault in yourself and believe that you're not good enough because others are "better." Comparing yourself to others zaps joy and robs you of your opportunity to simply be, embrace what's right about you, and believe in yourself.
How to Stop Comparing Yourself to Others
Stop comparing yourself to others and start celebrating you with these 5 steps:
Catch yourself comparing.
Listen to yourself. How, exactly, do you believe you're not good enough?
Analyze yourself instead. Are you really "less than," or just different?
Identify your unique strengths and what you're doing well.
Remind yourself of what is important to you. How are you living your passions?
These steps will allow you to not only stop comparing yourself to others but to confidently embrace who you are.
Related Articles Dealing with Comparing Yourself to Others
Your Thoughts
Today's Question: How does comparing yourself to others affect your sense of mental health and wellbeing? We invite you to participate by sharing your thoughts, knowledge, and expertise on the HealthyPlace Facebook page and on the HealthyPlace Google+ page.
---
---
From the HealthyPlace Mental Health Blogs
On all our blogs, your comments and observations are welcomed.
Feel free to share your thoughts and comments at the bottom of any blog post. And visit the mental health blogs homepage for the latest posts.
------------------------------------------------------------------
From HealthyPlace YouTube Channel
Bipolar Disorder: Acknowledging the Pain I Caused
It is not easy to acknowledge the past and confront experiences that may have affected those around you.
Take a look at Hannah's new blog, I'm Bipolar Too. This week she's talk about: How Publicly Disclosing Bipolar 2 Affected My Dating Life
------------------------------------------------------------------
Most Popular HealthyPlace Articles Shared by Facebook Fans
Here are the top 3 mental health articles HealthyPlace Facebook fans are recommending you read:
If you're not already, I hope you'll join us/like us on Facebook too. There are a lot of wonderful, supportive people there.
------------------------------------------------------------------
Mental Health Quote
"Do not judge my story by the chapter you walked in on."
Read more stigma quotes.
------------------------------------------------------------------
That's it for now. If you know of anyone who can benefit from this newsletter or the HealthyPlace.com site, I hope you'll pass this onto them. You can also share the newsletter on any social network (like facebook, stumbleupon, or google+) you belong to by clicking the links below. For updates throughout the week, circle HealthyPlace on Google+, follow HealthyPlace on Twitter or become a fan of HealthyPlace on Facebook. Also, check out HealthyPlace on Pinterest and share your mental health pins on our Share Your Mental Health Experiences board.
back to: HealthyPlace.com Mental-Health Newsletter Index
APA Reference
Peterson, T. (2017, April 11). Stop Comparing Yourself to Others, HealthyPlace. Retrieved on 2023, December 11 from https://www.healthyplace.com/other-info/mental-health-newsletter/stop-comparing-yourself-to-others
Last Updated: May 8, 2017