Tips for Believing in Yourself When Mental Illness Stops You
Here's what's happening on the HealthyPlace site this week:
---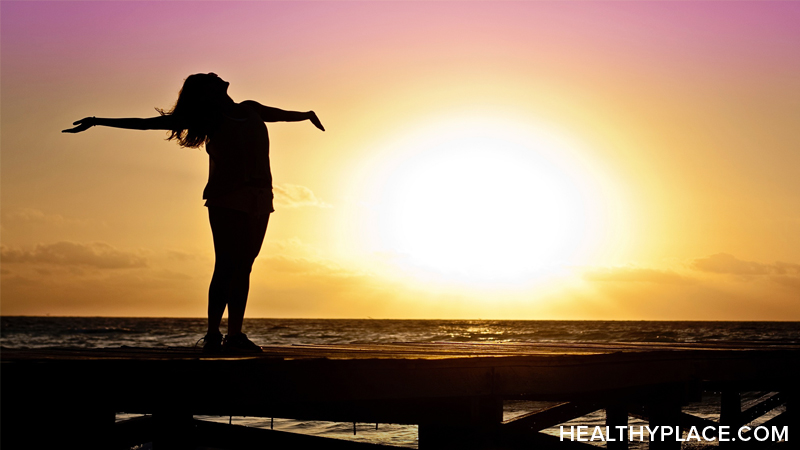 Tips for Believing in Yourself When Mental Illness Stops You
Believing in yourself is an important part of mental health. It's an attitude and core belief that helps you create a quality life despite challenges. So often, though, mental illness and personality disorders distort the opinions we hold about ourselves.
It can feel as though we are our mental illness; therefore, we risk believing that we're worthless. We feel like we're inherently damaged, we think we're valueless, and by extension, we behave as though we're insignificant to ourselves and everyone around us. This belief system is real, but it isn't reality.
Believing in yourself has nothing to do with whether you live with mental illness. Because mental disorders are something we experience rather than who we are at our core, you can develop self-confidence, self-esteem, no matter what you are facing. Here are some tips for believing in yourself when mental illness stops you:
Repeat these steps with patience. You've been hard on yourself for a long time. Coming to believe in yourself is a process that takes time.
Related Articles Dealing with Believing In Yourself
Your Thoughts
Today's Question: Do you have a go-to self-confidence booster that you use when you're feeling down on yourself? We invite you to participate by sharing your thoughts, experiences, and knowledge on the HealthyPlace Facebook page and on the HealthyPlace Google+ page.
From the HealthyPlace Mental Health Blogs
On all our blogs, your comments and observations are welcomed.
Feel free to share your thoughts and comments at the bottom of any blog post. And visit the mental health blogs homepage for the latest posts.
------------------------------------------------------------------
From HealthyPlace YouTube Channel
I'm Hannah. I Have Bipolar 2
3 Goals for People with Bipolar for 2019
In this video, I share 3 goals for people with bipolar disorder this coming new year – 2019. (Watch Hannah and subscribe to the HealthyPlace YouTube channel for more great mental health videos.)
------------------------------------------------------------------
Most Popular HealthyPlace Articles Shared by Facebook Fans
Here are the top 3 mental health articles HealthyPlace Facebook fans are recommending you read:
If you're not already, I hope you'll join us/like us on Facebook too. There are a lot of wonderful, supportive people there.
------------------------------------------------------------------
Mental Health Quote
"It's up to you, today to start making healthy choices. Not choices that are just healthy for your body. but healthy for your mind."
Read more mental health quotes.
------------------------------------------------------------------
That's it for now. If you know of anyone who can benefit from this newsletter or the HealthyPlace.com site, I hope you'll pass this onto them. You can also share the newsletter on any social network (like facebook, stumbleupon, or google+) you belong to by clicking the links below. For updates throughout the week, circle HealthyPlace on Google+, follow HealthyPlace on Twitter or become a fan of HealthyPlace on Facebook. Also, check out HealthyPlace on Pinterest and share your mental health pins on our Share Your Mental Health Experiences board.
APA Reference
Peterson, T. (2019, January 1). Tips for Believing in Yourself When Mental Illness Stops You, HealthyPlace. Retrieved on 2023, December 8 from https://www.healthyplace.com/other-info/mental-health-newsletter/tips-for-believing-in-yourself-when-mental-illness-stops-you
Last Updated: January 2, 2019