I Have Bipolar Disorder: Blooming Slowly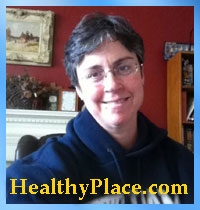 My name: Kathy Boehm
Age: 48
Diagnosis: Bipolar 2
Symptoms since: 1997
I want to come out publicly. I want to come out a lot! At this moment, I'm wearing a green t-shirt that says, "I Am a Survivor," and I have another that says "Remember Jaco." I want to design a shirt with changeable Velcro mood patches. It's time for me to stand up to stigma, let the world know who I really am, and maybe help others along the way. I don't want to behave inappropriately or be obnoxious; it's just that acting normal has become counterproductive.
Every time I've told someone that I have bipolar disorder, they have said, "I had no idea," or "My cousin (friend, relative) has bipolar," or, in one case, "Well, that just makes me love you more." Most people seem to forget about it unless I bring it up again. All of this has encouraged me to tell people about my illness.
Everyone May Not Be Supportive of Mental Illness Disclosure
The only negative experience was when I posted something about bipolar on Facebook, and my sister saw it. She called my mother who got worked up and then called my husband because they were "concerned, especially that I would embarrass my children." Clearly, my sister is the one who was embarrassed, and I was really upset that several members of my family were talking about me, not to me. I called my sister and asked that, in the future, she contact me directly with any questions or concerns. Her response: She didn't speak to me for the entire Thanksgiving weekend. So, don't assume that family members will be supportive. They get concerned about how my illness and accompanying stigma might affect them. In other words, I embarrass them.
I decided to come out publicly because I am living a healthy, successful life while managing bipolar 2. I am strong and experienced enough now to stand up to the stigma. If someone knows me and feels uncomfortable with the fact that I have bipolar, then that is entirely their problem.
Whether or not to go public is an individual decision, and it has taken me eight years to get to this point. I feel markedly better about myself now that I am "coming out." I would encourage others to do so if they feel comfortable—my only suggestion is to take plenty of time and bloom slowly.
next: Opening Up About Postpartum Psychosis
~ all standing up to mental health stigma stories
~ join campaign-campaign buttons
~ all stand up for mental health articles
APA Reference
Staff, H. (2015, January 30). I Have Bipolar Disorder: Blooming Slowly, HealthyPlace. Retrieved on 2023, December 11 from https://www.healthyplace.com/stigma/stories/blooming-slowly
Last Updated: June 1, 2015