Mental Health Stigma Videos
In many stigma videos, the person talks about their run-in with mental illness stigma; their personal experience with stigma and discrimination just because they have a mental illness. In these stigma videos for the Stand Up for Mental Health campaign, people focus on one of two themes:
Was there a time when mental health stigma prevented you from disclosing that you had a mental illness?
Why did you publicly disclose your mental health condition and what was the impact of that?
Watch the stigma videos. If you're inspired, please join the Stand Up for Mental Health campaign and tell others about it. And if you would like to contribute your stigma video, here's how.

Why Be Open About Schizophrenia in the Family?
Author and HealthyPlace blogger, Randye Kaye, on how being open about mental illness in the family can help stomp out mental health stigma.

Mental Health Stigma: Parenting and Child Mental Health
Mental health stigma keeps many parents from getting their children the mental health help they need. Therapist and blogger, Emily Roberts, LPC, addresses stigma, parenting and your child's mental health.

Should You Tell Your Employer You Have A Mental Illness?
Should you tell your employer if you have a mental illness? That depends on what special needs you might have and how they might effect your work. Anxiety and depression can effect us at work but this doesn't mean we have to share.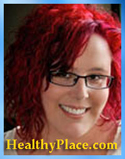 Coming Out With Bipolar Disorder
Disclosing that you have bipolar disorder can be freeing, but bipolar disclosure also means you'll face mental illness stigma head-on. Natasha Tracy, author of the Breaking Bipolar blog, talks about coming out bipolar in this video.

Ending Mental Illness Stigma Equals No More Shame
Would you admit you have a mental illness, like bipolar disorder? Author, Alistair McHarg, shares the advantages of disclosing he has bipolar disorder.

Mental Illness Stigma: Why I'm Open About My BPD Diagnosis
Despite mental illness stigma, I decided to be open about my borderline personality disorder diagnosis. Watch video on why I'm standing up for mental health.

Public Bipolar Disclosure
"I made a decision to come out about my mental illness, bipolar disorder, five years ago," says blogger, Karl Shallowhorn. "It was a risk that proved to be a very positive experience for me."

Disclosing PTSD: Yes, I'm a PTSD Survivor
Why would anyone disclose they have a mental illness like PTSD? PTSD blogger, Michele Rosenthal, discusses her decision to go public with PTSD.

Living with Anorexia: Why I Came Public
People with anorexia and bulimia usually don't publicly disclose their eating disorder. Anorexia blogger, Angela Gambrel, shares why she went public.

Mental Illness Should Not Be Hushed Up
39-year-old wife and mom, Cristi Comes, discusses why she's open about mental illness.

Overcoming Stigma and Coming Out About My Eating Disorder
Jess Hudgens, author of the "Surviving ED" blog, shares her experiences with mental illness stigma and why she decided to come out about her eating disrder.

Accepting I Have Schizophrenia -- Rejecting Stigma
Dan Hoeweler was afraid of people finding out that he had Schizophrenia. He was ashamed of having it; that is, until he came to accept it.
next: What is Mental Illness Stigma?
~ Join the Stand Up for Mental Health Campaign
~ tell others about the campaign
~ all stand up for mental health articles
APA Reference
Gluck, S. (2015, January 15). Mental Health Stigma Videos, HealthyPlace. Retrieved on 2023, December 3 from https://www.healthyplace.com/stigma/stand-up-for-mental-health/mental-health-stigma-videos
Last Updated: July 5, 2016