About Julie Fast
Julie Fast is the author of The Gold Standard for Treating Depression and The Gold Standard for Treating Bipolar Disorder on HealthyPlace.com. Read more about Julie Fast.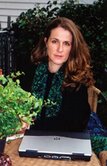 JULIE A. FAST, author of Take Charge of Bipolar Disorder, (Time/Warner 2006) Loving Someone with Bipolar Disorder: Understanding and Helping Your Partner (New Harbinger Publications, February 2004), and Get it Done When You're Depressed (Penguin, 2008) is a critically acclaimed author, national speaker, and sought after expert in the field of bipolar disorder and depression. She is regarded as a mental health pioneer for her groundbreaking, comprehensive approach to treating bipolar disorder and depression using both mainstream and proven alternative therapies. Julie's work has helped thousands of people on medication as well as those who have difficulties tolerating medications find ways to successfully manage their condition and reclaim their lives.
Julie was diagnosed with rapid cycling bipolar disorder II in 1995 at the age of thirty-one, after she had lived with the disorder for over fourteen challenging and chaotic years. In 1998, three years after the diagnosis and twenty-three medications later, she found herself at a life-or-death crossroads: The medications were not enough - which led to the development of her now-famous bipolar treatment plan.
Julie's website is an internationally popular online resource for people with bipolar disorder. (http://www.juliefast.com
Julie currently lives in Portland, Oregon, U.S.A. and though she still struggles daily with bipolar disorder symptoms, she is finally living a full and active life.
You can read more of Julie Fast's personal story here.
next: The Gold Standard for Treating Depression or The Gold Standard for Treating Bipolar Disorder
APA Reference
Tracy, N. (2009, January 4). About Julie Fast, HealthyPlace. Retrieved on 2023, December 11 from https://www.healthyplace.com/about-healthyplace/about-us/about-julie-fast
Last Updated: January 14, 2014