Letter from Susan Dime-Meenan, Executive Director of the National Depressive and Manic Depression Association
This letter from Susan Dime-Meenan, Executive Director of the National Depressive and Manic Depression Association (NDMDA) was procured by Support Coalition under the Freedom of Information Act.
May 5, 1995
Bernard S. Arons, M.D.
Center for Mental Health Services
Rockville, MD 20857
Dear Dr. Arons,
I am writing to share the National Depressive and Manic-Depressive Association's (National DMDA) concerns regarding the Center for Mental Health Services' (CMHS) recent note to interested parties regarding electroconvulsive therapy (ECT), involuntary treatment, and related issues.
We appreciate CMHS's interest in furthering communication and debate on this issue. Involuntary treatment - whether through the use of ECT, prescription drugs, or any other means - is indeed a complex issue. Access to ECT, as well as for all medical care, must be subject to complete, continuing informed consent. At the same time, National DMDA strongly supports an individual's right to receive any safe and effective treatment for psychiatric illnesses, including electroconvulsive therapy.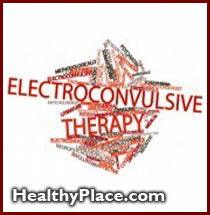 Unfortunately, the stigma surrounding ECT prevents many Americans from receiving this valuable treatment. We believe that CMHS's recent statement missed an opportunity to provide much-needed federal leadership in combating this problem, and instead helped contribute to it by giving the impression that CMHS and the general medical community harbor doubts about the use of ECT under patient consent. Although the authority to determine which treatments are safe and effective and which are not rests solely with the Food and Drug Administration (FDA), CMHS is the lead federal agency dedicated to working on mental health services issues. As such, we find it alarming that CMHS did not explicitly state that it shares the broad support within the scientific, provider and consumer communities for the appropriate, consensual use of ECT as a safe and effective treatment for certain cases of severe depression and other mental disorders.
While we are primarily concerned with what the statement failed to convey, we are also concerned with the tight linkage in the statement between ECT and involuntary treatment. The statement implies that ECT is the treatment of concern in involuntary situations, giving little attention to the large preponderance of other forms of involuntary treatment. The statement's strong association of ECT with involuntary treatment also gives the impression that ECT is typically used in involuntary situations. In fact, in the large majority of cases ECT is used under patient consent.
Finally, we are concerned that in issuing this statement on a highly sensitive issue CMHS appears to have been largely responding to concerns voiced by opponents of psychiatry. National DMDA would have appreciated the opportunity to provide its perspective - prior to the statement's release - as the only patient-run organization advocating on behalf of those with depressive disorders.
We urge CMHS to retract the statement, and to replace it with one making clear that ECT is a safe and effective treatment which must be made available for the treatment of certain mental disorders, including severe depression. Pleas do not lose sight of your agency's mission to provide leadership in fighting for the widespread availability of effective mental health treatments. Those who would ban ECT and attack psychiatry are to be aggressively responded to - not accommodated.
Thank you for your time and attention to this matter.
Sincerely,
Susan Dime-Meenan
Executive Director
NDMDA
next: Letters from 2 Shock Doctors/Researchers in the Country
~ all Shocked! ECT articles
~ depression library articles
~ all articles on depression
APA Reference
Staff, H. (2007, February 19). Letter from Susan Dime-Meenan, Executive Director of the National Depressive and Manic Depression Association, HealthyPlace. Retrieved on 2023, December 8 from https://www.healthyplace.com/depression/articles/letter-from-susan-dime-meenan-executive-director-of-the-national-depressive-and-manic-depression-association
Last Updated: June 22, 2016