Where to Get Help For Depression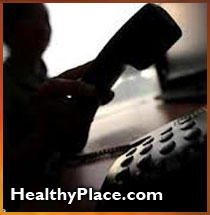 There are many places to get help for depression or help for an emotional problem. We have a list here.
If unsure where to go for help, check the Yellow Pages under "mental health," "health," "social services," "suicide prevention," "crisis intervention services," "hotlines," "hospitals," or "physicians" for phone numbers and addresses. In times of crisis, the emergency room doctor at a hospital may be able to provide temporary help for an emotional problem, and will be able to tell you where and how to get further help.
Listed below are the types of people and places that will make a referral to, or provide, diagnostic and treatment services.
Family doctors
Mental health specialists, such as psychiatrists, psychologists, social workers, or mental health counselors
Health maintenance organizations
Community mental health centers
Hospital psychiatry departments and outpatient clinics
University- or medical school-affiliated programs
State hospital outpatient clinics
Family service/social agencies
Private clinics and facilities
Employee assistance programs
Local medical and/or psychiatric societies
NAMI-National Alliance on Mental Illness
3803 N. Fairfax Dr., Ste. 100
Arlington, VA 22203
1-703-524-7600; 1-800-950-NAMI
Website: http://www.nami.org
National Depressive and Manic Depressive Association
730 N. Franklin, Suite 501
Chicago, IL 60601
1-312- 642-0049; 1-800-826-3632
Website: http://www.ndmda.org
National Foundation for Depressive Illness, Inc.
P.O. Box 2257
New York, NY 10016
1-212-268-4260; 1-800-239-1265
Website: http://www.depression.org

National Mental Health Association
1021 Prince Street
Alexandria, VA 22314-2971
(703) 684-7722; 1-800-969-6642
FAX: 1-703-684-5968
TTY: 1-800-433-5959
Website: http://www.nmha.org
next: Study: Depression From Job Loss Is Long Lasting
~ depression library articles
~ all articles on depression
APA Reference
Tracy, N. (2008, December 22). Where to Get Help For Depression, HealthyPlace. Retrieved on 2023, December 1 from https://www.healthyplace.com/depression/articles/where-to-get-help-for-depression
Last Updated: June 24, 2016