Shocking Treatment
Electroconvulsive therapy's return stirs debate on use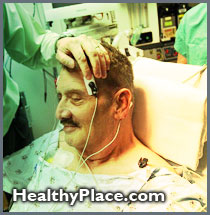 George Ebert is not certain how many of his memories are missing. He can recall that during a 1971 tour of Ohio with his family, his mental state first began to deteriorate. He recalls hurriedly trying to "cleanse" his life by throwing away most of his belongings, and attempting to hitchhike in the middle of the night from Columbus to Texas with his son in tow on a search for God.
It was at an Ohio psychiatric hospital that same year that Ebert had his first experience with electroconvulsive therapy, then known as electroshock. The 15 treatments with the device, he said, left him temporarily unable to perform the simplest tasks and permanently unable to remember patches of his life.
"Afterwards, I was given a container of milk and I could not figure out how to hold it, and given a spoon and I didn't know what it was for," said Ebert, 58, an Oswego native who now runs the Mental Patients Liberation Alliance, an advocacy group in Syracuse that opposes the procedure.
ECT, long derided as a primitive and disruptive treatment for mental illness, has recently returned to the psychiatric mainstream, bringing calls for the state to monitor its use more closely than almost any other medical procedure. Though the treatment's technology has advanced significantly, state lawmakers, doctors and patients are now engaged in a vigorous debate that has dredged up the lingering stigma from ECT's early days.
Most of the machines may have changed since the time when Ebert received the treatment, but the issue of informed consent, what patients know about ECT's effects and whether they can be compelled to undergo it, has persisted.
The criticism has been exacerbated by a 1997 study of community hospitals in New York City, Westchester and Nassau counties. The study, by the New York State Psychiatric Institute based at Columbia University, found that 11 percent of patients were treated with outmoded ECT machines such as the one used on Ebert.
Underscoring the absence of government oversight of ECT, state regulators said they do not know where these antiquated machines are, or even how many people receive ECT treatment throughout New York in any given year. Individual complaints about ECT, as with any other medical procedure, are handled by either the state Commission on Quality of Care or a national commission that accredits hospitals.
Texas and Vermont have imposed severe restrictions on ECT. But the push for greater oversight in New York and elsewhere concerns doctors who say it will discourage hospitals from using the treatment.
"The truth of the matter is that this is now a very routine ," said Dr. Charles Kellner, professor of psychiatry and neurology at the Medical University of South Carolina. "Some of them would die by suicide if people are denied access to this."
Nationally, as many as 100,000 people receive ECT every year, according to the American Hospital Association. New York's Office of Mental Health tallies only how many people in state hospitals receive the treatment -- 134 last year.
The treatment has evolved since Ebert's family had him committed 30 years ago. Now, ECT is primarily administered to those who do not respond to medications. For years it has been recommended as a method of last resort. Physicians target electricity to the brain until the patient experiences a seizure. Some doctors believe the electricity alters existing electrical impulses in the brain to correct any chemical imbalance.
The first generation of ECT devices, called sine wave machines, were used liberally to treat a wide range of mental illnesses for decades. Proponents and opponents alike agree that, until very recently, the treatment was overused to control unruly patients. Crude in comparison to more modern versions, the early machines sent out intense bursts of electricity that often produced memory loss. The improved machines deliver less electricity in more brief pulses, causing less cognitive damage.
Until 1980, sine wave devices were the only machines on the market and today still evoke the images of the earliest electroshock treatments administered without muscle relaxants or anesthesia to soften the effects of the seizure.
The machines were immortalized in the 1975 film "One Flew Over the Cuckoo's Nest," where the patient played by Jack Nicholson thrashes uncontrollably during electroshock treatments.
"It's receiving a kind of attention that probably isn't driven by science questions but has generated a lot of emotional reaction," said Dr. John Oldham, chief medical officer for the New York State Office of Mental Health and director of Columbia University's psychiatric research institute. "It has been sensationalized."
But the introduction of newer machines has not quelled controversy about ECT. In one well-publicized case in 1999 on Long Island, Paul Henri Thomas challenged Pilgrim Psychiatric Center's right to administer the treatment against his will. Pilgrim had to go to court to proceed with the treatment. The hospital won the case in March, but Thomas has appealed and until it is resolved, the hospital is barred from treating him with ECT.
"It happens to be a procedure that is involved per patient in more court cases than any other," said Martin Luster, chairman of the state Assembly's Mental Health Committee. "There may be legitimate cases raised in terms of medications. We have not received the same outpouring of concern over medications as we have over ECT."
Luster (D-Trumansburg) has proposed legislation that would require every hospital in the state to inform patients about the benefits and side effects of ECT. Luster's bill also would require hospitals to obtain patients' written consent and routinely report the number of treatments to state regulators. In addition, hospitals would need to have alternative treatment nearby in case of an emergency.
---
But psychiatrists warn of the consequences of bringing a medical debate to the Legislature. In Texas, groups of ECT watchdogs, including the Church of Scientology, lobbied so successfully that state lawmakers entertained an outright ban of the procedure. Lawmakers ultimately prohibited doctors from performing ECT on anyone under 16 and required multiple recommendations before allowing the procedure on anyone over 65. They also required more stringent reporting practices and a separate consent form each time ECT is administered.
"For a legislature to intercede in a medical practice would inhibit its continued research," said Max Fink, an attending psychiatrist at Long Island Jewish Medical Center in New Hyde Park and a vocal ECT proponent. "ECT is an effective treatment that has saved many lives its availability is very spotty. State, municipal and many private hospitals do not have it available."
ECT advocates dispute that the existing sine wave devices pose any threat, though they agree the machines should not be used. Harold Sackeim, one of the authors of the 1997 study that found several machines still in use, called it "a small issue."
Sackeim would not disclose the location of the machines, citing confidentiality of the hospitals that participated in the study. Newsday contacted 40 hospitals for this story; none said they use sine wave machines.
Oldham said the sine wave machines, while less preferable than newer devices, still deliver valuable treatment with minimal side effects. "The evolution of transitioning to improved medical and surgical equipment is a process," Oldham said. "Hospitals can't immediately drop everything they've got. They have to do it in a planned, budgeted way."
Continued use of even a few machines has further galvanized opponents, who say it is representative of the greater problem of insufficient standards for ECT. Sackeim's study found that procedures vary from hospital to hospital, including how often a patient's memory is evaluated after treatment.
"The American Psychiatric Association has been warning people not to use sine wave for 20 years or more, but they're still there," said Linda Andre, who underwent the treatment in 1981. Andre, 41, of Manhattan, added that an independent agency was necessary to regulate ECT. She said psychiatrists "didn't do anything" to get rid of the sine wave machines before, and warned against having psychiatrists "police" themselves: "You can't put these kinds of things in their hands."
next: Shocking Treatment Still Torture For Some
~ all Shocked! ECT articles
~ depression library articles
~ all articles on depression
APA Reference
Staff, H. (2001, July 22). Shocking Treatment, HealthyPlace. Retrieved on 2023, December 2 from https://www.healthyplace.com/depression/articles/shocking-treatment
Last Updated: June 20, 2016