Gay Mental Health: Mental Health Issues Facing Gay Men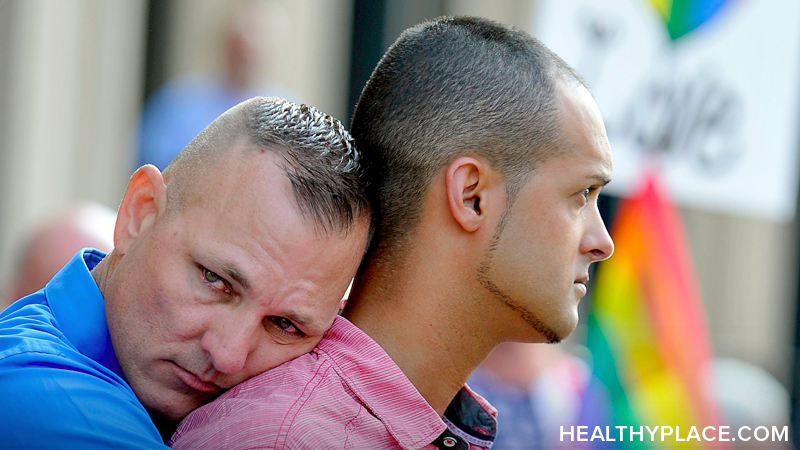 Many people aren't aware of this, but homosexuals face gay mental health challenges. As the Centers for Disease Control and Prevention (CDC) are clear to note, ". . . the majority of MSM [men who have sex with men] are highly resilient and able to cope successfully with many negative life stressors, such as those associated with homophobia and discrimination;"1 however, this doesn't mean that there aren't specific gay mental health challenges.
Gay Mental Health – Increased Risks
Homosexuality is not a medical or mental health disorder but the pressures placed on gay men such as discrimination and homophobia can have a negative impact on their health. According to the CDC, research has found that gay men are at increased risk of:
Major depression during adolescence and adulthood
Bipolar disorder
Generalized anxiety disorder during adolescence and adulthood
Suicide
Use of illegal drugs
Gay mental health issues also include substance use disorders like substance abuse and substance dependence. It is noted by the American Psychological Association that gay men also report a higher use of mental health services.2 (info on Gay Therapy, Gay Therapists, Gay Treatment)
Gay Mental Health – Talking to Your Doctor
The Gay and Lesbian Medical Association (GLMA) recommend talking about 10 things with your healthcare provider, three of which pertain to gay mental health.3
Coming out to your doctor – in order to get the best gay mental health help possible, it's critical to come out to your doctor. If the doctor does not seem comfortable with you, it's time to find another doctor.
Gay addiction treatment – it's critical to discuss any drug or alcohol use with your healthcare provider as gay men are at an increased risk for addiction issues.
Gay depression or anxiety – Being gay and depressed or anxious is not uncommon but to get gay depression treatment, you must first make your doctor aware of the issue.
Gays and Addiction
Gay men are more likely to use tobacco, alcohol and other drugs and are more likely to use them in excess. It is thought that there are more gay addicts because of the stress society places gays under particularly due to homophobia. Reasons identified include:4
Sense of self as worthless or bad
Lack of connectedness to supportive adults and peers
Lack of alternative ways to view "differentness"
Lack of access to role models
Lack of opportunities to socialize with other gays/lesbians except bars
The risk of contracting HIV
Gay addiction prevention strategies include:
Public education and policy advocacy aimed at eliminating heterosexism and homophobia
LGBT cultural competency training for community-based agencies, programs and services, including those focused on substance abuse (e.g., police, health and social services, education, faith community, families and foster care)
Safer, alternative venues for LGBT youth and those in the process of forming their sexual identities to "come out."
Gay alcoholics may also find that seeking out gay Alcoholics Anonymous groups helpful. Gay Alcoholics Anonymous and other gay addiction support groups can be found here.
Additional Resources
Additional information on gay mental health issues can be found through mental health organizations including:
APA Reference
Tracy, N. (2022, January 4). Gay Mental Health: Mental Health Issues Facing Gay Men, HealthyPlace. Retrieved on 2023, December 1 from https://www.healthyplace.com/gender/gay/gay-mental-health-mental-health-issues-facing-gay-men
Last Updated: January 13, 2022