Maintaining Relationships when Mental Illness Interferes
HealthyPlace Mental Health Newsletter
Here's what's happening on the HealthyPlace site this week: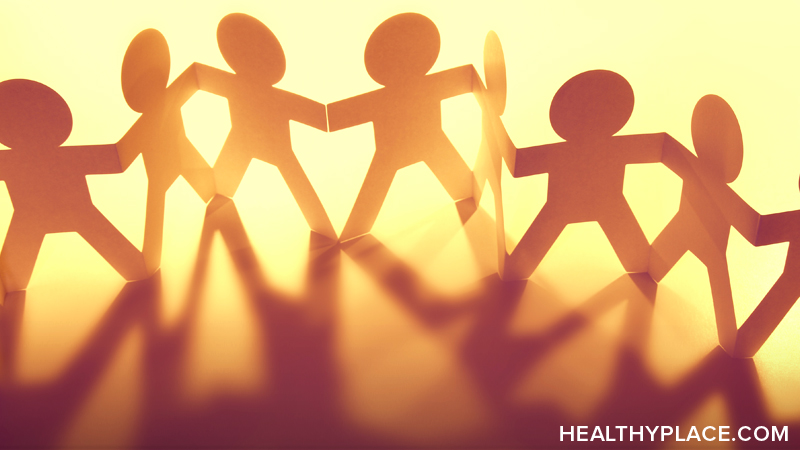 Maintaining Relationships when Mental Illness Interferes
Let's face it. Relationships, whether they're with friends, family, or a romantic partner, are difficult. Maintaining relationships when mental illness interferes takes that difficulty to a new level. Sadly, mental illness does sometimes drive people apart. A 2011 study showed that, among 18 mental disorders studied, 14 are associated with an increased divorce rate (Marriage and Mental Illness: For Better or Worse?).
Whether you are living with a mental illness or are in any type of relationship with someone experiencing mental illness, your relationship isn't doomed to failure. Some keys to maintaining healthy relationships when mental illness interferes:
Communicate what things are like for you. Share honestly and calmly how your symptoms affect you, or gently let your partner know how his/her symptoms impact you. Together, determine how to make problems better.
Know your limits. When you're aware that you're reaching your frustration threshold, step away and enjoy a calming activity.
Define your relationship goals, and keep them at the forefront. Working toward common goals keeps you moving in the same direction, and it facilitates a healthy bond.

For anyone living with mental illness, healthy relationships are a key component of living well and thriving. While mental illness can interfere in relationships, having strong, positive
Related Articles Dealing with Relationships and Mental Illness
Your Thoughts
Today's Question: Whether you live with mental illness or have a friend, family, or partner with mental illness, what helps you keep the relationship healthy and strong? We invite you to participate by commenting and sharing your feelings, experiences and knowledge on the HealthyPlace Facebook page and on the HealthyPlace Google+ page.
---
---
Share our Stories
At the top and bottom of all our stories, you'll find social share buttons for Facebook, Google+, Twitter, Pinterest and other social sites. If you find a particular story, video, psychological test or other HealthyPlace feature helpful, there's a good chance others in need will too. Please share.
We also get many inquiries about our linking policy. If you have a website or blog, you can link to any page on the HealthyPlace website without asking us beforehand.
Most Popular HealthyPlace Articles Shared by Facebook Fans
Here are the top 3 mental health articles HealthyPlace Facebook fans are recommending you read:
If you're not already, I hope you'll join us/like us on Facebook too. There are a lot of wonderful, supportive people there.
------------------------------------------------------------------
From the HealthyPlace Mental Health Blogs
On all our blogs, your comments and observations are welcomed.
On all our blogs, your comments and observations are welcomed.
Feel free to share your thoughts and comments at the bottom of any blog post. And visit the mental health blogs homepage for the latest posts.
------------------------------------------------------------------
Stand Up for Mental Health
Thousands Have Joined the Stand Up for Mental Health Campaign
But we still need you. Let others know there's no shame in having depression, anxiety, bipolar disorder, trichotillomania, OCD, ADHD, schizophrenia or any other mental illness.
Join the Stand Up for Mental Health campaign. Put a button on your website or blog (buttons for family members, parents, mental health professionals and organizations too). We also have covers for Facebook, Twitter and Google+.
------------------------------------------------------------------
Latest Mental Health News
Psychotherapy Sessions Are Best In The Morning When Levels Of Helpful Hormone Are High
Awareness Of Self And Tendency To Ruminate Brain Regions Show Altered Activity In Patients With Insomnia
Developing Brain Regions In Children Hardest Hit By Sleep Deprivation
Fewer Indications Of ADHD In Children Whose Mothers Took Vitamin D During Pregnancy
High Blood Pressure Raises Risk Of Cognitive Decline, Dementia
Transcendental Meditation May Help Ease Trauma Symptoms, Stress
High Blood Pressure Drugs Impact Depression, Bipolar Disorder
Parental Absence Increases Chance Of Nicotine And Alcohol Use In Children
These stories and more are featured on our mental health news page:
That's it for now. If you know of anyone who can benefit from this newsletter or the HealthyPlace.com site, I hope you'll pass this onto them. You can also share the newsletter on any social network (like facebook, stumbleupon, or digg) you belong to by clicking the links below. For updates throughout the week:
back to: HealthyPlace.com Mental-Health Newsletter Index
APA Reference
Peterson, T. (2016, November 1). Maintaining Relationships when Mental Illness Interferes, HealthyPlace. Retrieved on 2022, September 27 from https://www.healthyplace.com/other-info/mental-health-newsletter/maintaining-relationships-when-mental-illness-interferes
Last Updated: May 8, 2017