Reasons to Make 2018 YOUR Year of Mental Health
Here's what's happening on the HealthyPlace site this week:
---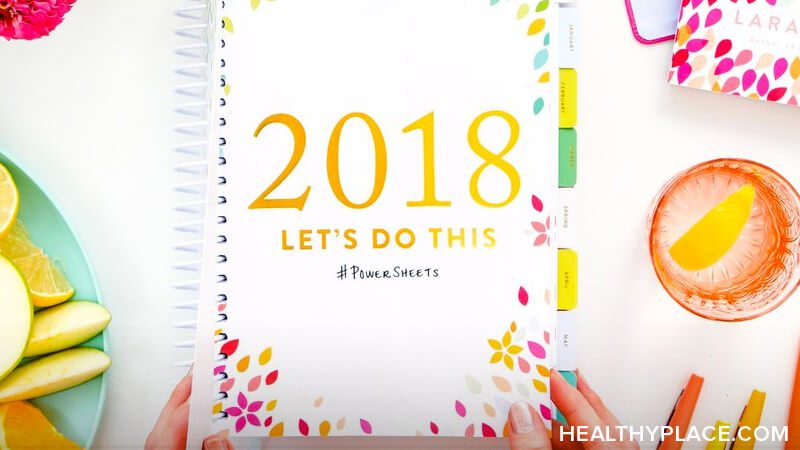 Reasons to Make 2018 YOUR Year of Mental Health
Congratulations! You've reached another new year. Forget the New Year's resolutions. Celebrate being here in this moment, just as you are. You've had mental health challenges, and you've weathered them with your strengths. Celebrate that, and look forward with positivity to 2018, a brand new year waiting for you to jump into.
This might sound energizing, or it might sound exhausting. Living with mental illness or any mental health challenge can make it difficult at times to look ahead with enthusiasm. To give you a boost, here are great reasons to make 2018 your year of mental health.
You deserve it. You have inherent worth, and facing mental health challenges doesn't diminish your value.
You have passions. Mental illness can feel deflating and can make you focus on all of the associated struggles. Yet you do have things that bring you joy, and you can make pursuing them a priority this year.
You have good things in your life that mental illness can't take away from you. You can love, you can nurture yourself and others, and you can appreciate beauty within you and around you.
Living with mental illness and mental health challenges can be difficult. There are times when you don't think you will ever feel mentally healthy. Yet you are not your illness. You are separate, a deserving human being who has countless reasons to make 2018 YOUR mentally healthy year. 
Related Articles Dealing with Your Mental Health
Your Thoughts
Today's Question: If you've ever felt overwhelmed by your mental health challenges, what helped you keep moving forward? We invite you to participate by sharing your thoughts, knowledge and experiences on the HealthyPlace Facebook page and on the HealthyPlace Google+ page.
---
---
From the HealthyPlace Mental Health Blogs
On all our blogs, your comments and observations are welcomed.
Feel free to share your thoughts and comments at the bottom of any blog post. And visit the mental health blogs homepage for the latest posts.
------------------------------------------------------------------
From HealthyPlace YouTube Channel
I'm Hannah. I Have Bipolar 2
Bipolar and Empathy: Its Extreme for Me
Empathetic emotions are a significant part of living with bipolar disorder. This ability to share the feelings and pain of others is both a blessing and a curse. It causes many of us with bipolar disorder to be consumed by the suffering of others and feeling hopeless when we are unable to do anything about it. In this video, I share what empathy is like for me living with bipolar 2 disorder. (Watch Hannah)
------------------------------------------------------------------
Most Popular HealthyPlace Articles Shared by Facebook Fans
Here are the top 3 mental health articles HealthyPlace Facebook fans are recommending you read:
If you're not already, I hope you'll join us/like us on Facebook too. There are a lot of wonderful, supportive people there.
------------------------------------------------------------------
Mental Health Quote
"It is in my head. It's a mental illness, but that doesn't make it not real."
Read more eating disorders quotes.
------------------------------------------------------------------
That's it for now. If you know of anyone who can benefit from this newsletter or the HealthyPlace.com site, I hope you'll pass this onto them. You can also share the newsletter on any social network (like facebook, stumbleupon, or google+) you belong to by clicking the links below. For updates throughout the week, circle HealthyPlace on Google+, follow HealthyPlace on Twitter or become a fan of HealthyPlace on Facebook. Also, check out HealthyPlace on Pinterest and share your mental health pins on our Share Your Mental Health Experiences board.
APA Reference
Peterson, T. (2018, January 2). Reasons to Make 2018 YOUR Year of Mental Health, HealthyPlace. Retrieved on 2023, December 10 from https://www.healthyplace.com/other-info/mental-health-newsletter/reasons-to-make-2018-your-year-of-mental-health
Last Updated: January 4, 2018