Three Ways to Manage Your Mood
Here's what's happening on the HealthyPlace site this week:
---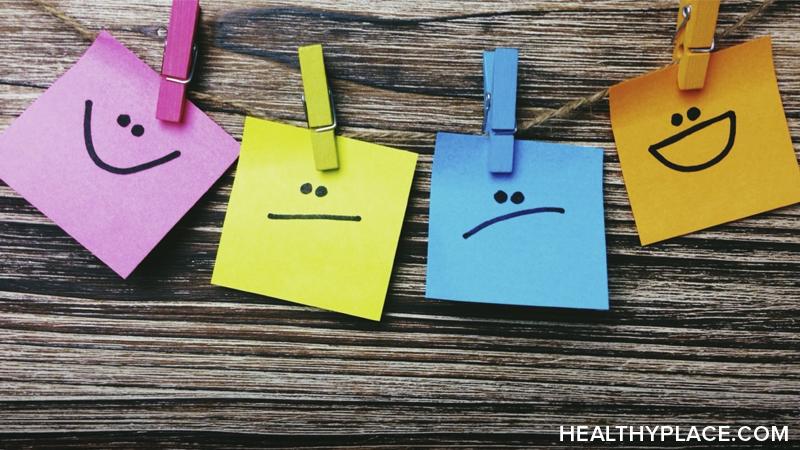 Three Ways to Manage Your Mood
Living with mental illness or other mental health challenges can make moods difficult to manage. Mood disorders, such as depression and bipolar disorder, interfere in the brain's ability to regulate mood and emotion. Other mental health disorders, too, make moods hard to adjust (Different Moods of Anxiety and How to Tame Them).
When you experience moods you don't want, whether they're too high or too low or too anxious or too erratic, there are things you can do to regulate and improve your moods. Try these three ways to manage your mood.
Distance yourself from you mood. Moods are fleeting emotions; they're not the core of your being. Repeat a statement like this: "This mood isn't who I am and is only something I'm experiencing."
Do something. Moods, no matter what they are, have a way of paralyzing us. Acknowledge your mood, and then act anyway. You don't have to wait until you feel better to get going.
Practice mindfulness. Instead of fixating on your mood, use your senses to pull yourself out of your head, out of your funk, and into the present moment. Then, find something pleasant to focus on.
With these three ways to manage mood, your mood might not change immediately, but chances are it won't feel as bothersome. That's something you can build on.
Related Articles Dealing with Managing Mood
Your Thoughts
Today's Question: When you experience a mood you don't want, what do you do to change it? We invite you to participate by sharing your thoughts, experience, and knowledge on the HealthyPlace Facebook page and on the HealthyPlace Google+ page.
---
---
From the HealthyPlace Mental Health Blogs
On all our blogs, your comments and observations are welcomed.
Feel free to share your thoughts and comments at the bottom of any blog post. And visit the mental health blogs homepage for the latest posts.
------------------------------------------------------------------
From HealthyPlace YouTube Channel
Bipolar Disorder and Isolation
Bipolar and isolation is a tough thing for people to deal with. I consider myself to be an outgoing person, but when I am in a bipolar depressive episode, I completely isolate myself from those around me. You can imagine what my friends think when the person who is considered the social butterfly of the group suddenly disappears.
------------------------------------------------------------------
Most Popular HealthyPlace Articles Shared by Facebook Fans
Here are the top 3 mental health articles HealthyPlace Facebook fans are recommending you read:
If you're not already, I hope you'll join us/like us on Facebook too. There are a lot of wonderful, supportive people there.
------------------------------------------------------------------
Mental Health Quote
"I´m terrified that even if I try my hardest, I still won't be good enough."
Read more anxiety quotes.
------------------------------------------------------------------
That's it for now. If you know of anyone who can benefit from this newsletter or the HealthyPlace.com site, I hope you'll pass this onto them. You can also share the newsletter on any social network (like facebook, stumbleupon, or google+) you belong to by clicking the links below. For updates throughout the week, circle HealthyPlace on Google+, follow HealthyPlace on Twitter or become a fan of HealthyPlace on Facebook. Also, check out HealthyPlace on Pinterest and share your mental health pins on our Share Your Mental Health Experiences board.
APA Reference
Peterson, T. (2017, May 15). Three Ways to Manage Your Mood, HealthyPlace. Retrieved on 2023, December 1 from https://www.healthyplace.com/other-info/mental-health-newsletter/three-ways-to-manage-your-mood
Last Updated: May 17, 2017