Twitter Can Tell If You're Depressed
HealthyPlace Mental Health Newsletter
Here's what's happening on the HealthyPlace site this week:
Twitter Can Tell If You're Depressed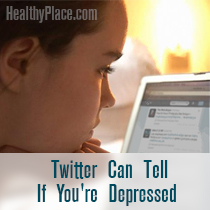 Amazing, right? Microsoft researchers developed a model that can scan tweets and predict depression in Twitter users. They claim an accuracy rate of 70%, but say the research still has a long way to go. But think about this...one day you may receive a tweet that alerts you a change in your mood, maybe before you even realize it yourself. Eric Horvitz, co-director of Microsoft Research Redmond, says he came up with the idea to help reduce the 30,000 suicides a year in the U.S. due to depression. (Watch: Depression and Suicidal Thoughts)
One big downside is that others, like present and potential employers and health insurance companies could do the same thing and you know what that means.
Related Depression Articles
Your Thoughts
Today's Question: Do you engage in self-stigma, adding to your depression? We invite you to participate by commenting and sharing your feelings, experiences and knowledge on the HealthyPlace Facebook page.
Help Spread Awareness of Mental Illness
Get Our Mental Health Blog Widget
Over 370 sites and blogs are helping spread awareness of mental illness. How about putting our mental health blogs widget on your website, blog or social page? The latest HealthyPlace blog headlines appear as soon as the articles are posted on our site. Just click "Get Widget" at the bottom of the widget, grab the embed code and paste it into your page. You'll also see embed links for Wordpress, Blogger, Linkedin and other social sites there.
As a bonus, put the blogs widget on your site or blog, email us (info AT healthyplace.com) with a page link where it appears, and we'll give a shoutout to your site, blog, or social site on our Facebook and Twitter pages.
------------------------------------------------------------------
Share our Stories
At the top and bottom of all our stories, you'll find social share buttons for Facebook, Google+, Twitter, Pinterest and other social sites. If you find a particular story, video, psychological test or other HealthyPlace feature helpful, there's a good chance others in need will too. Please share.
We also get many inquiries about our linking policy. If you have a website or blog, you can link to any page on the HealthyPlace website without asking us beforehand.
---
continue story below
---
Most Popular HealthyPlace Articles Shared by Facebook Fans
Here are the top 3 mental health articles HealthyPlace Facebook fans are recommending you read:
------------------------------------------------------------------
Mental Health Experiences
Share your thoughts/experiences with any mental health subject, or respond to other people's audio posts, by calling our toll-free number (1-888-883-8045).
You can listen to what other people are saying by clicking on the gray title bars inside the widgets located on the "Sharing Your Mental Health Experiences" homepage, the HealthyPlace homepage, and the HealthyPlace Support Network homepage.
If you have any questions, write us at: info AT healthyplace.com
------------------------------------------------------------------
From the HealthyPlace Mental Health Blogs
On all our blogs, your comments and observations are welcomed.
Feel free to share your thoughts and comments at the bottom of any blog post. And visit the mental health blogs homepage for the latest posts.
------------------------------------------------------------------
Stand Up for Mental Health
Thousands Have Joined the Stand Up for Mental Health Campaign
But we still need you. Let others know there's no shame in having depression, anxiety, bipolar disorder, trichotillomania, OCD, ADHD, schizophrenia or any other mental illness.
Join the Stand Up for Mental Health campaign. Put a button on your website or blog (buttons for family members, parents, mental health professionals and organizations too). We also have covers for Facebook, Twitter and Google+.
------------------------------------------------------------------
When Frightening News Leads To Young Children's Sleepless Nights
Terrorist attacks, thunder and lightning or events around the house - these are just some of the things that can lead to your child having trouble falling asleep. So what can parents do to help their child overcome sleep problems? The Parent Coach, Dr. Steven Richfield, has some helpful ideas.
Latest Mental Health News
These stories and more are featured on our mental health news page:
Researchers Find Genetic Mutations That May Cause Schizophrenia
Suicide Risk Reduced For All Students By Gay-Straight Alliances In Schools
Love And Power. An Equal Balance Is The Passport To Intimacy
Risk Of Suicide, Homicide Increased By Access To Guns
Independent Working May Reduce Adult Autism Symptoms
Attentional Biases Toward Emotion Help Characterize Bipolar Disorder
Psychosis Risk Factors Have Limited Predictive Power
Cortical Thickness May Distinguish Bipolar From Unipolar Disorder
Social Contact Problems Warn Of Future Psychosis
Childhood Bereavement Contributes To Future Psychosis Risk
Cortical Thickness Changes May Contribute To Early Schizophrenia
Mental Health Of Spanish Men Worsened With The Economic Crisis
That's it for now. If you know of anyone who can benefit from this newsletter or the HealthyPlace.com site, I hope you'll pass this onto them. You can also share the newsletter on any social network (like facebook, stumbleupon, or digg) you belong to by clicking the links below. For updates throughout the week:
APA Reference
Staff, H. (2014, January 29). Twitter Can Tell If You're Depressed, HealthyPlace. Retrieved on 2023, December 4 from https://www.healthyplace.com/other-info/mental-health-newsletter/twitter-can-tell-if-youre-depressed
Last Updated: September 3, 2014