Books on Relationships, Abusive Relationships, Codependence, Healthy Relationships
MUST HAVES for people with relationship issues such as abuse or codependence, and for people looking for a better, healthier relationship
Mr. Mean: Saving Your Relationship from the Irritable Male Syndrome
By: Jed Diamond

Jed Diamond was a guest on our HealthyPlace Mental Health TV Show. He talked about the health and well-being of mid-life men, and why they turn mean. Watch the video on why mid-life men turn mean right here.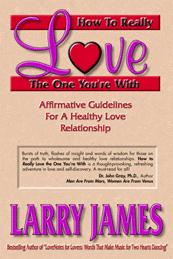 How to Really Love the One You're With!: Affirmative Guidelines for a Healthy Love Relationship
By: Larry James
buy the book 
Visit Larry James website: Celebrate Love to learn more about healthy relationships, how to create them and how to keep them alive.

Love Without Hurt: Turn Your Resentful, Angry, or Emotionally Abusive Relationship into a Compassionate, Loving One
by Steven Stosny
buy the book 

Respect-Me Rules by Michael and Shelly Marshall buy the book $10
buy the book
Shelly and Dr. Marshall co-authors of Respect-Me Rules were our guests on the HealthyPlace Mental Health Radio Show. They joined us for a frank discussion on verbal and emotional abuse, and what you can do about your abusive relationship.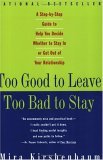 Too Good to Leave, Too Bad to Stay: A Step-by-Step Guide to Help You Decide Whether to Stay In orGet Out of Your Relationship
By: Mira Kirshenbaum
buy the book
Reader Comment: "It's the book you refer to again and again and again to help you learn what IS a healthy relationship, what IS love. Kirshenbaum also teaches those of us who just didn't get it what we can look for in the future, when our hearts decide to risk again."

How to Be an Adult in Relationships: The Five Keys to Mindful Loving
By: David Richo
buy the book
Reader Comment: "If you are looking for a quick-fix, feel good book - skip this one. If you are prepared to do the work, if you are not afraid of realization that learning how to love is a life-long process, and are not scared of (as another reviewer put it) big words, this is the book that is worth reading - again and again."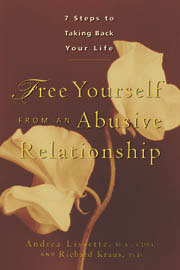 Free Yourself From an Abusive Relationship
By: Ph.D. Richard Kraus, Andrea Lissette, Andrea Lissette
buy the book
Reader Comment: "This book effectively deals with domestic abuses without pointing fingers at gender or stereotyping a race or economic group... one of the only ones I have ever seen!"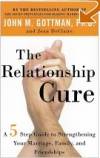 The Relationship Cure: A 5 Step Guide to Strengthening Your Marriage, Family, and Friendships
By: John Gottman
buy the book
Reader Comment: "This book is so simple yet, so true. I like the fact that the content came out of real observations of people. The steps are clearly grounded in reality... not just theory about the way people behave. "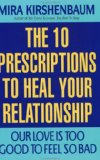 Our Love Is Too Good to Feel So Bad: Ten Prescriptions To Heal Your Relationship
By: Mira Kirshenbaum
buy the book
Reader Comment: "A 'no nonsense' sort of person, she methodically lists what might be causing pain in a loving relationship, and teaches the reader to fix the problems and rekindle the joy in loving."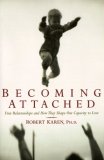 Becoming Attached: First Relationships and How They Shape Our Capacity to Love
By: Robert Karen
buy the book
Reader Comment: "Dr. Karen encompasses both the quality and strength of the parent-child bond, the ways in which it forms and develops, how it can be damaged and repaired, and the long-term impact of separations, losses, wounds, and deprivations."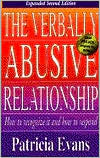 The Verbally Abusive Relationship: How to Recognize it and How to Respond
By: Patricia Evans
buy the book
Reader Comment: "This book helps the victim understand how to recognize abuse, validates the victim's perception of what is happening and offers solid suggestions as to what to do to control abuse and to protect oneself."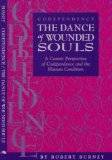 Codependence / The Dance of Wounded Souls
By: Robert Burney
buy the book
Reader Comment: "This book is very clear and precise in characterizing codependency. The message linking a cultural "codependence" to a spiritual disease, while not new or novel, is compelling presented within a 12 step context."
APA Reference
Staff, H. (2009, January 7). Books on Relationships, Abusive Relationships, Codependence, Healthy Relationships, HealthyPlace. Retrieved on 2023, December 8 from https://www.healthyplace.com/relationships/books/books-on-relationships
Last Updated: June 8, 2019