Creating Relationships Homepage
Become Who You Want To Be
"If you see a difference between where you are and where you want to be - consciously change your thoughts, words, and actions to match your grandest vision."
- Neal Donald Walsch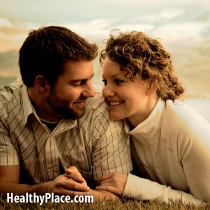 This site is dedicated to helping you know yourself better, accept yourself more, and recognize that you have the power to be whoever you wish. Life involves discovery, but more profoundly, its the conscious creation of yourself and your dreams.
There is also considerable information about achieving happiness and creating loving relationships.
I encourage you to accept into your heart and mind only those thoughts and ideas that ring true for you and discard the rest. Welcome and enjoy the journey.
"Personal unhappiness is the single greatest contributor to most relationship problems."
Check our sitemap for all the contents in this website.
---
---
next: Be Self 'ish' in Love
APA Reference
Staff, H. (2008, November 25). Creating Relationships Homepage, HealthyPlace. Retrieved on 2023, November 30 from https://www.healthyplace.com/relationships/creating-relationships/self-acceptance-and-loving-relationships
Last Updated: March 25, 2016