A Few of Larry's Favorite Family Fotos!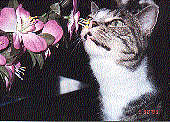 "Tabby"
This is Larry's daughter, Kelly's 'lil darling! In her 18th year, Tabby has learned to stop and smell the flowers!
It is always important to pay attention to the things that really matter. Stopping to smell the flowers, sitting quietly under a tree to watch the squirrels, reading a book or just making time to "slow down," take a deep breath and relax for a few minutes helps us to stay focused on the important things in life. This is what "Taking care of yourself" and paying attention to the "little" things is all about.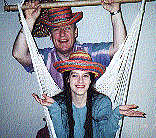 Larry & Kelly
This is Larry & his daughter, Kelly being together, having fun, enjoying each other's company.
It is so important to spend time with family and friends. The love you share is multiplied when you take time to really be together.
Being too busy to be with family and friends is being "too busy!"

"Tabby"
And now. . . for a moment of quiet meditation.
Hmmm! I wonder what's on her mind?
Resting in the stillness, thinking good thoughts, listening for insight and simply taking pleasure from the present moment is part of what happiness is all about. Unhappiness is a choice! Take time to enjoy the quietness of solitude for a few moments sometime today.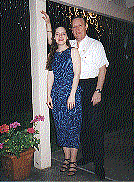 Kelly & Her Dad
It's time to celebrate Kelly's 26th birthday (May 19th) at Z'Tejas Grill in Scottsdale's Fashion Square!
Kelly was a freshman at Kansas University when this photo was taken. She is now a sophomore. She is on the Dean's Honor Roll. (See her dad smiling?)
It is not only important for you to be together with the ones you love, but to DO things that you love doing together. Plan your playtime. It gives you something to look forward to. Having FUN together should be a top priority!
---
continue story below
---
next: Alzheimer's Links
APA Reference
Staff, H. (2008, November 13). A Few of Larry's Favorite Family Fotos!, HealthyPlace. Retrieved on 2023, December 11 from https://www.healthyplace.com/relationships/celebrate-love/a-few-of-larrys-favorite-family-fotos
Last Updated: August 6, 2014