Networkings' Top Ten 'Hot Ideas!'
Networking is. . . using your creative talents to help others achieve their goals as you cultivate a network of people strategically positioned to support you in your goals. . . expecting nothing in return! ~ Larry James
To achieve maximum benefits while attending any function where the opportunity for networking exists, it is important to have a clear understanding of networking. You will notice that my definition of networking has two parts. #1 ~ Helping others, and #2 ~ Helping yourself. In that order.
So. . . what's this about expecting nothing in return? Often we expect people who we help to help us. That would be nice. And it doesn't always work that way. Some people are in better positions to help some than others. Just give. That's the key! Just give. Willingly. It will come back to you. Help people and you get helped! Have no expectations about where your assistance should come from. Just give. And keep on giving. It will come. . . often when you least expect it and when you most need it.
To use networking as an effective business tool; to use it to help you make productive business links, you must first grasp the concept and engage in it relentlessly. Network all the time. Never stop networking.
Many people use business meetings, Chamber "After Hours," conventions, association meetings, trade shows, Junior Chamber of Commerce meetings, civic gatherings, etc., as functions at which to prospect; to look for new customers. That is never my priority.
It has been my experience that a much better way to maximize your networking efforts is to use this time as an opportunity to develop important new business contacts, not necessarily prospects, although often prospects show up where you least expect them. The emphasis must be on developing new business connections.
Find ways you can help others. . . FIRST!
You can always prospect, but good networking opportunities for developing new business contacts are rare. Use the following Top 10 "Hot Ideas" to assist you in making lots of new friends and business contacts at your next function.
---
---
Hot Idea #1 ~ Have a plan! Set a goal to meet no less than 10 new people at the next meeting. Circulate. Don't get bogged down at the bar or with the people you already know. When you set a goal to meet 10 new people, you usually will meet more than you would have if you had no goal.
Hot Idea #2 ~ Develop a good self-introduction! I call this very important self-introduction a "30 second connection!" It must be taken seriously. It is often the first words people hear from you. Practice, drill and rehearse it. After you've been introduced, people should know precisely who you are and what you do. It shouldn't be longer than 30 seconds and it can be shorter.z
It is important for you to be able to introduce yourself quickly without stumbling over your words. This is why I said you must practice, drill and rehearse. My friend and networking expert, Anne Boe once said, "Clarity is power!" Connections that begin with clarity can become long-lasting because they stand out; they will be remembered.
When you clearly communicate who you are, and what you do, people are in a much better position to assist you in your networking efforts. They are more likely to remember you when the opportunity for them to help you shows up.
Grant G. Gard says, "If it's fuzzy in the pulpit, it's cloudy in the pew!" Learning to speak clearly teaches us to say good-bye to confusion. Crystal clear communication allows us to make the connections that enable ideas to flourish and positive actions to occur.
There are four important elements to an effective "30 second connection."
Your name.
The name of your business.
Specifically what you do.
What kind of business leads you are looking for.
You need to have the fourth element of a "30 second connection" ready for the right occasion. There are some groups, such as networking groups, where it is totally appropriate for you to tell people what kind of business leads you are looking for. As a matter of fact, it is expected!
Most networking groups offer an opportunity for you to give your "30 second connection" and solicit business leads. There are other places where it is less appropriate. Use your good judgment. Always be looking for the opportunity to tell people what you do when you show up! No time to be shy when you are networking.
Here is an example of a "30 second connection:
Hi, my name is Larry James with CelebrateLove.com. I present "Relationship Enrichment LoveShops," "Mars and Venus Seminars" and "Networking Seminars" for solo singles, singles with partners and married love partners and business groups both nationally and internationally. I am also on staff with Dr. John Gray, Ph.D., author of "Men Are From Mars, Women Are From Venus." A good business lead for me is anyone who is in a position to make a decision about hiring a speaker for a seminar, workshop, keynote address, convention or association meeting.
Hot Idea #3~ Carry lots of business cards! Never leave home or the office without them. Saying, "I just gave out my last card!" smacks of poor planning. Make a brief note on the back of the other persons card to help you recall the conversation later. Then, follow-up by asking them how YOU can help THEM!
---
Hot Idea #4~ Have fun! Smile and talk to lots of people! Make good eye contact. Never let anyone catch you looking over their shoulder. It gives the appearance that you are looking for someone more important to talk with. Mix and mingle. If after meeting someone new, you feel they are someone you may want to stay in touch with, exchange business cards. Consider making an appointment to get better acquainted later while you are still face-to-face.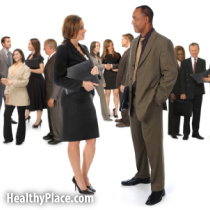 It is a major business irritant to hear someone say, "Call me Monday and we'll make an appointment to get together." Now! Do it now! Carry your pocket calendar with you to assist in that process, then move on. Remember your goal is to meet 10 new people! You can talk to your friends anytime.
Hot Idea #5~ Pay attention! Look for opportunity. It's there waiting to be discovered. . . and you must know what you are looking for. Talk 20% of the time and listen 80% of the time. Listen for ways you can help to make a connection for them with someone else in your network. The way to call attention to yourself is to pay attention to others!
Hot Idea #6~ Be the host! Don't be shy. If you meet someone and know they might be a good connection for someone you just met across the room, help make the introduction! They will remember you!
Hot Idea #7~ Ask for what you want! People can't read your mind. If you are looking for a special contact in a specific business, ask everyone you meet to help you make the connection. That's networking!
Hot Idea #8~ Say, "Thank you!" Express appreciation when someone offers ideas, business leads, information, support or any of the other many wonderful things that are available when networking. Jot them a quick 'thank you' the next day.
Buy a special card; not your typical pre-printed company business 'thank you' card, and in your own handwriting, write them a note they won't soon forget. Instead of using the postage meter, stock a colorful supply of stamps. This all demonstrates your attention to detail. They will know you had to have shifted into 'extra effort' to accomplish this and will appreciate your note even more.
---
---
Hot Idea #9~ Avoid common crutches! Don't arrive too late. Don't leave too early. Don't drink to much. Don't gorge at the buffet table. Remember, you never have a second chance to make a good first impression! Don't stay huddled in groups with people you already know. Expand your horizons. Move past your fears.
Hot Idea #10~ Follow-up! A hot lead or new business connection can cool very rapidly if you don't follow-up. Remember, most sales people fail because they never ask for the order and because they fail to follow-up on what they get started. If you tell someone that you will call, do it. . . quickly! Keep your word. In business, integrity is everything.
Networking works! And you must work it! My professional speaking business is now nationwide because of networking. All three of my relationship books have received endorsements from celebrity authors, therapist, speakers and is now available in all major book stores.
Those who take networking seriously; as an art to be learned; as a skill to be fine-tuned; and who stay connected to those people who count, can generally find out what they want in three to six phone calls to those in their network.
When you understand the concept of networking, create a plan of action, and commit to work that plan, you can experience a new kind of momentum that will put your career and your life on FAST FORWARD!
APA Reference
Staff, H. (2008, November 19). Networkings' Top Ten 'Hot Ideas!', HealthyPlace. Retrieved on 2023, December 5 from https://www.healthyplace.com/relationships/celebrate-love/networkings-top-ten-hot-ideas
Last Updated: June 5, 2015