Is What I'm Feeling Infatuation or Love?
Red Flag Thoughts:
"You are my life. I can't live without you."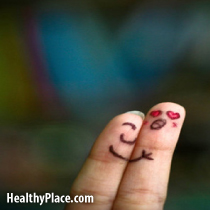 There are some feelings we have when infatuated that we don't have when we're feeling love. Some of the "symptoms" of infatuation are; feelings of panic, uncertainty, overpowering lust, feverish excitement, impatience, and/or jealously.
When infatuated, we are thrilled, but not happy, wanting to trust, yet suspicious. There are lingering, nagging doubts about our "partner in infatuation" and their love for us. We're miserable when they're away, almost like we're not complete unless we're with them. It's a rush and it's intense. It's difficult to concentrate. And most infatuation relationships have a high degree of sexual charge around them. Somehow being with them is not complete unless in ends in some type of sexual encounter.
Do any of these "symptoms" resemble feelings of love? Hardly. So why do we become infatuated? Where does it come from? Perhaps it's biological.
When infatuated we experience a surge of dopamine that rushes through the brain causing us to feel good. Norepinephrine flows through the brain stimulating production of adrenaline (pounding heart). Phenylethalimine (found in chocolate) creates a feeling of bliss. Irrational romantic sentiments may be caused by oxytocin, a primary sexual arousal hormone that signals orgasm and feelings of emotional attachment. Together these chemicals sometimes override the brain activity that governs logic.
The body can build up tolerances to these chemicals so it takes more of the substance to get that special feeling of infatuation. People who jump from relationship to relationship may be craving the intoxicating effects of these substances and may be "infatuation junkies".
When the chemical flood dries up, the relationship either moves into a loving romantic one or there is disillusionment, and the relationship ends.
---
---
APA Reference
Staff, H. (2008, November 20). Is What I'm Feeling Infatuation or Love?, HealthyPlace. Retrieved on 2023, December 5 from https://www.healthyplace.com/relationships/creating-relationships/is-what-im-feeling-infatuation-or-love
Last Updated: June 25, 2015