Antipsychotic Medications For Treating Psychotic Illness
Antipsychotic medications help reduce symptoms of psychotic illness like schizophrenia and schizoaffective disorder.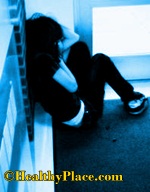 A person who is psychotic is out of touch with reality. People with psychosis may hear "voices" or have strange and illogical ideas (for example, thinking that others can hear their thoughts, or are trying to harm them, or that they are the President of the United States or some other famous person). They may get excited or angry for no apparent reason, or spend a lot of time by themselves, or in bed, sleeping during the day and staying awake at night. The person may neglect appearance, not bathing or changing clothes, and may be hard to talk to--barely talking or saying things that make no sense. They often are initially unaware that their condition is an illness.
These kinds of behaviors are symptoms of a psychotic illness such as schizophrenia or schizoaffective disorder. Antipsychotic medications act against these symptoms. These medications cannot "cure" the illness, but they can take away many of the symptoms or make them milder. In some cases, they can shorten the course of an episode of the illness as well.
There are a number of antipsychotic (neuroleptic) medications available. These medications affect neurotransmitters that allow communication between nerve cells. One such neurotransmitter, dopamine, is thought to be relevant to schizophrenia symptoms. All these medications have been shown to be effective for schizophrenia. The main differences are in the potency--that is, the dosage (amount) prescribed to produce therapeutic effects-and the side effects. Some people might think that the higher the dose of medication prescribed, the more serious the illness; but this is not always true.
Older Conventional Antipsychotics
The first antipsychotic medications were introduced in the 1950s. Antipsychotic medications have helped many patients with psychosis lead a more normal and fulfilling life by alleviating such symptoms as hallucinations, both visual and auditory, and paranoid thoughts. However, the early antipsychotic medications often have unpleasant side effects, such as muscle stiffness, tremor, and abnormal movements, leading researchers to continue their search for better drugs.
Researchers are learning more and more about how the schizophrenia brain works. With this information, better medicines with fewer side effects can be developed so that people with schizophrenia can live without being limited by their illness.
Atypical Antipsychotics More Effective-Fewer Side Effects
The 1990s saw the development of several new drugs for schizophrenia, called atypical antipsychotics. Because they have fewer side effects than the older drugs, today they are often used as a first-line treatment.
The first atypical antipsychotic, clozapine (Clozaril), was introduced in the United States in 1990. In clinical trials, this medication was found to be more effective than conventional or "typical" antipsychotic medications in individuals with treatment-resistant schizophrenia (schizophrenia that has not responded to other drugs), and the risk of tardive dyskinesia (a movement disorder) was lower. However, because of the potential side effect of a serious blood disorder--agranulocytosis (loss of the white blood cells that fight infection)-patients who are on clozapine must have a blood test every 1 or 2 weeks. The inconvenience and cost of blood tests and the medication itself have made maintenance on clozapine difficult for many people. Clozapine, however, continues to be the drug of choice for treatment-resistant schizophrenia patients and Clozaril is the only FDA-approved- antipsychotic for preventing suicidal actions and thoughts in schizophrenia.
Several other atypical antipsychotics have been developed since clozapine was introduced. They are risperidone (Risperdal), aripiprazole (Abilify), olanzapine (Zyprexa), quetiapine (Seroquel), and ziprasidone (Geodon). Each has a unique side effect profile, but in general, these medications are better tolerated than the earlier drugs. Click on the links above to each drug for more information about side effects.
All these medications have their place in the treatment of schizophrenia, and doctors will choose among them. They will consider the person's symptoms, age, weight, and personal and family medication history.
Dosages and Side Effects of Antipsychotic Medications
Some drugs are very potent and the doctor may prescribe a low dose. Other drugs are not as potent and a higher dose may be prescribed.
Unlike some prescription drugs, which must be taken several times during the day, some antipsychotic medications can be taken just once a day. In order to reduce daytime side effects such as sleepiness, some medications can be taken at bedtime. Some antipsychotic medications are available in "depot" forms that can be injected once or twice a month.
Most side effects of antipsychotic medications are mild. Many common ones lessen or disappear after the first few weeks of treatment. These include drowsiness, rapid heartbeat, and dizziness when changing position.
FDA Warning: Antipsychotic Use Can Lead to Diabetes
Some people gain weight while taking antipsychotic medications and need to pay extra attention to diet and exercise to control their weight. The FDA has warned that patients taking antipsychotics risk hyperglycemia and diabetes. The relationship between atypical antipsychotic use and glucose abnormalities is complicated by the possibility of an increased background risk of diabetes mellitus in patients with schizophrenia and the increasing incidence of diabetes mellitus in the general population. Given that, the relationship between atypical antipsychotic use and hyperglycemia-related adverse events is not completely understood.
Other side effects may include a decrease in sexual ability or interest, problems with menstrual periods, sunburn, or skin rashes. If a side effect occurs, the doctor should be told. He or she may prescribe a different medication, change the dosage or schedule, or prescribe an additional medication to control the side effects.
Just as people vary in their responses to antipsychotic medications, they also vary in how quickly they improve. Some symptoms may diminish in days; others take weeks or months. Many people see substantial improvement by the sixth week of treatment. If there is no improvement, the doctor may try a different type of medication. The doctor cannot tell beforehand which medication will work for a person. Sometimes a person must try several medications before finding one that works.
If a person is feeling better or even completely well, the medication should not be stopped without talking to the doctor. It may be necessary to stay on the medication to continue feeling well. If, after consultation with the doctor, the decision is made to discontinue the medication, it is important to continue to see the doctor while tapering off medication. Many people with bipolar disorder, for instance, require antipsychotic medication only for a limited time during a manic episode until mood-stabilizing medication takes effect. On the other hand, some people may need to take antipsychotic medication for an extended period of time. These people usually have chronic (long-term, continuous) schizophrenic disorders, or have a history of repeated schizophrenic episodes, and are likely to become ill again. Also, in some cases a person who has experienced one or two severe episodes may need medication indefinitely. In these cases, medication may be continued in as low a dosage as possible to maintain control of symptoms. This approach, called maintenance treatment, prevents relapse in many people and removes or reduces symptoms for others.
Multiple medications. Antipsychotic medications can produce unwanted effects when taken with other medications. Therefore, the doctor should be told about all medicines being taken, including over-the-counter medications and vitamin, mineral, and herbal supplements, and the extent of alcohol use. Some antipsychotic medications interfere with antihypertensive medications (taken for high blood pressure), anticonvulsants (taken for epilepsy), and medications used for Parkinson's disease. Other antipsychotics add to the effect of alcohol and other central nervous system depressants such as antihistamines, antidepressants, barbiturates, some sleeping and pain medications, and narcotics.
Other effects. Long-term treatment of schizophrenia with one of the older, or "conventional," antipsychotics may cause a person to develop tardive dyskinesia (TD). Tardive dyskinesia is a condition characterized by involuntary movements, most often around the mouth. It may range from mild to severe. In some people, it cannot be reversed, while others recover partially or completely. Tardive dyskinesia is sometimes seen in people with schizophrenia who have never been treated with an antipsychotic medication; this is called "spontaneous dyskinesia." However, it is most often seen after long-term treatment with older antipsychotic medications. The risk has been reduced with the newer "atypical" medications. There is a higher incidence in women, and the risk rises with age. The possible risks of long-term treatment with an antipsychotic medication must be weighed against the benefits in each case. The risk for TD is 5 percent per year with older medications; it is less with the newer medications.
Source: NIMH
---
---
next: Antipsychotic Medications For Treating Psychotic Illness
~ back to articles on the schizophrenia library
~ all articles on schizophrenia
~ all articles on schizoaffective disorder
~ thought disorders homepage
APA Reference
Gluck, S. (2007, March 6). Antipsychotic Medications For Treating Psychotic Illness, HealthyPlace. Retrieved on 2023, December 2 from https://www.healthyplace.com/thought-disorders/schizophrenia-articles/antipsychotic-medications-for-treating-psychotic-illness
Last Updated: March 27, 2017